Workshops
Why Made in Britain run a programme of Marketing Workshops
The Made in Britain Workshop programme brings Made in Britain members together with manufacturing stakeholders and service providers. It unites our membership, supports them with training, insight and shared learning and offers them marketing, promotional, sales, PR and export opportunities. Members from all our 50 sectors are invited to join all our workshops around Britain. The diversity of delegates sector makes the event more rewarding for everyone and richer from a PR perspective. These events are hosted by Made in Britain members at their factory site.
Schedule for Autumn 2018
Wed 19th Sept | ZAUN | Wolverhampton, Midlands | COMPLETE
Wed 10th Oct | Clarity/Soap Co. | London | BOOK HERE
Wed 14th Nov | ESSE | Barnoldswick, Lancs | BOOK HERE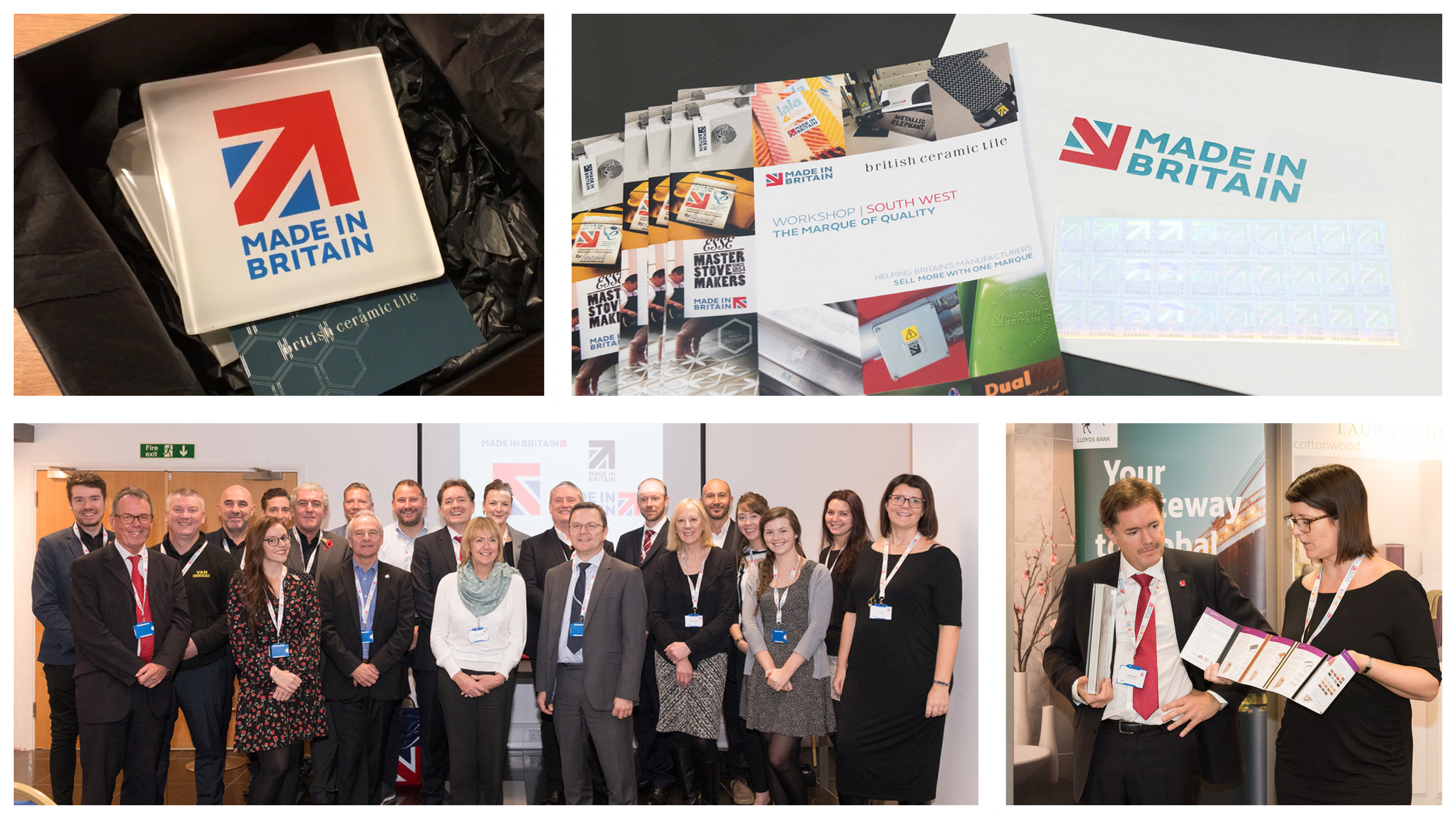 We hold 8 workshop events each year, if your business would like to host a Workshop in 2019, please contact membership@madeinbritain.org. There are lots of other ways to contribute to a Workshop, such as providing POS or product for the incredible MiB Goody Bag.
If your business would like to host a workshop we recommend you read through the following guidelines about the responsibilities, benefits and risks involved. There is no upfront cost to being a host of a Made in Britain workshop, but as a not-for-profit organization, we require some of your staff to devote time to planning and delivery on the day of the event.
Members of MiB that agree to host a training workshop at their premises can also invite their own stakeholders to attend under the following conditions:
- Non-member delegates must not out-number member delegates.
- Non-member delegates must be relevant to the sales/marketing dept of the host member.
- Non-member delegates must pay the £20 non-refundable fee
Each person attending the workshop pays a £20 exVAT non-refundable booking fee, the host attendees are exempt from this fee. This fee helps cover some of the costs of the buffet lunch and coffee breaks. Made in Britain reserve the right to alter this fee in accordance with the scale of the workshop planned with the member.
Speaker content is based on our survey responses, the theme of the workshop and the host members' business sector. Our Host member must be happy with the speakers and their presentation and all content must be manufacturer specific.
A representative from the host organisation generally will fill one of the presentation slots which are usually 20, 30 or 40 mins duration and accompanied by a slide presentation or a demonstration or both. Presentations must be sent to Made in Britain in advance and we reserve the right to ask for them to be changed or reduced. They must demonstrate evidence of proven support for British manufacturing businesses in Sales, Marketing, PR or Exports or and two or three of all of these areas.
Made in Britain may choose to extend the scope of the workshop further by including taster sessions for potential new members. These prospects for MiB membership must also pay the fee and this will also be non-fundable.
MIB will work closely with the host in the weeks leading up to the workshop to plan the agenda, print the agenda leaflets, assemble and send the "goody Bag" and check all the technical aspects of the presentation facility.
The workshop day usually runs from 08:40 to 16:00, with the morning consisting of speaker presentations, then lunch, followed by an optional factory tour, and a PR opportunity for any members who want to take part.
MiB will usually film interviews with members where possible and produce one short film of 2-3minute duration about the host member's marketing strategy. The copyright for this footage remains with Made in Britain and the film company that is under contract to Made in Britain. The host member has the right to use and share the film/s as much as broadly as they wish. MiB will encourage this. The films will always focus on sales, marketing, PR and exports with emphasis on the host success in these areas.
The workshops are open to all members to attend, usually up to a maximum of 25-30 members.
MiB will market the workshop to members but cannot guarantee minimum number of attendees.
The host is welcome to invite local businesses to attend the event (numbers to be agreed with MiB), and each person from these business is subject to the booking fee and must register on the booking system.
Each member that attends will be given an MiB goody bag that contains products from a variety of MiB members. The host can add their own marketing material or product literature to this if they wish. Made in Britain reserve the right to remove contents of the goody bag for any reason. Made in Britain reserve the right to not provide a goody bag.
Reasonable travel expenses of invited speakers will be covered by MiB if the speaker requests it. Where speakers need to book into a hotel for the night prior to the event, refundable bookings must be made where possible.
Made in Britain are not responsible for costs incurred as a result of changes to the travel plans of speakers or any of the delegates under any circumstances.
Made in Britain will appoint a stand-in/reserve Presenter, either from the Board of Made in Britain or elsewhere, to replace the Workshop Chairperson (Made in Britain's CEO) in the event of ill health or non-appearance through force majeure, travel problems or any other reason.
The Host Member must be prepared to carry out the Workshop event that no one from MiB can attend. Under these exceptional circumstances, the Host presenter will use the MiB presentation to fulfil the membership requirement of explaining what Made in Britain does and what members are expected to contribute.
Terms of Hosting a Workshop:
The host member will agree a date for hosting the workshop with MiB.
The host will need to be able to accommodate 30-40 people in a room at their premises and inform MiB of the maximum number of people the room can hold.
The Host member will also be responsible for allocating parking slots for 30-40 people on the day of the event and for arranging replacement parking/logisitics on the day should anything prohibit parking as planned for.
The host will organise refreshments and a buffet lunch (the cost can be reimbursed up to £10.00 per person).
The host will inform MiB any special requirements for the factory tour (e.g. requirement for wearing PPE), and will liaise with MiB who will notify attendees of such requirements.
The Host Member must take responsibility for a Health & Safety Demonstration and for all Delegates, Speakers and Guests to be informed of what to do in the event of an emergency.
The host will inform MIB of any special arrival instructions, e.g. parking, requirement for attendees to sign a NDA.
MiB will provide name badges for the attendees.
MiB will collate the speaker slides.
The host will provide a projector and screen, and Wi-Fi where possible.
If the host needs to cancel / change the date of the workshop they will inform MiB as soon as they can.
If a Workshop is postponed / cancelled due to force majeure, the host member and MiB will agree to set a new date and both parties will take equal responsibility for informing delegates and coping with enquiries and grievances.
Made in Britain and the Host Member of a Workshop are not responsible for any travel, logistics or accommodation costs incurred by any delegate or speaker prior to the event start time of 08:40 and after the event closes 16:00 or when the speakers or delegate leaves – whichever is earliest.
Appointed Speakers who request a speaking fee or travel and accommodation costs must have this agreed in writing at least one week in advance of their appointment at a Workshop and this must be counter-signed with the host member organizing team and Workshop Management at Made in Britain.