BAGS 4 EVERYTHING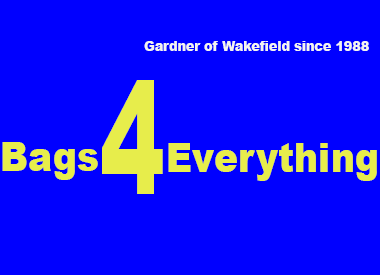 BAGS 4 EVERYTHING
01924265367 info@bags4everything.co.uk
76 wakefield road
OSSETT
WAKEFIELD
WEST YORKSHIRE
WF5 9JX
United Kingdom

Joined May 2018

Originally established in 1988 as GARDNER OF WAKEFIELD it was thanks to our customers who over 30 years on seeing our range of over 300 bags on display would say "Look they've got BAGS4 EVERYTHING!" that led to our name change.
We have more than 300 bags and covers in our range which include 40 Litre Aquaroll Bags, 50 Litre Water Hog Bags, Wastemaster Bags, Waste Hog bags, LCD TV Bags, Tow Hitch Covers, Wheel Covers, Pole Bags, Awning Bags, Insulated Aquaroll Covers, Motorhome Bike Covers and Garden Furniture Covers etc.
We pride ourselves on making many types of bags 4 everything and covers in many type of material.
OUR RANGE OF WATERPROOF MATERIALS
40z PU Nylon ( LW / Lightweight )
600 Denier Canvas With PU Coating ( HD / Heavy Duty )
560 Grams PVC, UV Resistant, Our Strongest Material ( PVC )
300 Denier Breathable PU Coated Polyester, Ideally For Outdoor Furniture Covers ( BGF)
Padded / Foam
10MM Foam can be sandwich between any of above materials to create a padded bag or cover, the normal way is Heavy Duty Material on the outside,10mm foam in the middle and a lightweight material on the inside.
OR
Black 3mm / 10mm Laminated Material. This is Heavy Duty Canvas on the outside with 3mm / 10mmfoam laminated together with Brush Nylon on the inside.
OUR MADE TO MEASURE SERVICE
Do you need extra protection? Do you spend hours bubble wrapping? Order a "made to measure" reusable bag or cover.
We also make custom bags or covers for individual customers or business. Bags or Covers can be made with pull cord close / hook & loop / zips with pockets inside or outside / dividers / clear pockets / print your logo on.
Company supplying
Hospital equipment
Protecting L O V E Lttters
Going to shows or exhibitions instead of using bubble wrap
Rep carrying doors / LED lights / windows
E.T.C
Simply to send your enquiries to our Email address 'info@bags4everything.co.uk' Or ring our office 01924 265367 to get your FREE QUOTE. All our materials are 100% waterproof which is good for outdoor camping.
We would like to thank all the many customers who over the years come with their thoughts and ideas.
Now browse through our Gallery of photos.