Oh!MAIL
Oh!MAIL
9 Mayberry Place
Surbiton
KT5 8SY
United Kingdom

Tel. 07961 037381

Joined Mar 2019

Oh! MAIL
for Original Communicators

Oh! MAIL delivers a lovely original way
to keep in touch with friends and family -
all without the need of an envelope.
Oh! MAIL's concept is gloriously simple:
sheets of beautiful Forest Stewardship
Council certified paper milled in the
Lake District. The paper, pre-scored, is
then folded and sealed with one of our
striking Oh! MAIL paper seals.

Once written, folded and sealed you
simply have to add the name, address
and postage stamp on the front of
your letter. It's now read to pop into
a postbox - and all beautifully done
without the need of an envelope.

There are four boxes to selected from:

Oh! THEY'RE ROSES
Oh! THEY'RE PEONIES
Oh! SO BEAUTIFUL
Oh! A THANK YOU

Every box is carefully hand-finished
with an 'Inksplodge' stamped tag
and tied with beautiful cotton ribbon.
WRITE Them
FOLD Them
SEAL Them
SEND Them

http://ohmail-inksplodge.com
1 week ago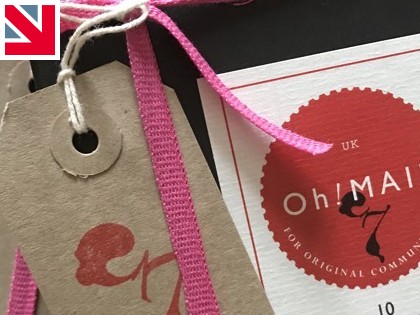 6 days ago