Belmont Packaging joins Made in Britain to highlight their offer to the network of #1000makers across the whole of the UK. Flexibility on lead times, delivery and any requests for bespoke changes to the product due to their UK based manufacturing capabilities. They also deliver a keen focus on environmental friendliness and recycling, ensuring that their corrugated cardboard materials and products are all made, manufactured, recycled and reused within the UK. Based in Wigan, they have been manufacturing high quality corrugated boxes and cardboard packaging solutions since 1978 and are hugely proud of their British manufactured products, fitting very naturally with the vision of the Made in Britain organization.
Kate Hulley, Managing Director at Belmont Packaging feels strongly about being Made in Britain: "Manufacturing has been in decline in the UK for many years and as a British manufacturer of corrugated packaging solutions, we were only too happy to join the campaign to support the sector. We pride ourselves on the quality of our UK-made products and being part of this organization is a great way to communicate this."
The campaign, which promotes British manufacturers through the 'Made in Britain' marque, selected Belmont Packaging due to its commitment to UK manufacturing throughout the company lifetime and cited Belmonts proud roots and high standards of manufacturing as the determining factors. Closer to home, the impact manufacturing has had on the community has been tremendous. Over the last 40 years, Belmont has been a recognised workplace of generations of family members - some of whom have worked for the company for over 25 years.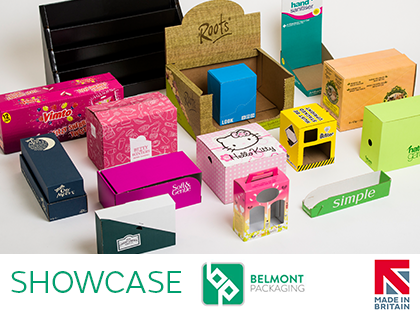 Kate adds: "The Made in Britain campaign does a great job of reminding us and our customers of the highly skilled workforce we have on our doorstep. Keeping a British Made mentality means we've obtained a strong team - some of whom are part of generations of families."
A quick glimpse at Belmont Packaging
Belmont Packaging are a female-led packaging manufacturer offering high quality printed and plain corrugated packaging solutions for businesses and brands across the UK. Based in Wigan, Greater Manchester all Belmont's products are manufactured in the UK and materials are brought in from UK based cardboard suppliers.
The company was established in 1978 and invests regularly in leading packaging technologies, alongside environmentally friendly processes.