British Ceramic Tile, the UKs biggest manufacturer of glass and ceramic tiles, has pledged its support to the Made in Britain marque, hosting the first ever marketing workshop in the South West region for local Devon-based businesses at its Heathfield site.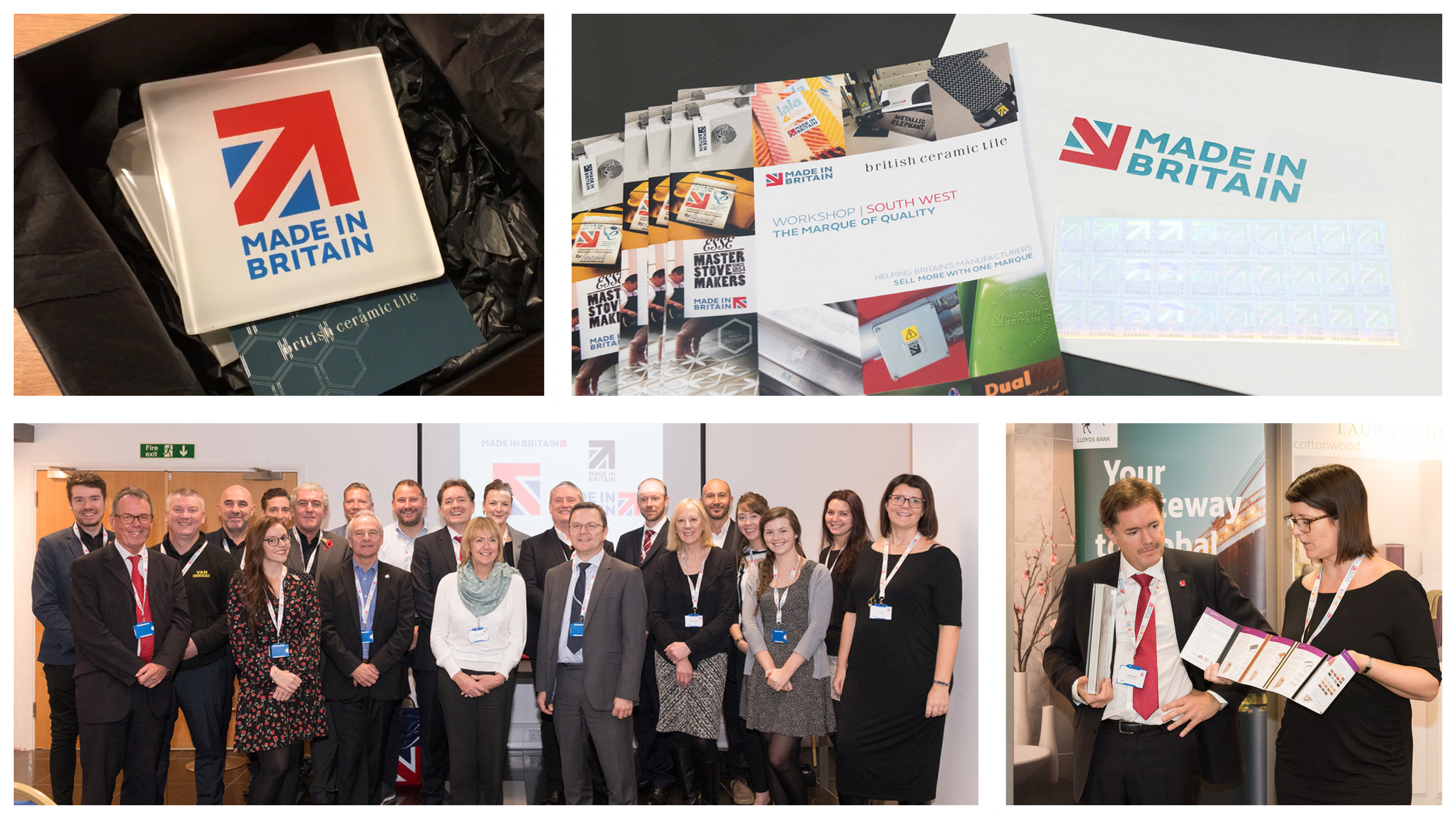 Over 40 local manufacturers from Made in Britain's portfolio of #1000makers signed up to learn how to 'sell more with the marque'. The workshop gave local businesses the chance to network and learn from industry experts with an emphasis on sales, marketing, exports and PR led Made in Britain CEO, John Pearce, Devon Chamber of Commerce CEO, George Cowcher and British Ceramic Tile's CEO, Tony Taylor.
"The Made in Britain organisation is a natural fit with our British heritage and our passion for UK manufacturing", explained Tony Taylor, CEO at British Ceramic Tile. "Our product portfolio is designed and made in Britain, and it is this grassroots approach that resonates so well with our customers. Made in Britain is a fantastic champion for the manufacturing community, and we're delighted we could host an event for other members from the local area. A great day for all those involved."
John Pearce, CEO of Made in Britain, who is on a mission to keep all Made in Britain events focused entirely on sales and hosted at the premises of its members, said: "Most of our delegates involved in the South West workshop were from Devon with businesses varying from door security systems (Lorient) to premium wood burners (Dean Forge), and exquisite hand finished glassware (Dartington). Made in Britain has members making everything you can imagine, and Devon is definitely growing on the international stage as companies like BCT plan for up to 20% uplift in sales at home and overseas."
The workshop also welcomed Devon Chamber CEO, George Cowcher, who shared a very optimistic vision of Devon's future as a manufacturing cluster: "Devon has a lot to be proud of in manufacturing, and now is the perfect time for our makers to unite with Made in Britain to turn the local reputation into a national and international success."
Made in Britain is on a mission to help UK companies celebrate the best of British manufacturing. By bringing together the UK's manufacturing community under one registered marque, the Made in Britain team provide businesses with information, guidance and advice from leading experts and other members to help them trade more effectively at home or abroad. Members who join the campaign have access to a dedicated website listing that showcases all UK manufaturers and suppliers, as well as a series of workshops led by industry professionals.
John added: "The day was a huge success. We would like to say a special thank you to Tony Taylor for his informative talk, and for hosting the event at the factory. Our aim is to connect businesses and essentially help them sell more products globally, and we feel these workshops are a great starting point in doing this."
Notes to editors
British Ceramic Tile is the UKs leading ceramic and glass tile manufacturer. With three locations nationwide in London, Devon and Yorkshire, the company offers a design-led, market-leading portfolio of wall and floor tiles, supplying directly to national and independent tile retailers, housebuilders and specifiers, as well as exporting overseas in markets such as America, Canada, the Middle East and Europe.
For further press information, please contact:
Emma or Sarah at The Lenny Agency
T: 01484 767545
E: emma@thelennyagency.co.uk / sarah@thelennyagency.co.uk