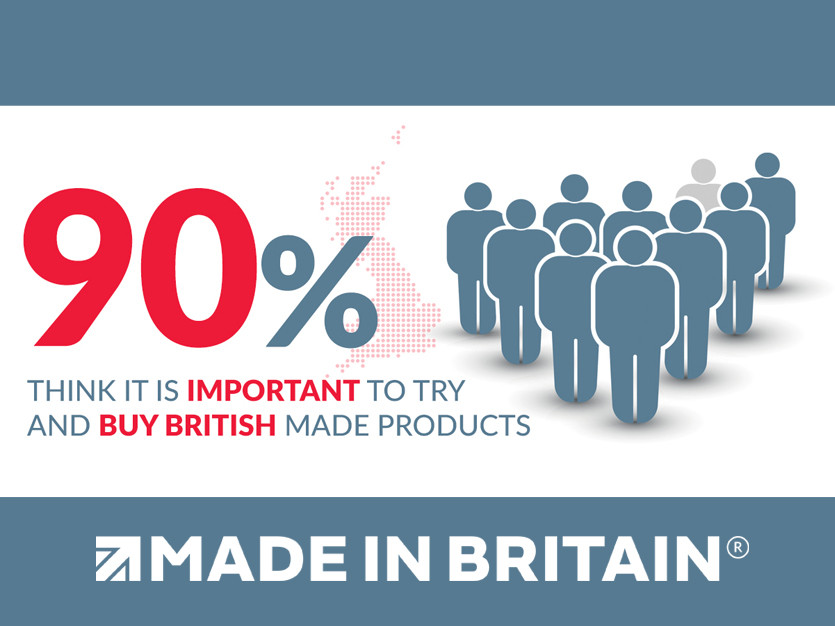 Ninety per cent of Brits felt it was important to buy British products generally
Two-fifths prefer to buy British regardless of cost
Seven in 10 believe buying British could help tackle climate change
IN the second annual report into 'Buying British', Made in Britain has again polled 2000 consumers about their buying habits. As well as finding out about their general motivations for buying British goods, the survey, conducted by OnePoll, asked about how people felt their shopping habits would change after the Covid-19 pandemic.
Buying British to support the economy
While 90 per cent believe it is important to buy British made products, two-fifths (44 per cent) prefer to buy British regardless of cost. Almost seven in ten (69 per cent) make a conscious effort to buy products made in Britain to boost the economy, and 67 per cent do so to support British jobs.
Sixty-five per cent believed their own individual shopping habits can make a difference to the UK economy (compared with 57 per cent last year), suggesting that people are becoming aware of how their pound can boost the economy after seeing the after-effects of lockdown on UK businesses.
Buying British for better quality, ethical and environmental standards
Trust and quality remain key factors, with 48 per cent saying British products were better than other countries' products as they adhered to safety and quality regulations (compared to 43 per cent in 2019), and 40 per cent saying they were of superior quality (in line with last year's 41 per cent).
Concerns for the environment also featured as an important motivator with seven in ten Brits (71 per cent) believing buying British could help the nation combat climate change, an uplift of eight per cent on 2019. Furthermore, 58 per cent agree that they are generally more aware of the world around them, so the source of products and their carbon footprint is more important than ever.
Confusion over the origin of products
Eighty-two per cent would like to buy more British-made products than they already do but were confused about which brands are actually made in Britain even if it's a British-registered brand (48 per cent).
When asked about their current car, for instance, 37 per cent claimed to know the country that owns the brand but not where the model was built. This comes against a backdrop of some of our biggest car brands such as Mini or Range Rover being owned by foreign companies.
Post Covid-19 shopping habits vs post Brexit vote habits
Forty-six per cent believe that their purchasing habits will change post-Covid-19 - versus 29 per cent who claimed their purchasing habits changed after the Brexit vote, with 40 per cent saying they will buy more British items than before (compared to 20 per cent in 2019 who said they began to buy more British items after the Brexit vote).
Two thirds (66 per cent) of Brits agree that they are more likely to buy British products since March 2020 because they see a bigger need than ever to support British businesses and boost the economy post-pandemic.
John Pearce, CEO of Made in Britain said, "It's clear that British shoppers are keener than before to buy British to stimulate the economy - with Covid having had a bigger effect on British consumer loyalty than Brexit.
"When someone purchases a British product they can be confident that it's well made, to ethical standards, and that it's better for the environment. With many economists worried there is a big unemployment problem looming, I would urge consumers to look out for the official Made in Britain mark on products and websites to help keep the many small business owners and makers that make up such a large proportion of our workforce in this country in jobs."
The top five things Brits would pay more for if made/produced in Britain:
Fruit/vegetables 65 per cent
Farm produce (meat, eggs, etc.) 63 per cent
Fish (locally sourced fish) 55 per cent
Clothes/apparel 49 per cent
Shoes/boots 41 per cent
Read the report on our B2B and procurement professionals survey here.