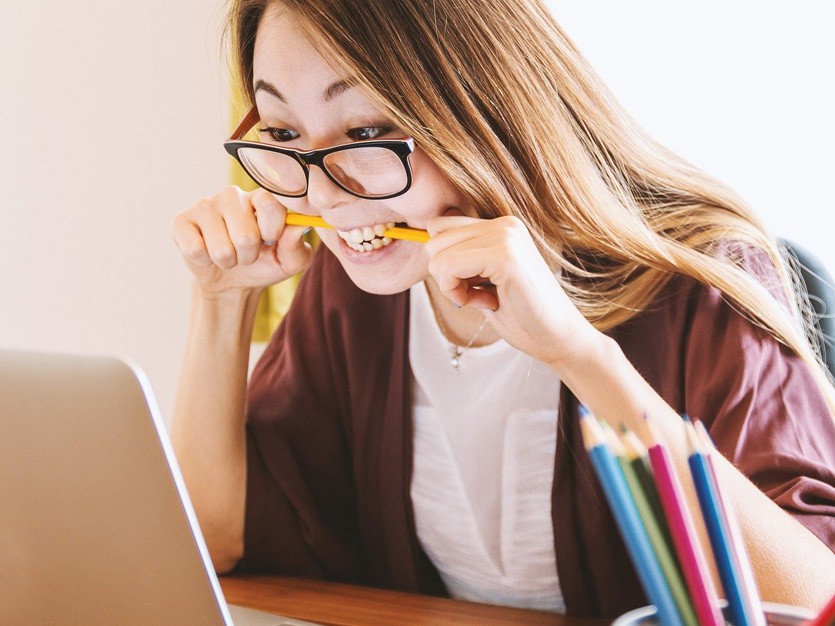 AS summer draws to a close, now is a great time to start planning your autumn business growth and self-improvement activities.
Look no further than the incredible programme of educational webinars from Made in Britain. Webinars are free to members of Made in Britain but non-members are very welcome to sign up for a small fee.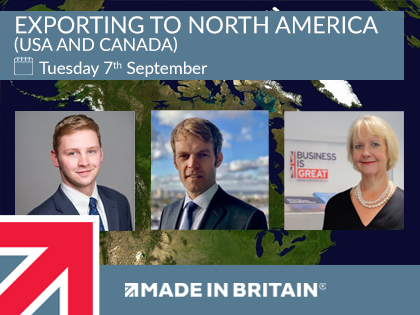 Our autumn season starts on Tuesday 7 September with Exporting to North America (US and Canada) presented by George Middleton, Made in Britain's government and international trade advisor. Join this session to find out about exporting to the USA and Canada. Frances Moffett-Kouadio, David Bryce and Marc Dedola will dial in from Chicago and New York to speak exclusively to Made in Britain members about how to sell British made products to North America. The session will focus on practicalities, such as: working with distributors, shipping, import tariffs/taxes and regulation/bureaucracy. CLICK HERE TO BOOK.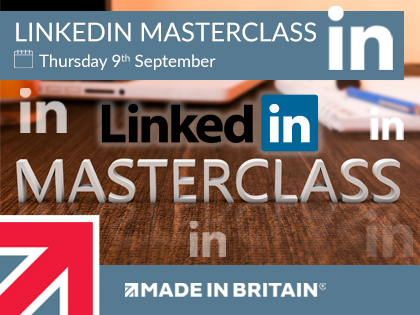 On Thursday 9 September Noreen Burroughes Cesareo of Market Accents presents an Advanced LinkedIn masterclass – moving beyond basics. The LinkedIn advanced Masterclass will equip you with up-to-date knowledge, trends and skills to locate and engage business contacts and leads with content marketing, keep top-of-mind with sales prospects, enhance your personal profile and become thought leaders and grow the sales pipeline with confidence. CLICK HERE TO BOOK.
Tuesday 14 September is the day to find out about the power of working with influencers, with Mary Keane-Dawson from influencer agency Takumi. CLICK HERE TO BOOK.
Join Victoria Page on Thursday 16 September for her introduction to the Made in Britain Green Growth Programme: What is the circular economy and why is it important? Victoria will be joined by Paul Foulkes-Arellano, founder of Circuthon Consulting as we explore what the circular economy means to manufacturers, and why circularity is vital for businesses facing the ever-increasing challenge of resource scarcity. We'll discuss the barriers to adopting circular economy principles and share insight into how your business can begin to make the transition away from linear models to circular models. We'll also be joined by two Made in Britain members, who will share their experiences of the circular economy across their own businesses. CLICK HERE TO BOOK.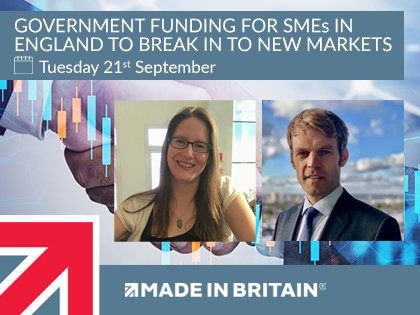 George Middleton is back on Tuesday 21 September with a valuable presentation on government funding for SMEs in England to help them break into new overseas markets. Join this session to find out about the Department for International Trade's (DIT) Internationalisation Fund to support SMEs to break in to new markets. The funding is available for SMEs in England with a product or service suitable for international trade, or could be developed for international trade and see international trade as a path for growth. A£500k+ sales/turnover is desirable, but those with lower sales/turnover are eligible. DIT's Joanne Hunt will speak to Made in Britain members about who can receive funding; what funding is available; how SMEs can use the funding and how to apply. CLICK HERE TO BOOK.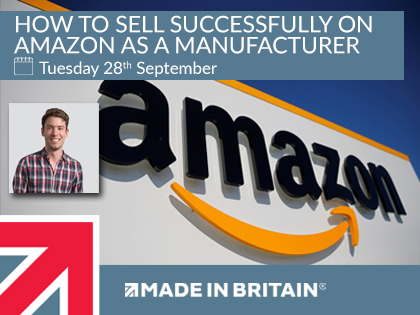 We round off September's webinar selection on Tuesday 28 September with a real show-stopper: How to sell successfully on Amazon, presented by Amazon-selling specialists factor-A. Amazon is the determining power in e-commerce and the number one product search engine. Manufacturers and brands are therefore well advised to present themselves optimally on Amazon. In this event you'll learn how the e-commerce giant ticks and get to know the decisive influencing factors for success on the marketplace. In addition, we will present two examples of successful brand setups on Amazon. CLICK HERE TO BOOK.
We already have webinars scheduled for October and you can find out about those here. We'll be previewing the full October programme in four weeks' time.