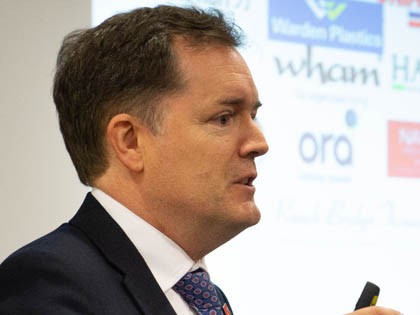 MADE in Britain CEO John Pearce (left) spoke at the UK Manufacturing and Supply Chain Conference, Milton Keynes on 10 March 2022. The audience of about 60 people included representatives of Made in Britain members European Springs and Pressings, Exel computer systems and Jordan Fabrications, who were enthusiastically supportive.
In his speech Mr Pearce acknowledged the crisis in Ukraine, saying, "I honestly thought two years of a pandemic would be the hardest challenge for this sector but who could have foreseen the long and growing list of uncertainties, price hikes, shortages and even existential threats we now all face? We mustn't let uncertainty lead to fear and allow fear itself to bring about paralysis or inaction. That won't help us get through all this together. But what will?"
He went on to talk about the resilience, longevity, sustainability and responsibility that he sees in the member companies of Made in Britain. "Some of these companies have made it through world wars, multiple economic recessions and just as many raw material and labour crises," said Mr Pearce. "They have resilience embedded in their business DNA and we know that our sector will be able to adapt to these fast-changing times and confront any challenge at home or abroad."
Mr Pearce told delegates that he knows the Made in Britain theory of behavioural change is working already. The organisation unites manufacturers around its registered official mark and then promotes them with 'measured visibility', or PR. Citing Made in Britain's annual Buying British survey, Mr Pearce said that 51 per cent of members surveyed in 2021 had experienced a steep or very steep increase in demand. According to the same research, one-in-five members said they had localised their supply chains, moving to British suppliers.
Read our articles based on this survey here and here.
Over the last two years of turmoil, membership of Made in Britain has almost doubled, according to Mr Pearce, and he explained the role of the Made in Britain website in helping to find British-made products and local manufacturers.
He also spoke of the need to manufacture sustainably, saying, "Business must lead on the solutions and manufacturing firms carry far more of the burden than most. If any type of growth is most important in the net-zero journey, surely it is green growth."
Follow this link to discover more about the Made in Britain Green Growth programme.
Speaking after his presentation and away from the podium, Mr Pearce said, "I was delighted to learn from the presentation by Rolls Royce's Dr Gary Jones that he and his team will be making a direct and open invite for all British SME manufacturing businesses to engage with them if they have any interest in becoming a supplier to this newly emerging sector. I will be taking this forward with Gary and his team in the coming months to invite them to speak to our membership about this exciting opportunity."
Dr Jones told the conference about the collaboration between Rolls-Royce and the UK Space Agency and members can look forward to hearing about the opportunities this holds for them in the near future.
"The unique energy of in-person meetings and events is hard to quantify, but you know it when you see it," said Mr Pearce. "This was the first in-person speaking opportunity for Made in Britain in 2022, and whilst everyone I spoke to was primarily conscious of increasingly grave headlines regarding Ukraine, I felt there was a recognition that not all sensitive and challenging decisions can be taken via video conference. We will always need some human contact."