Made in Britain annouce new partnerships for the next series of our sales and marketing workshops, hosted at members' factories. We're starting on 27th Sept in Cheshire at Schoeller Allibert, then on to London, South West and Northants. We've invited HM Crown Commercial Service to speak to members, showing how to sell more, or for the first time, to HM government and local authorities.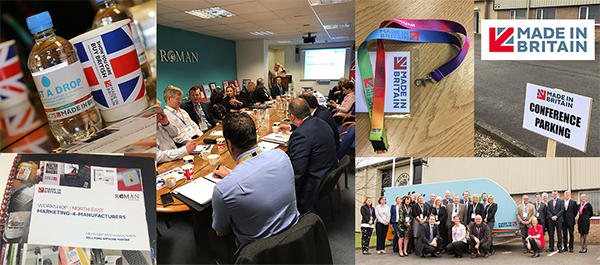 We'll also be sharing best practice in provenance marketing and helping new members make the most of their Made in Britain membership. Our CEO John Pearce will be advising members on how best to apply the Made in Britain marque, and Lloyds Bank Manufacturing are showing how manufacturers can get live market and trade data with their ITP International Trade Portal - free to use for members of Made in Britain. And there's loads of free advice and export support from the Department for International Trade who manage the exciting new portal #exportingisGREAT.
Our members-only workshops provide a great opportunity for the Made in Britain community to network, share best practice and showcase their British-made products.
Cheshire | Winsford | Schoeller Allibert | WKS004 | Wed 27th September BOOKING NOW OPEN!
London | Kings Road | John Cullen Lighting | WKS005 | Wed, 11th October
South West | Exeter | Van Guard | WKS006 | Wed, 8th November
Northants | Finedon | Ideal Manufacturing | WKS007 | Wed, 22nd November
Places at the #MiBWorkshops are limited and offered on a first come, first served basis (max 3 tickets per membership).
A £20 non-refundable booking fee is required. Tickets are transferable within your business. If you'd like more information, please e-mail info@madeingb.org
AGENDA
08:40 | Reception
09:00 | Host Welcome
09:10 | 'Two-minute maker' - Members SHOWCASE your products to the MiB Network
09:50 | Export, Trade & Sell more overseas with Lloyds Bank SME Manufacturing Team
11:00 | Coffee Break & Networking
11:20 | Exporting is GREAT
11:40 | How to sell more to the Government and Local Authorities with Crown Commercial Service and
12:10 | "Why we joined Made in Britain" with Schoeller Allibert and Made in Britain CEO John Pearce
12:40 | Ask the Experts – Marketing Q&A with your Speakers
13:00 | Buffet Lunch & Networking
13:30 | Optional Guided Tour
15:00 | MiB Media Room
16:00 | Back to making products in Britain :-)