3DTomorrow UK PLA – 3D Printer Filament, 1kg, 1.75mm
Manufactured by 3DTomorrow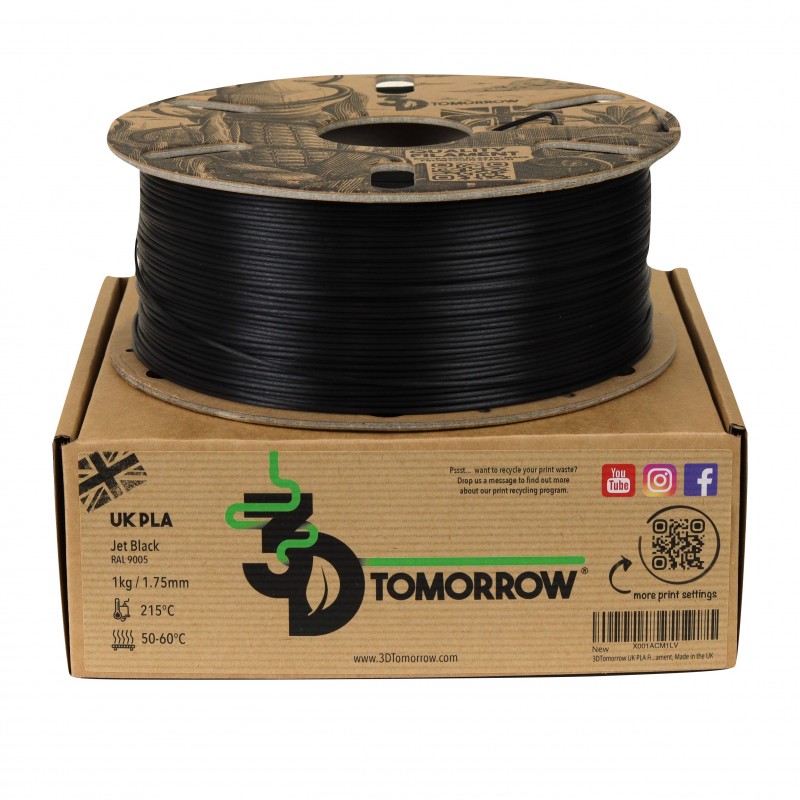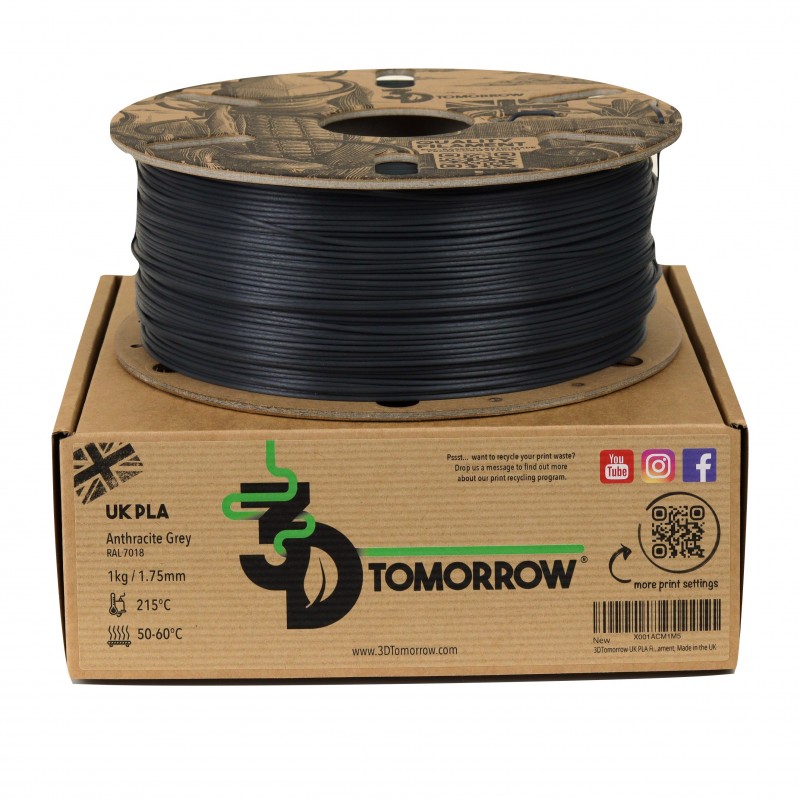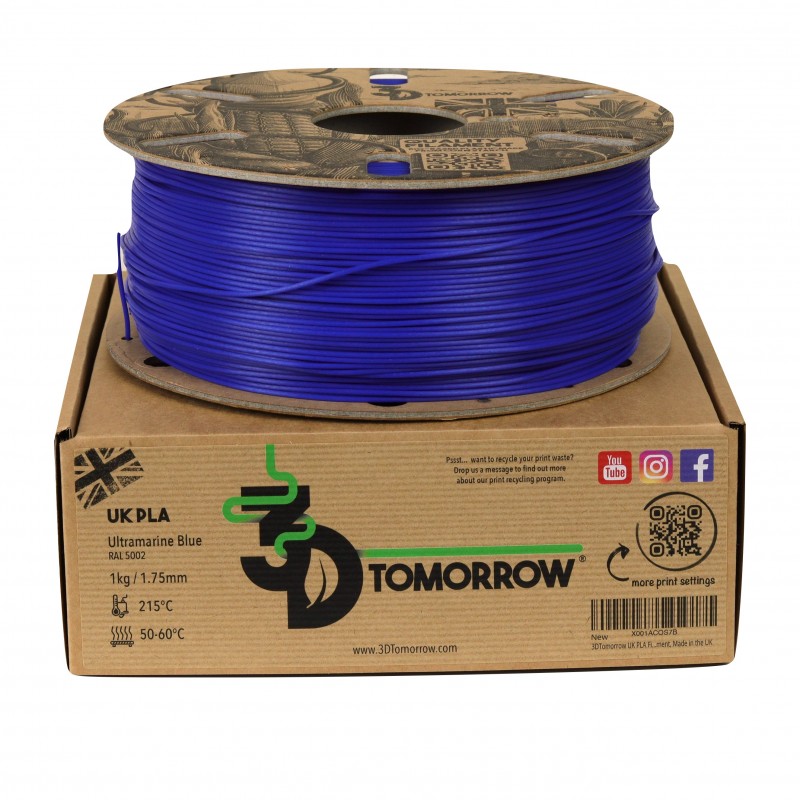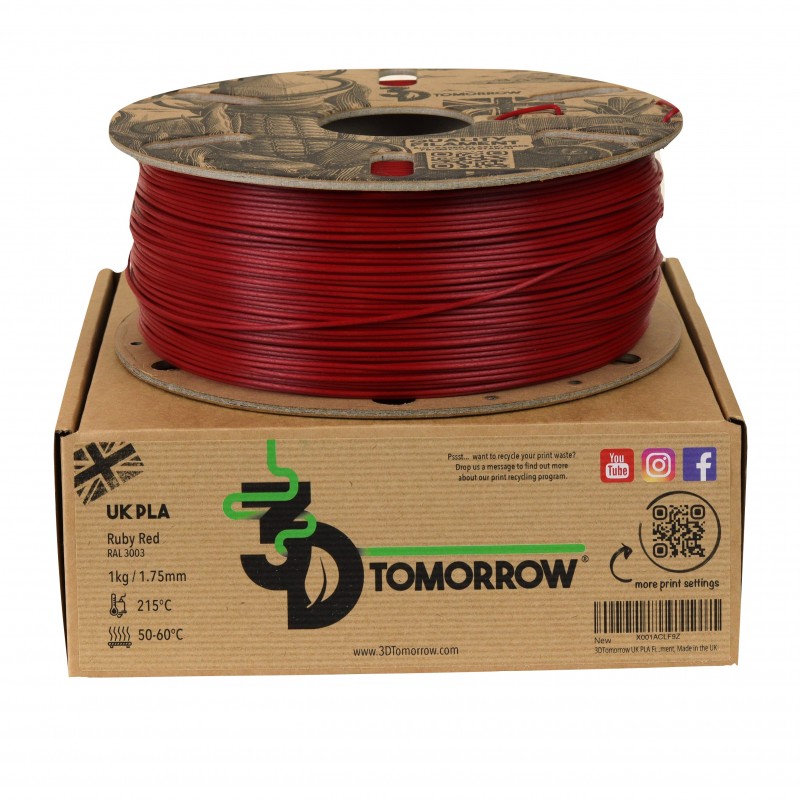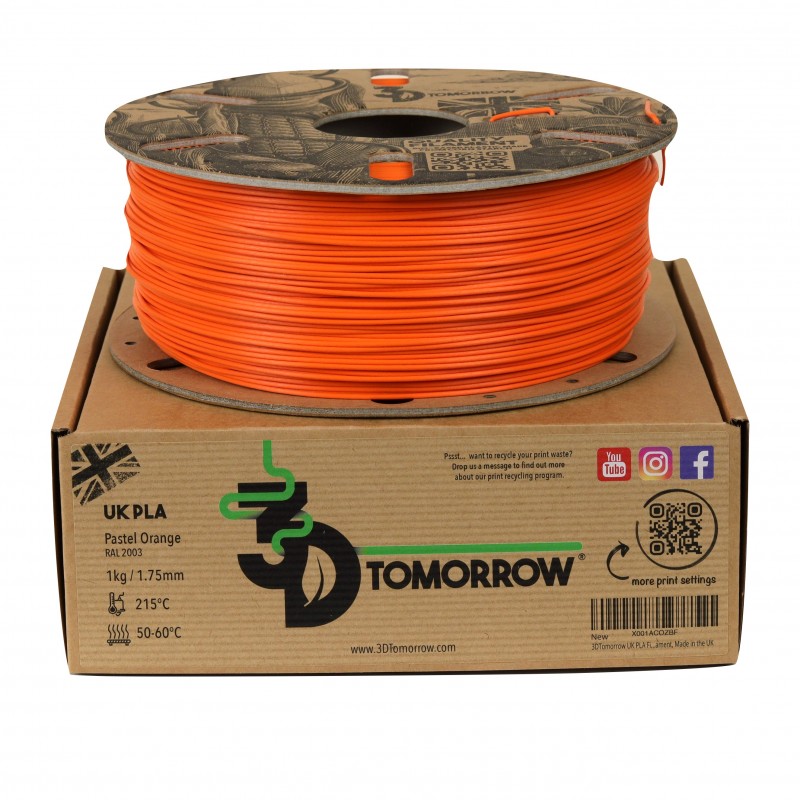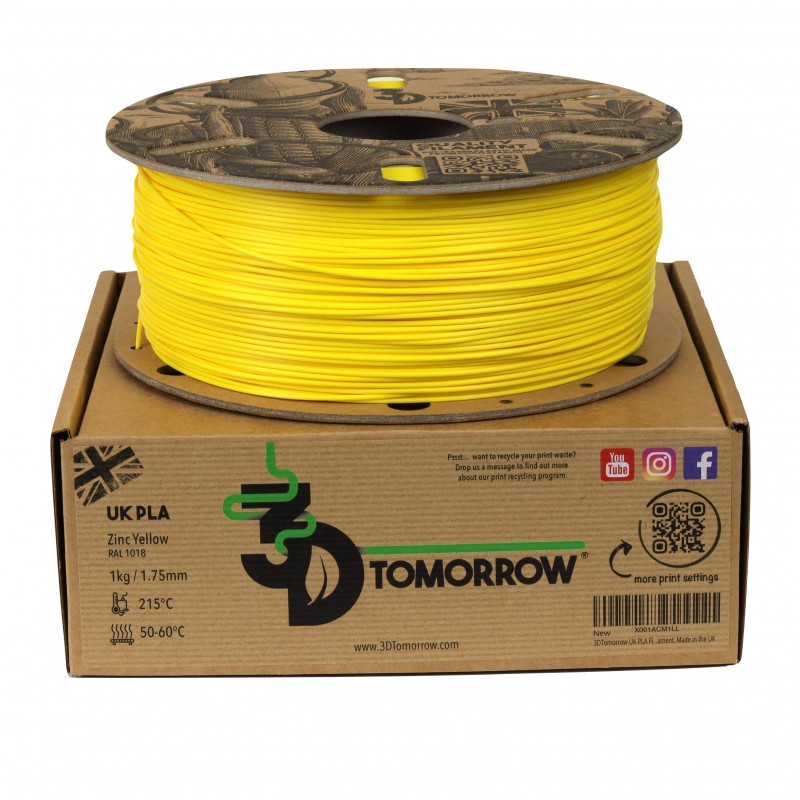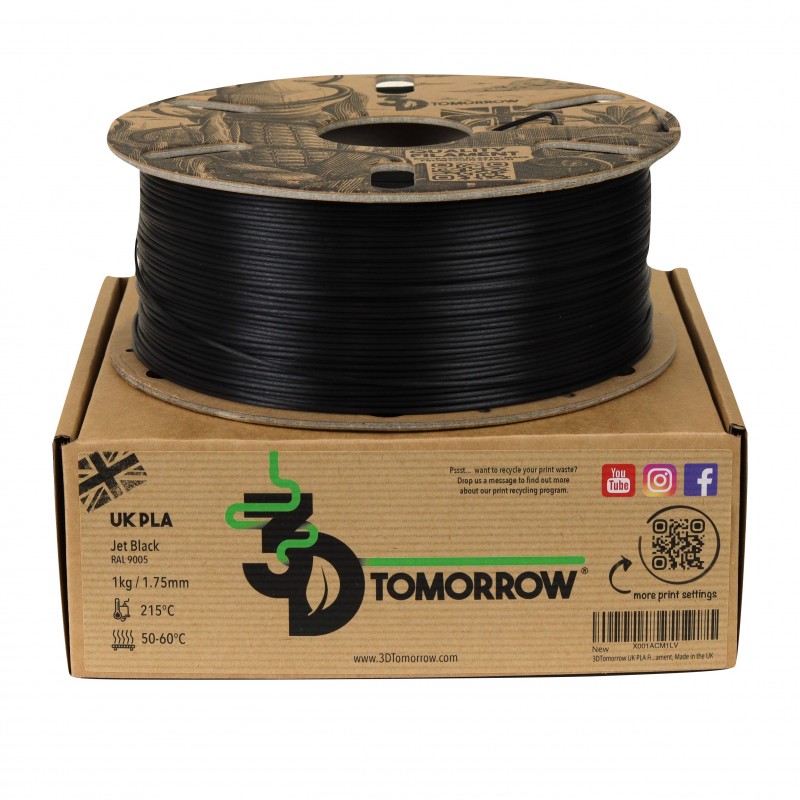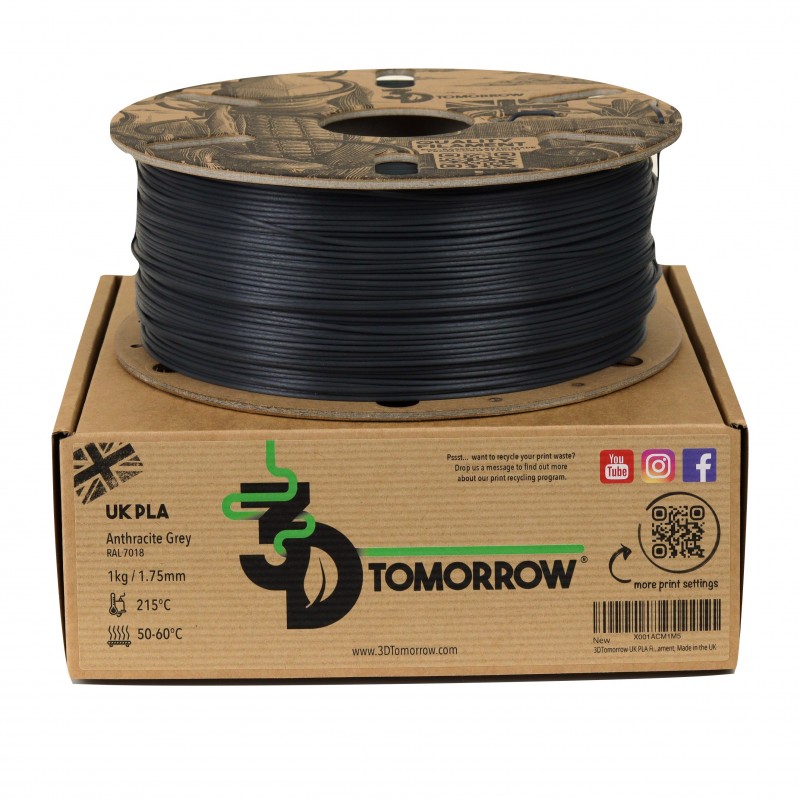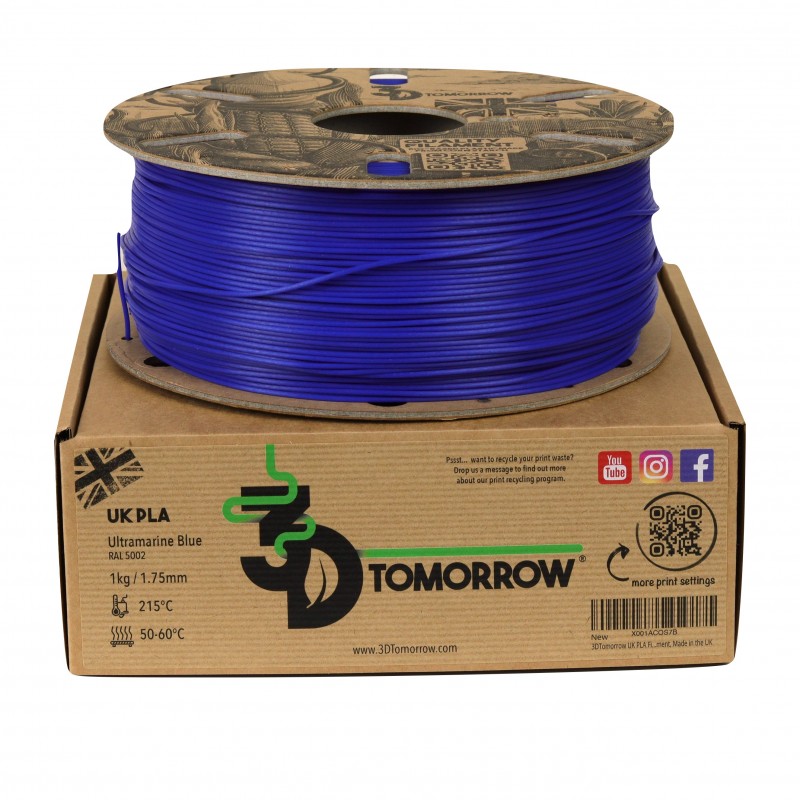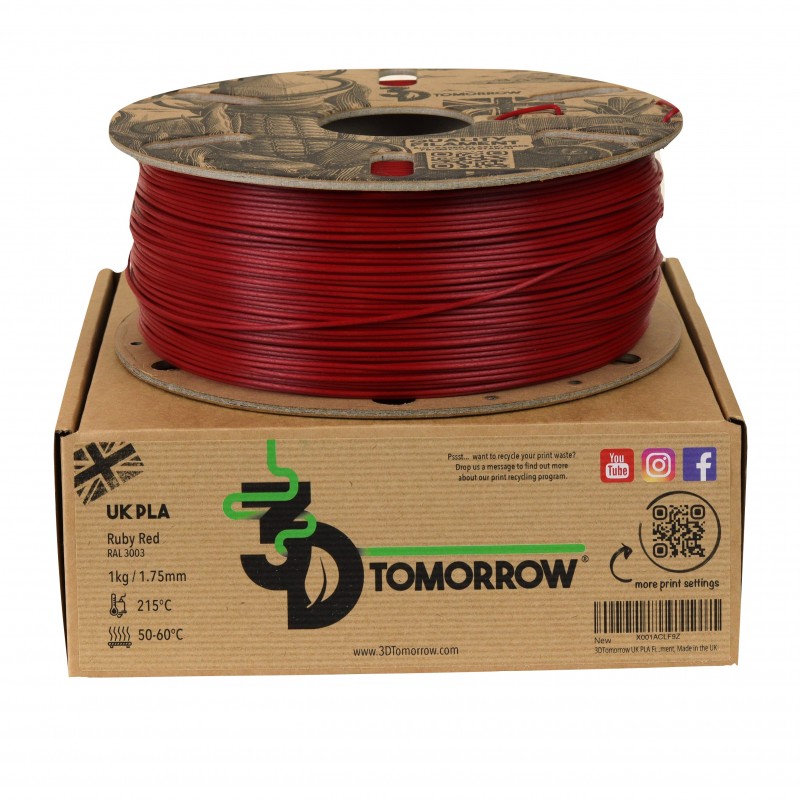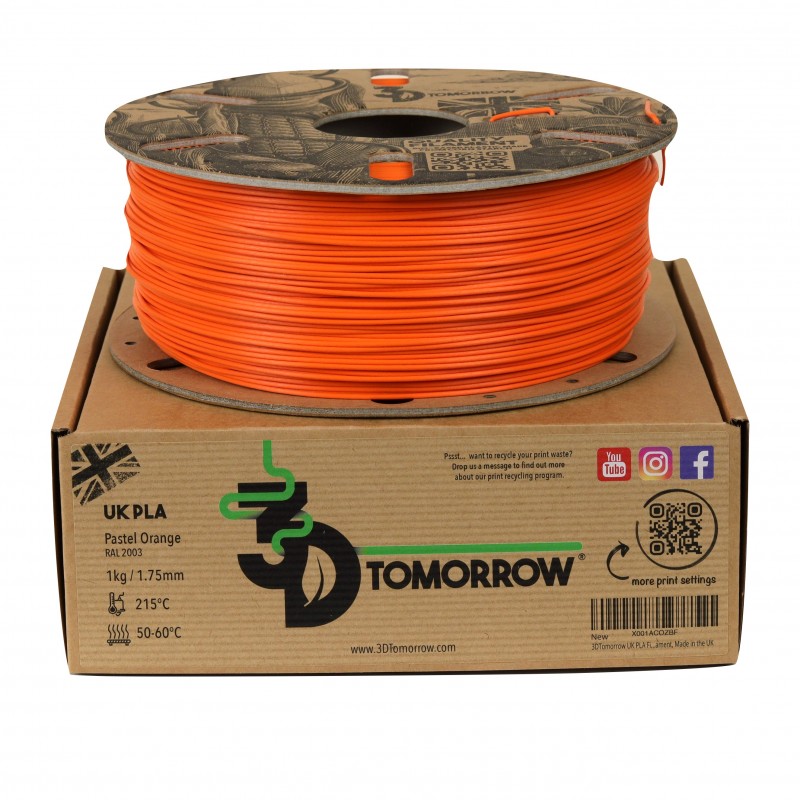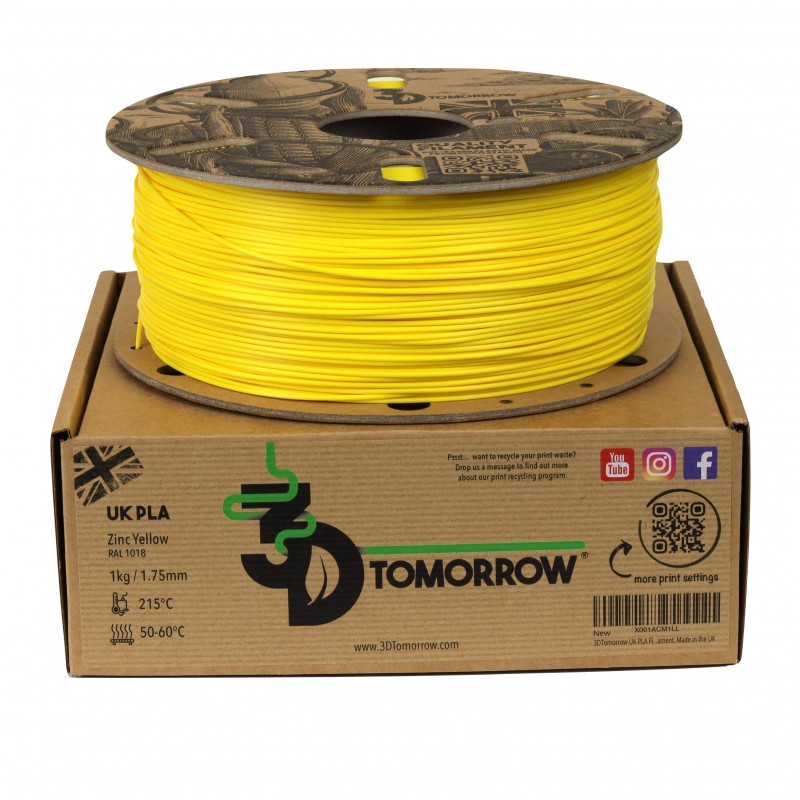 Product Buying Options
Product Capacity: 500 units per week
Minimum Order Quantity: 1
Product Description
| PREMIUM FILAMENT | If you're looking for pure filament and high tolerances, you've found it in our UK PLA. Our natural PLA filament is made from 100% PLA, and the colours are as close as you can get. Many competitors claim 100% purity for a product that contains less than 98% PLA (and in some cases much, much less)!
| PROFESSIONALLY RECOGNISED | Our RAL matched colours are industry compatible, so business customers can transition between manufacturing methods seamlessly. Bold, consistent & capable of the best results.
| ECO FRIENDLY | Our UK supply chain, commitment to zero waste and 100% recyclable cardboard spool are just a few of the ways we reduce environmental impact. We also offer print waste recycling and a spool return program.
| 3DTOMORROW | It's in the name, we're always thinking of the future. Keep your eyes peeled for our new bio-based developments. BUT, for now, we hope you enjoy your UK PLA!
Want to know more about our premium UK PLA Filament? Well, let's start with the basics, what is PLA? Well, in its simplest definition, it is a bioplastic that can be created from renewable resources such as corn or sugarcane. PLA has taken the plastics industry by storm, primarily because it is more environmentally friendly than traditional oil-based plastics. But, since you're probably not here for a science lesson, let's dive straight into the specifics of our top-notch PLA filament.
PLA is by far the most popular filament in the FDM printing sector, chosen for its surprising versatility and natural origins. Needless to say, the PLA market is very crowded, full of many different brands all competing for your attention. The trouble is, strong competition is often not a friend of quality and the fight to be to the cheapest can produce some truly awful products. We've stepped out of the economy price fight, so we can ensure the highest quality materials and the best possible product.
Our UK PLA, unlike most filament on the market, is made here in the UK (the clue's in the name). Actually, prioritising UK manufacture is very important for us, so we can support British industry, ensure fair wages, have greater control over our products and reduce transportation in our supply chain,
Transportation leads on to another important focus for us, environmental impact. Quite frankly, this should be a major consideration for every company, but quite often it ends up being an unscrupulous marketing ploy. Have you ever used a recycled PLA and thought 'wow this is as good if not better than what I've used before'? We have, and then later discovered it was pure PLA! This sort of deception was one of the main reasons we set up 3DTomorrow filament.
If you've been printing a while, you might have tried a few brands out there, perhaps that's why you're here? Our UK PLA is pure, made from quality NatureWorks pellets and coloured with bespoke masterbatch to create a range of RAL matched colours. So not only can you expect colour continuity from roll to roll, but if you are creating for business, your colours will be compatible with industry standards.
It's no secret that we're not a huge brand or a household name (yet), so a purchase will be supporting a growing business and give you the chance to shape our future. Fear not, we are in it for the long haul. Our founder turned his hobby into a business, and that's a strong a foundation as any. We'd love you to be part of our journey.
If you're still not convinced and feel yourself slipping towards that budget buy on eBay. Just remember that there is always a reason why something is cheap; be it material fillers, weak prints, dodgy tolerances, patchy colours, future inconsistencies, underpaid workers, or an unsustainable business model. So don't buy compromise, trade up to UK PLA filament.
At present, there are many players in the industry who throw around eco friendly terms as marketing, but in reality do very little to ensure their products, processes and principles have any benefit to the environment. Because of this, it can be very difficult to sift those with genuine intentions apart from those who simply wish to demand higher prices. Here is a list of what we do and we'll leave it up to you to pass eco judgement, (we're open to more recommendations):
Developed a cardboard spool to rival the plastic ones. Made from 80%+ recycled content and hand-assembled here in the UK, this item is fully recyclable.
Spool return program. Although our spools are fully recyclable, re-use > recycle, so we encourage users to send their spools back. We'll also give you a voucher for your next purchase if you do so.
Print waste recycling. As far as we know, we're the only filament manufacture who will take back the waste you create with our materials: prototype iterations, rafts, support, etc. We work with a group of talented eco-warriors, who will turn the material back into something useful. We do this for free, to ensure none of our material becomes waste. #CircularEconomy. You can read more about this program here.
No sample coils. We make our material great in the first place so you do not have to test. We don't believe in sending out small sections that are not big enough to print anything usable. Our standard PLA is also colour matched to the RAL colour standard, another reason to prevent the need for sample coils.
We aim for zero waste and we do a pretty good job of it. We re-use packaging wherever possible, recycle our print waste and avoid single-use items. We have invested in custom transport packaging which is very strong, this means our products are kept extra safe, it also means the packaging can be re-used multiple times. Our spool boxes are left unprinted, so that our filament customers who run print services themselves, can simply peel off the label and then use them for their own packaging.
If you've reached this far, we thank you for your time & interest! Now it's probably time for you to start printing.
3DTomorrow
Applicable Product Categories
Manufacturer Profile
3DTomorrow
Engineering / Plastics