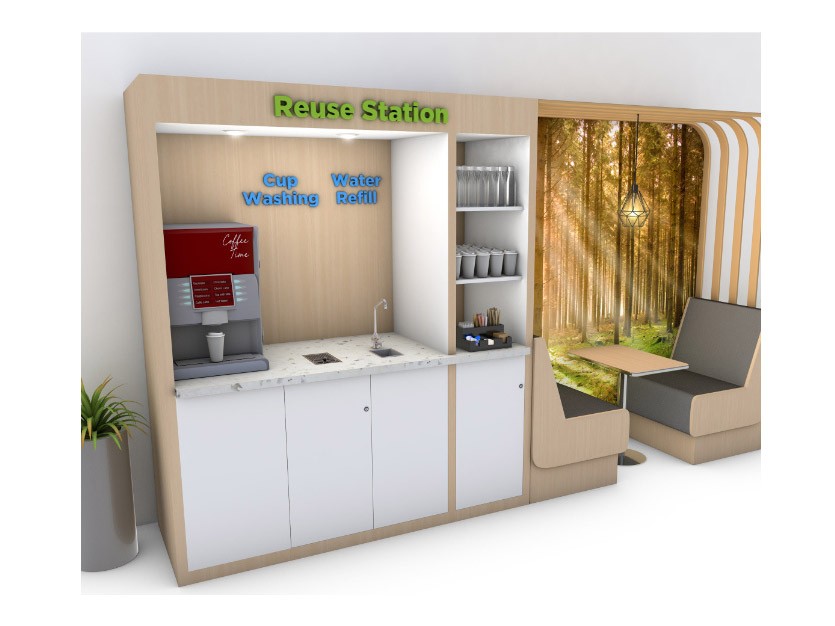 CO-CRE8, one of the UK's leading practioners in creating and implementing circular systems, has launched an innovative range of British-designed and manufactured infrastructure that will enable retailers, hospitality and foodservice operators and businesses to recycle more, provide better hygiene and encourage greater adoption of reuse.
The range of modular products includes beverage cup recycling bins, recycling stations, PPE disposal and hygiene stations and beverage reuse stations. There is also an option to make the products entirely from sustainably-sourced materials that co-cre8 will, at end of use, either recycle or re-purpose into new products. Everything in the range can also be custom branded so that it both fits perfectly into the environment its intended for and carries important instructions to end-users.
"The historic approach of only providing consumers with bland and hard to follow 'binfrastructure' has never truly worked," said Peter Goodwin, co-founder of co-cre8.
"Time and again this results in a lack of engagement and bins contaminated with material that has minimal value downstream to recyclers. This new range not only addresses this by designing out opportunities for contamination to occur but because our range has been purposed for front-of-house, also makes it easier than ever to support recycling by segregating materials at source," added Mr Goodwin.
To help businesses comply with the latest regulations to keep workers, customers and visitors safe, the co-cre8 offering also includes a range of Hygiene Stations. As well as following best practice for the secure disposal of PPE, the stations can also be adapted to include automatic hand sanitisers and dispensers for gloves, masks and wipes.
The co-cre8 built-environment range also supports the greater adoption of reusable bottles and cups. This will help reduce the reliance on single-use products, which can only be supported if there is sufficient infrastructure in place to allow washing and refill, particularly in 'on-the-go' environments.
Customers can either choose from the standard range or have their own product requirements custom-made by co-cre8, within which there are also options to incorporate, within the recycling infrastructure, the actual materials that are intended to be collected.
"To transition to the widespread adoption of more circular materials, we must ensure there is both a need for the product being made and that the proposed material (made from waste) is fit for purpose. Finally, the product needs to meet the quality and cost of existing products. We believe that ours exceed this quality test, whilst also having the added benefit of being a catalyst to inspire further behavioural change," Mr Goodwin added. "We are now the first company to successfully marry up aesthetically pleasing designs with functional products that will help promote the circular economy. In addition, all of our UK designed and manufactured products will display the 'Made in Britain' logo that will also promote local employment, local material loops and the UK green economy."