Membership Benefits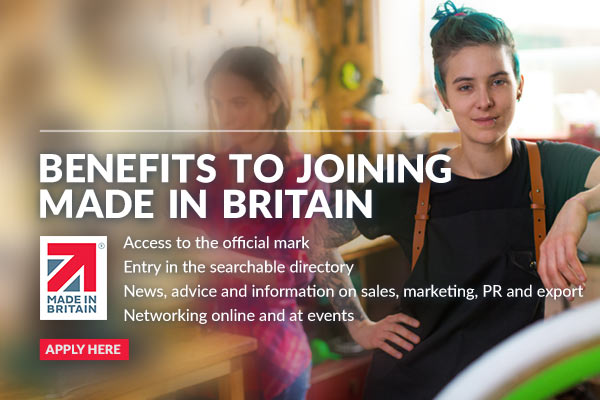 MADE in Britain is a growing community of manufacturers applying the protected collective mark to products, packaging, websites and social media. By joining our organisation, your business is making it really clear to buyers, specifiers and consumers that you're manufacturing in Britain, and to the very highest standards.
The key benefits to joining Made in Britain:
You can access the complete suite of Made in Britain marks. Your membership includes your licence to use this protected mark. In 2018, the collective mark was registered by the UK government's Intellectual Property Office. It's now officially recognised and must not be used by non-members.
You can add your products to our searchable products directory. Post descriptions and photos of up to 25 products, together with information on how to buy them. You can even include a link to an online sales channel. The directory is heavily promoted and is visited by people looking for British-made products. We are working with consumers, buyers and procurement specialists across all markets and sectors of industry and constantly encourage them to use the directory to find British-made goods.
Your business will receive a dedicated company profile page in the online Made in Britain Members' Directory, which you can populate with text, photos and videos, a link to your website and all your social media accounts.
Send us your news. Your member area of the website allows you to post product and company news, which we then publish and promote on your behalf.
Join our networking forum on Twitter, #MiBhour, every Thursday at 1pm. We will share your news where we can and help promote your products and your company.
We are exploring new ways to help you reach out to end-user consumers, including online sales and TV shopping channels.
SHOWCASE your products to other MiB members. This network helps encourage and develop the supply chain of British-made goods. Your staff can also take advantage of member-2-member showcase offers.
Join us at our Member Events - these events bring together specialists in sales, export and marketing to help your business with unique insight, and ideas from the heart of British SME manufacturing, and are a great opportunity to network with other members.
Made in Britain offers its members the opportunity to help increase its impact through working groups, where members will come together to share knowledge on topics common to manufacturers. The working groups will feed into Made in Britain's lobbying activity too, giving members a voice at the highest levels of government.
Take a look at this CASE STUDY to see the many ways membership helps manufacturers succeed with one mark.
Joining our organisation starts with reading through our Terms & Conditions, then filling in the Application Form.
Made in Britain Annual Membership Fees
| | |
| --- | --- |
| Company turnover up to | £1m per annum - £150 excl. VAT |
| Company turnover between | £1m and £5m per annum - £300 excl. VAT |
| Company turnover between | >£5m and up to £30m per annum - £1000 excl. VAT |
| Company turnover over | >£30m per annum - £1500 excl. VAT |