Membership Benefits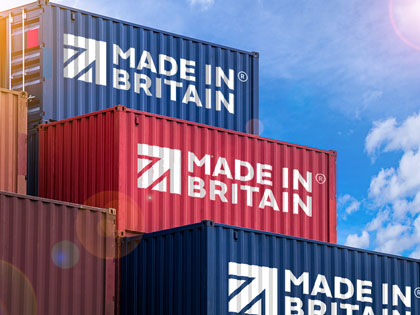 Made in Britain is a growing community of British manufacturers applying the protected collective marks to products, packaging, websites, and social media.
By joining our organisation, your business is making it clear to buyers, specifiers, and consumers that you're manufacturing to the very highest standards in Great Britain or Northern Ireland.
The key benefits you can enjoy when you join Made in Britain:
Licenced access to the Made in Britain mark
Your membership includes your licence to use the protected mark. Registered at the UK government's Intellectual Property Office, it's now officially recognised and can only be used by Made in Britain members.
Upload your products into the Members' Product Directory
The Members' Product Directory is a great opportunity to showcase your products by adding descriptions and photos together with information on how to buy them and links to online sales channels.
Your page in the official Members Directory
Your business will have a dedicated company profile which you can populate with text, photos and videos, a link to your website and all your social media accounts.
Post your company updates in Made in Britain Members' News
The members area of the website allows you to post product and company news, which we then publish and promote on your behalf in our weekly newsletter sent to all member businesses.
Information, guidance & support on international trade
We offer regular exporting webinars, workshops, and participate in international trade panels, to support you to sell more of what you make overseas. Our areas of focus include cutting through red tape, market-entry and the identification, onboarding, and management of overseas partners.
Participate in Made in Britain's Green Growth programme
Created in partnership with the Cambridge Judge Business School, Made in Britain's Green Growth assessment helps you identify ways to become a more sustainable business, and is your first step towards achieving Net Zero.
We'll see you on social media
We're frequent contributors on many social media platforms. Every Thursday at 1 pm, members get together at @MadeinBritainGB on Twitter, bringing together specialists in sales, export, PR, and marketing to help your business with insights, inspiration, and new ideas from the heart of British manufacturing.
Join today!
Join Britain's best manufacturers using the protected collective mark. Start by reading through our Terms & Conditions, then take the eligibility test and apply now.
Made in Britain annual licence and membership fees
| | |
| --- | --- |
| Effective from 00:01 Thursday, 1 December 2022 | |
| Tier 1 (companies with a turnover of up to £1m) | £180 per year |
| Tier 2 (companies with a turnover of £1m to £5m) | £360 per year |
| Tier 3 (companies with a turnover of £5m to £15m) | £930 per year |
| Tier 4 (companies with a turnover of £15m or more) | £1,800 per year |
| All fees are exclusive of VAT @ 20% | |