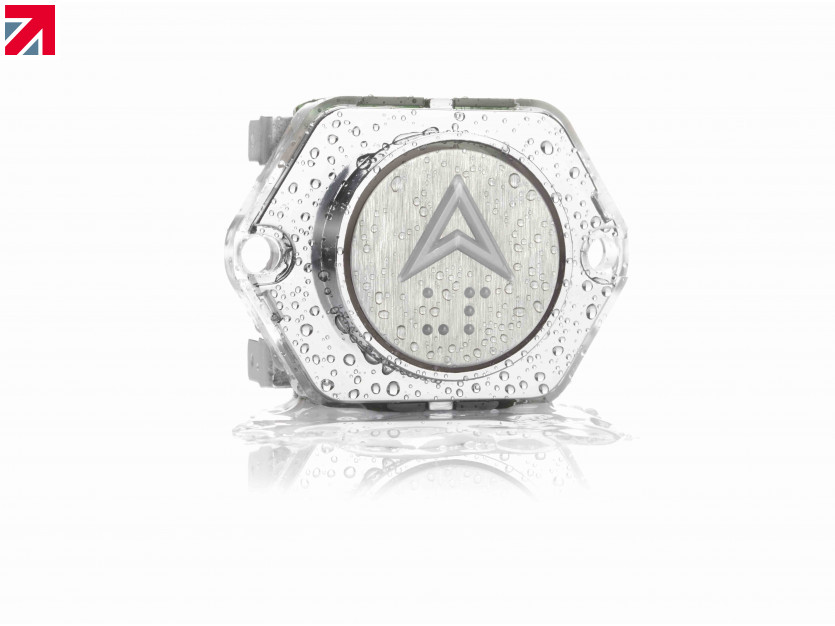 For Immediate Release, May 2023 – Dewhurst, a global leader in Elevator signalisation, is launching the new weatherproof pushbutton is available from 31 May 2023. The pushbutton is designed for outdoor applications and has been engineered to handle all types of weather. 
The Dewhurst weatherproof pushbutton uses innovative proprietary waterproof technology integrated within our latest compact 3 XR pushbutton body. The circular-shaped pushbutton has been tested to IP55.
The pushbutton comprises five elements: switch body, illumination, pressel, moulded seal & O ring and C3 IP-protected surround.
The character or symbol can be with braille (US95 style) or without braille (US91 style), the pressel finish can be a wide range of materials, and the legend and halo (light created between the pressel and the surround) can be illuminated in various colours. 
Key Features:
· Extensive range of pressel legends and styles to choose from, including with or without braille
· Legends are 15mm high and can be moulded tactile or flush
· Legend and halo illumination
· Pushbutton tested to IP55 from the front
· Vandal resistant – meets EN81-71
· Extensive range of standard material finishes for the pressel plate
· Chemical resistant   
About Dewhurst
Dewhurst is part of the Dewhurst Group. Dewhurst is an independent supplier of quality components to the lift, keypad, and rail industries. We invest heavily in new production equipment each year. Our Research & Development facilities and manufacturing plant, are located on the outskirts of London and complete with the latest machine tools. We boast the latest Computer Aided Design equipment and test equipment such as shadowgraphs, endurance test equipment, and environmental and dust chambers.  
Dewhurst is an Investor in People company, and we have a highly skilled workforce who can give the company a great deal of vertical integration. We are ISO 9001:2015 accredited. We work alongside some of the largest companies in the lift, keypad, and rail industries to develop and manufacture quality electro-mechanical user interface products. Our experienced team of designers, engineers and craftsmen manufacture products which consistently exceed customer expectations. 
About Dewhurst Group
Dewhurst Group encompasses companies based on four continents and is a global supplier of quality components to the lift, transport, and keypad industries.
The Group was founded in 1919 and currently employs over 350 people worldwide. Our people strategy is centred around Dewhurst Group's values of honesty and integrity. We aim to create and maintain an environment where people are engaged and feel empowered, motivated, and fulfilled.
In 2022 Dewhurst Group had annual sales of £57.6m, and Dewhurst Group shares are listed on the AIM market of the London Stock Exchange.
For further information, please contact:
Peter Dewhurst
E: pdewhurst@dewhurst.co.uk
T: +44 (0)779 9487646
Find out more about Dewhurst UK on their member profile page here