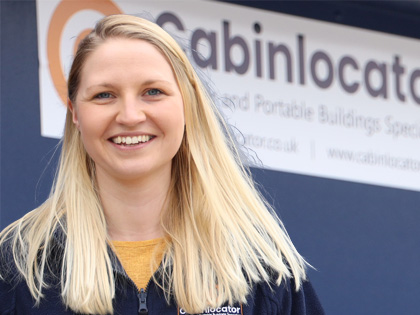 CABINLOCATOR specialises in the supply and manufacture of top-quality portable and modular buildings. It is based in east Yorkshire. The company has recently joined the Green Growth Programme and financial controller Danielle Parry-Reece (left) describes the experience.
How integral do you see sustainable business practices to the future of your business?
The original Cabinlocator business model was renovating second-hand portable buildings for sale and/or hire, we now also manufacture our own range of portable buildings as well as renovating.
We offer a buyback service on our own buildings to clients. Because of the long lifespan of our products, we have not yet received a building back, but the circular life cycle of our products is an integral part of our business
To what extent does your approach to sustainable business set you apart (in your sector)?
Being a small, family-run business means we can action change relatively quickly, may that be within our supply change or bringing in new recycling practices.
Small changes now can make a big difference with anything, but especially when working for a more sustainable future.
What are the advantages to doing business sustainably?
Other than it being the right thing to do, the general public is becoming more savvy to the importance of being eco-friendly. None more so than younger generations who are paving the way and will dictate future buying habits. If your business isn't working responsibly you're a bit of a dinosaur, and we all know what happened to them.
How have you engaged your team members/ supply chain/ other stakeholders around the Green Growth Programme, if at all?
We published our first-ever Sustainability Report last month on Earth Day. It was emailed to our teams for their thoughts and feedback. Being a small team we can easily engage with everyone about business news.
What advice would you give to Made in Britain members as they progress on their sustainability journeys?
Don't put it off and complete the Green Growth Survey so you can take manageable steps in areas that need improvement. The Green Growth programme created the framework around our Sustainability Report and the working group has been very helpful.
If you would like your business to join the Green Growth Programme, the journey starts here: https://green.madeinbritain.org/
For more information about Cabinlocator, see the company's member profile page here.