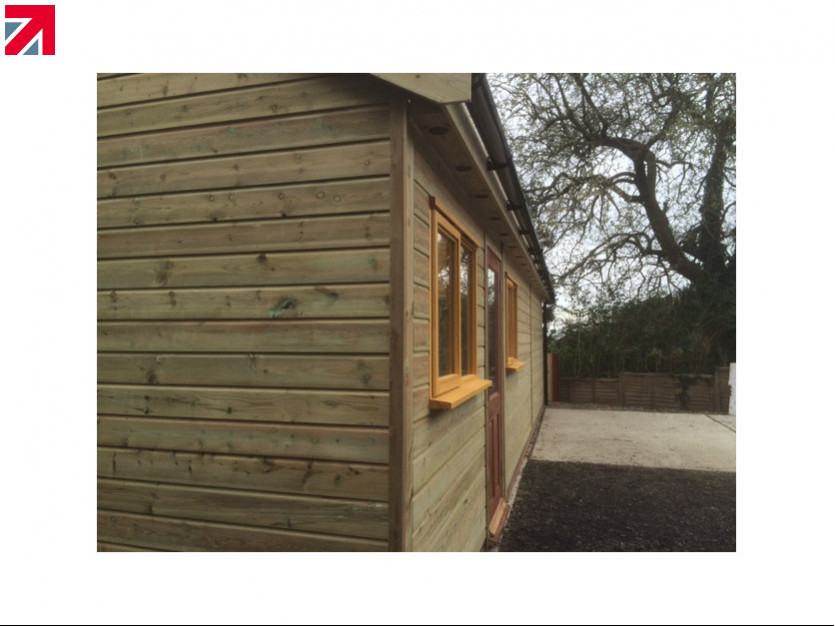 Yes, they most definitely are!
Customers often enquire whether a garden office room will be warm enough to use comfortably in the freezing winter months! And the simple answer is yes! We understand how important it is to be comfortable in the workplace no matter where that might be. A comfortable physical space is a key factor in an employee's productivity. A pleasant work environment helps to create a more positive atmosphere, which helps combat stress levels and boosts wellbeing. In turn, both employee motivation and productivity increase. That is why our insulated garden offices are so popular. Here are some other reasons why garden room offices are the perfect choice for the frosty season…
Double glazing
Working in a cold office is not only unpleasant and distracting, but it's slightly depressing too. Double glazing will help your garden room office to retain heat for longer due to the slowed thermal transfer. This means you will not need radiators on for as long or spend as much money on your energy bills. Rather than focusing on how cold you are, you will be focused on the workday ahead of you. Double glazed windows and doors are installed as standard in our insulated garden offices.
Effective insulation
Insulation is one of the most efficient ways to save energy in a building since it keeps it warm and protected from the cold in the winter and cool in the summer. A well-insulated structure is very energy efficient and will need extraordinarily little additional heating and cooling.
We can insulate the walls, floors, and roof of your garden room office. In fact, insulation and timber cladding serve to send the heat loss of our structures into extremely low figures. We can also lay floating floor insulation to provide a barrier to noise and cold temperatures coming from both outside and inside the building, to minimise the amount of heat lost through the floor.
Heat things up
You will be able to kit out your garden office with full electrics for extra heating options, leaving you free to add all the extra add-on heating options you like.
Don't forget, wood is a natural insulator too, due to air pockets within its cellular structure. It is the perfect material for structures like garden room offices that are intended for year-round use.
Will snow and ice damage my timber garden room office?
As we have already discussed, an insulated garden room office will keep you warm all year round, however, will it be protected from the snow and ice? The simple answer is yes. At National Timber Buildings, all our timber structures are crafted from Tanalised® timber and galvanised to help preserve the wood, protecting it from rot, fungus, mould, insect attack and general damp weather conditions.
Tanalised® timber is timber which has been pressure treated to help preserve the wood. When preservative protection is applied via a pressure method, the treatment gets right into the centre of the wood. This is unlike treatment applied with a brush, which only covers and corrects the wood's surface. All the tanalised timber we use for our structure timber and cladding has been impregnated with Tanalith® E wood preservative.
While a tanalised building is not waterproof. Tanalising stops the wood from rotting and decay. We always recommend applying a clear water shield to protect against the sun and rain. If well looked after and cared for, snow and ice will not be a problem and your garden room should last a lifetime.
A garden room can not only provide you with a suitable place to work, but they can also add value to your property too. In fact, homes with a garden room are seeing a potential increase in value of between 5-10%. If you are looking to add a garden room to your property to use as an office or other function, why not request a brochure today to see how we can help you.
To find out more about us, visit our website.
Find out more about National Timber Buildings on their member profile page here