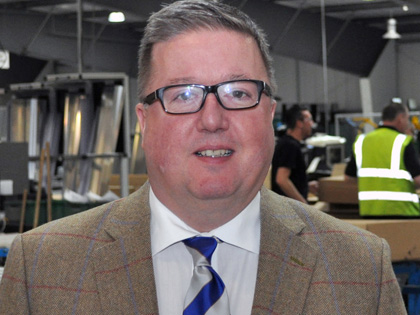 NEWTON Aycliffe-based showering solutions designer and manufacturer Roman Ltd has joined Made in Britain's Green Growth Programme. David Osborne, CEO of Roman (left) shares his Green Growth experience.
What did the Green Growth assessment tell you about your business?
Once we had completed the assessment, we came out with quite a high rating which gave us further validation regarding our environmental credentials and commitment. In terms of materials, we have the principles of the circular economy firmly embedded in everything that we do – and we also hold ISO-14001 and PAS 2060:2014 accreditations.
Has the Green Growth assessment changed the way you work?
We wouldn't say that it has changed the way we work – but it certainly highlighted some new areas to focus upon to continue to improve our environmental impact. Sustainability constantly evolves and we must evolve with it.
How easy was it to gather the data? How long did it take you to fill it in?
It was not terribly difficult to complete as it is not a data-heavy or data-driven assessment. We had most of the information easily to hand and it took us about 90 minutes to complete.
Did the Green Growth assessment tell you anything you didn't know?
It certainly brought focus to a few points and actions that were sitting outside other assessments and accreditations that we work with – and like all such assessments, it gets you to look at what you think you might know in a slightly different way.
What has been the biggest benefit, having completed the Green Growth assessment?
Our assessment came out positively for us but also highlighted a few areas for improvement –these are added in to our continuous improvement programme. We would urge all members to complete the assessment and there is a very clear "greater good" for Made in Britain members as a result. COP-26 clearly highlighted that action, not words, are needed in all sectors for change to happen and all members will have areas to improve upon.
If you would like your business to join the Green Growth Programme, the journey starts here: https://green.madeinbritain.org/
For more information about Roman Ltd, see the company's member profile page here.