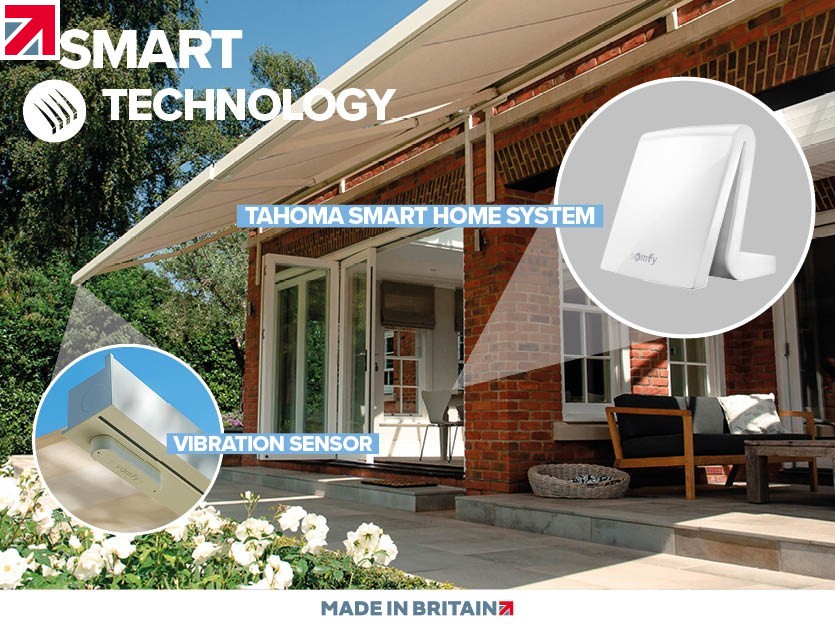 Britain is notorious for its unpredictable weather patterns, caused by the cold polar air battling it out with the warm tropic air, this can cause quite a nuisance at times, especially when you've got the washing out. Predicting the weather may be a losing battle but there is one way of staying ahead of it when it comes to our blinds and awnings.
At Caribbean Blinds we have been manufacturing and installing external shading solutions for over 30 years, during that time we have consistently improved our systems to make them more efficient in all weather conditions, making them more practical for an enhanced user experience. Technology has quickly become an essential part of our everyday lives, benefiting our health & wellbeing and making us more proficient in our everyday duties, it was a necessary transition to integrate SMART sensory technology to our patio awnings and electric blinds.
With the aid of our vibration, rain, wind and sun sensors, we are able to give our clients piece of mind whilst keeping their homes more energy efficient. Irregular weather patterns are now a worry of the past, as the sensors detect, the blind or awning will automatically deploy or retract. The vibration, rain and wind sensors will ensure the shading system is protected, the sun sensors will initiate the shading system to protect the home from solar heat gain.
We can even give our clients that extra piece of mind and control with the Tahoma Smart Home system, interlinked with the homes Wi-Fi system, this ingenious solution will give clients full control of the external shading solutions all from an app, you could be anywhere in the world and still be assured that your shading system and home are safe and secure.
Talk to one of our advisers today to learn more about the features and benefits of our innovative exterior blinds and awnings – 0344 800 1947. Alternatively, you can get a guide price using our pricing page.
Find out more about Caribbean Blinds UK Ltd on its Made in Britain member profile page
Find out more about Caribbean Blinds UK Ltd on their member profile page here