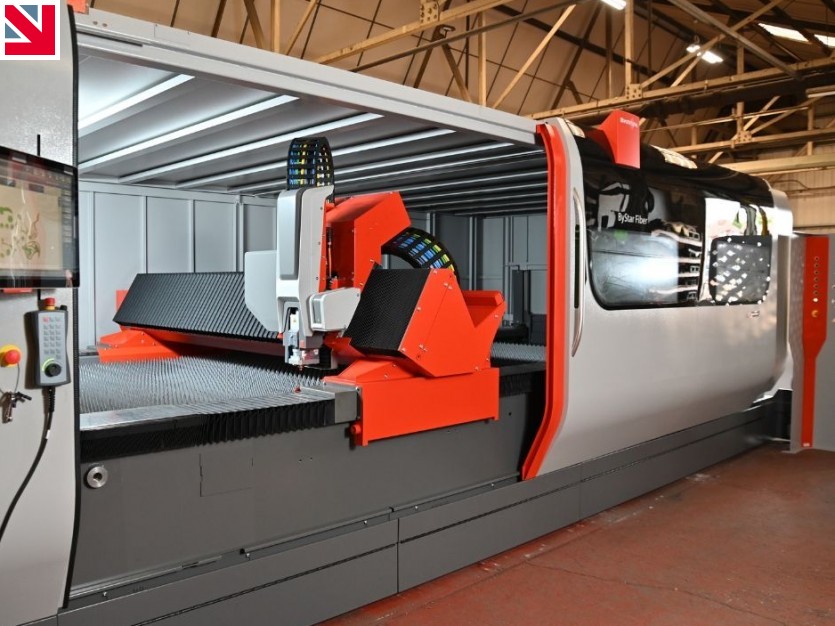 L-R: Glenn Sykes, new Laser Operator and Steve Duree, MD at Pland Stainless alongside new machine installation
PLAND Stainless has announced the purchase of a new 4m Bystonic Fiber Laser machine to improve productivity at its Leeds-based manufacturing unit. This represents the latest acquisition in what will total a £1/2million investment this year on improvements to the production facility.
The machine has now been installed and is being commissioned during July, halfway through a year of celebrations as the business celebrates its 100th year on the same site on the Leeds ring road. This new high-speed laser cutting system enables precision cutting of the stainless steel raw material, improving both speed and accuracy of manufacture.
Steve Duree, MD of Pland Stainless Ltd said, "The purchase of this machine represents Pland's commitment to investing in new technology to enhance our British factory. Made in Britain is important to us and a growing number of our clients. This investment demonstrates our commitment to offering best in class products made right here in Yorkshire."
Pland Stainless designs and manufactures a huge range of stainless steel products largely for the commercial sector. It supplies to the healthcare, sanitaryware, washroom, laboratory, education, catering, janitorial and secure accommodation market places. A growing and significant proportion of the business is made up of bespoke products where the technical team works with the client to design stainless steel products that deliver specific solutions, using its in-house CAD/CAM and 3D modeling technology. Pland Stainless is one of the few UK manufacturers remaining in its market and is reaping the rewards as buyers increasing look for local supply. For further details visit www.plandstainless.co.uk or contact Pland Stainless on tel: 0113 263 4184.
Member-created content 9 months ago | News