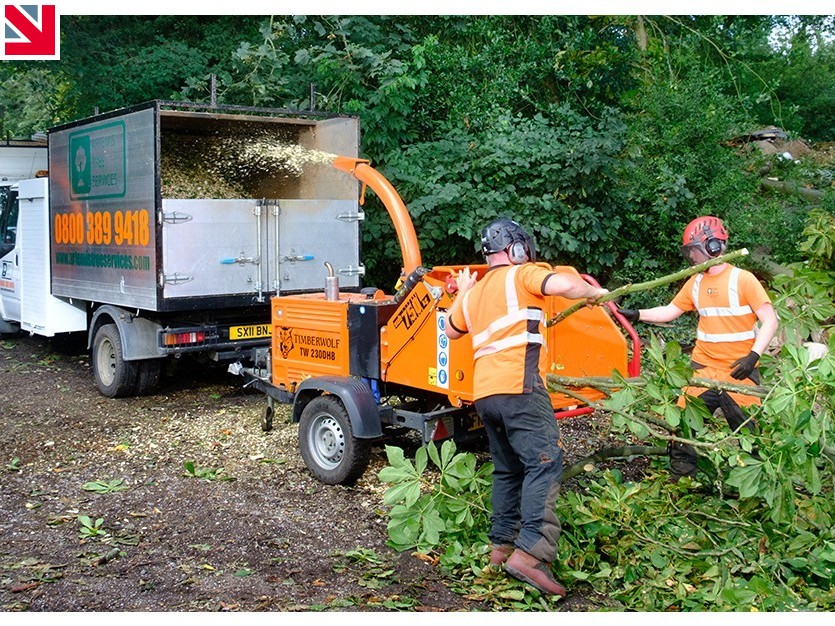 THERE'S strength in numbers for Artemis Tree Services and its fleet of eight Timberwolf wood chippers.
Since starting his business in 1998, Owner Simon N'Jie has grown Artemis Tree Services into a multi award-winning business through his commitment to provide the best service possible; from recruiting and training a highly qualified team through to using only the best equipment.

Over the last 20 years, Simon has remained committed to owning and operating Timberwolf wood chippers, from his first Entec machine (a predecessor to Timberwolf) right up to his current line-up of seven TW 230DHB road tow machines and a TW 230VTR variable tracked wood chipper.
Artemis Tree Services has built a strong reputation for delivering a high standard of service based on efficiency and professionalism for its domestic and commercial clients. This commitment to providing a high quality service, together with their ARB Approved Contractor status, has led to many high profile commercial construction clients, such as Barratt Homes and Balfour Beatty, as well as working closely with local councils and schools.
Operating mainly within a 20 mile radius of their base in Rickmansworth, Hertfordshire, with a team of 30 staff members, Artemis Tree Services also has the flexibility to seize opportunities for larger, long term project work across the home counties as they arise.
Simon N'Jie explains, "Whether working close to home or further afield, we can always rely on our Timberwolf machines to perform effectively and efficiently for our teams. The benefits of owning a fleet of the same model of Timberwolf wood chipper are huge for our business. I love the Timberwolf TW 230DHB; it's robust, easy to use, easy to manoeuvre on site, it has great throughput and is very reliable. Its sub-750kg weight means that anyone on the team can tow the machine without the need for an additional towing licence. The machines rarely have any issues whilst on site, but if there is a problem our years of experience with the TW 230DHB wood chipper means we can diagnose and resolve that problem quickly."

As a Timberwolf owner, Simon knows he has a network of Timberwolf Dealers there to support him and his machines. "Whenever I need genuine spare parts I know I can trust my local Timberwolf dealer Green Plant to get them to me the next day. And if I need technical support, their Timberwolf-trained technicians are always there to offer advice."
Simon continues, "Timberwolf wood chippers come with a Three Year Warranty as standard, but I know I won't need to claim on it – the machines have been so reliable! Over the years, Timberwolf have improved their TW 230DHB and TW 230VTR models based on feedback from customers like me, and I have great confidence in their products and the company as a whole. For me, the Timberwolf brand is synonymous with quality whilst being competitively priced and my team like using them so together, that makes Timberwolf wood chippers a perfect fit for the future of our business."