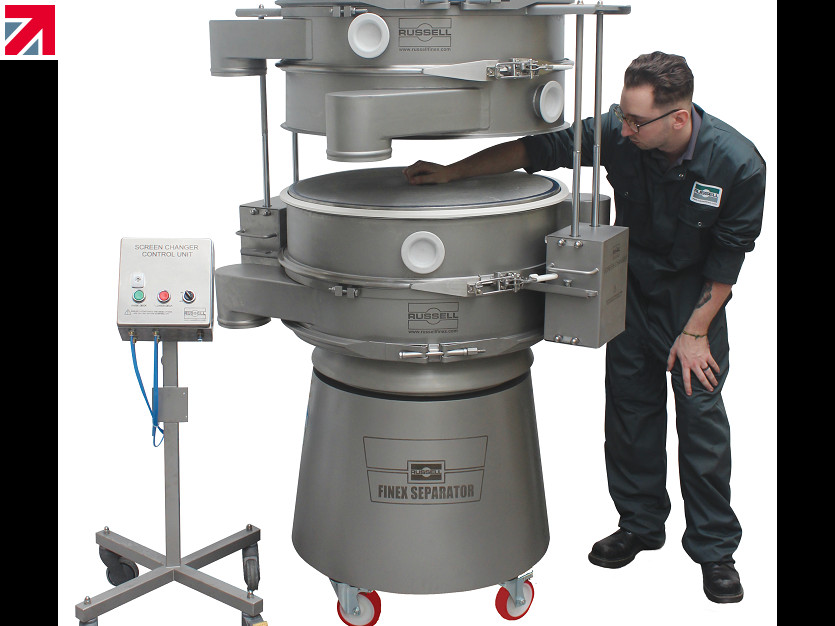 Change your mesh frames quickly and safely with the Russell Screen Changer™
The Russell Screen Changer™ is a multi-award-winning screen deck lifting device, designed for effortless inspection and replacement of mesh screens.
Now, the Russell Screen changer™ has undergone ergonomic improvements to improve usability and manual handling, making it easier than ever to assemble and disassemble. Refined and adjusted based on customer feedback, the Russell Screen Changer™ is now even easier to use with vibratory separators.
Reduce production downtime and improve the safety of your operators during maintenance. This retrofittable upgrade can be used on a wide range of round separators such as the Finex Separator™ and Russell Eco Separator® as well as any other standard round separator.
The Russell Screen Changer™ lifts up to two sieve decks quickly and safely to a comfortable height above the mesh screen which requires inspection or replacement. The system can be used on multiple machines, enabling it to service as many screeners as you have in your plant.
Improves your operator safety - Fail-safe lifting system for effortless removal of mesh screens.
Easy to upgrade - Retrofittable design is easily installed onto any round separator in your factory.
Increases your productivity – Dramatically reduces the time to inspect or change mesh screens by just one operator.
Watch the Russell Screen Changer™ in action
Find out more about Russell Finex on their member profile page here