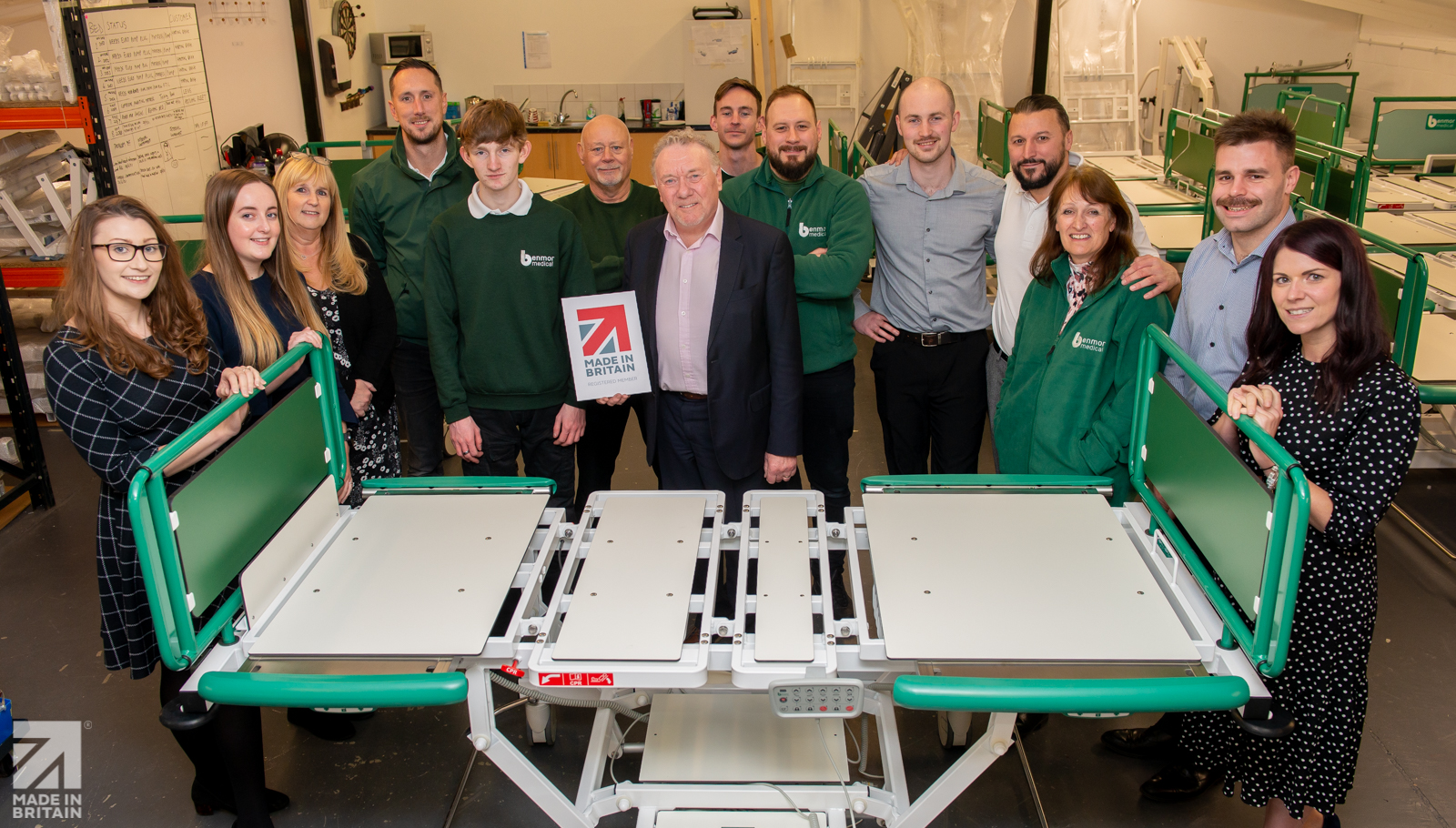 BENMOR Medical makes beds and other medical equipment for plus-size patients. Its headquarters are in Hampshire (team photo left) but it has branches across the country. It has joined the Green Growth Programme from Made in Britain. Katie Rowsell, who provides sales and marketing support at Benmor, describes the Green Growth experience.
How integral do you see sustainable business practices to the future of your business?
Our main customer – the NHS – was the first health service to commit to reaching carbon net zero in their October 2020 sustainability pledge. It is therefore key that as a supplier we echo their goals. Across the board, sustainability is becoming much more prevalent in decision-making and we believe if we don't act upon it now as a manufacturer, we will risk falling behind the curve.
To what extent does your approach to sustainable business set you apart in your sector?
During the design and development of our bariatric bed frames, we focused heavily on procuring sustainable components. As such, over 80 per cent of the components are recyclable. A large range of acute bariatric beds on the market have a much higher plastic content. We wanted to develop a product that is more sustainable than what was already available, yet still compliant with strict infection control standards.
What are the advantages to doing business sustainably?
Aside from the obvious benefits to the world we live in, businesses who opt for sustainable practices will become more efficient, benefit from cost savings and have better future prospects.
How have you engaged your team members/ supply chain/ other stakeholders around the Green Growth Programme, if at all?
We are currently conducting a sustainability exercise with our team members and suppliers and have incorporated the Green Growth Programme into this. The aim of this exercise is to discuss what we are currently doing and what we could be doing better. We are working with our suppliers to make sure our sustainable processes are instilled within each stage of the supply chain. So far this has generated some valuable ideas on how we can proceed to reach our targets.
What advice would you give to Made in Britain members as they progress on their sustainability journeys?
Firstly, if members haven't already done so I would recommend they take part in the Green Growth Programme as it gives a good insight into areas to focus on in your sustainability journey. Secondly, engaging with other businesses throughout your journey gives you a great bank of ideas to take forward. Ultimately, we all need to work together to achieve the same goal.
If you would like your business to join the Green Growth Programme, the journey starts here: https://green.madeinbritain.org/
For more information about Benmor Medical, see the company's member profile page here.