Calomax apprentice shortlisted for Work Placement of the Year Award
There's nothing more quintessentially British than a piping hot cup of tea. So it's heartening to know there's a manufacturing company in West Yorkshire that's been keeping the country well supplied. Calomax has been making catering boilers for over 70 years. In fact, millions of people every year drink tea made with water from a Calomax boiler – without even realising it.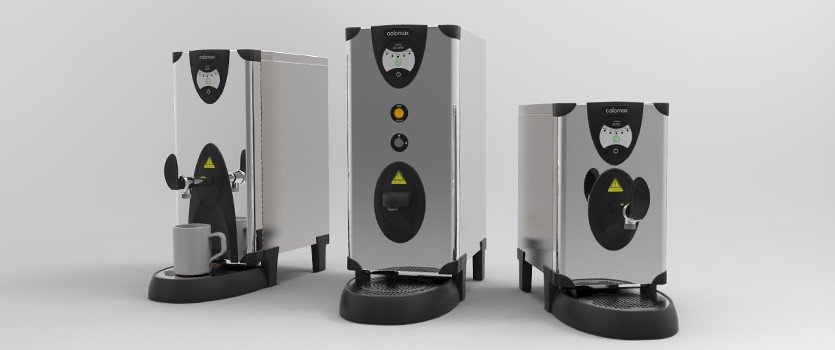 Across Britain, people in hospitals, canteens, cafes and on trains will be using Calomax boilers to make their cuppas – morning, noon and night. Calomax boilers are also exported as far afield as the Falkland Islands, and even on the British Antarctic expeditions. Brr!
With so much history and heritage behind the Calomax brand, it's equally important for the team to look to the future. Calomax is dedicated to the future talent of the manufacturing industry with an exceptional work placement programme.
Provenance marketing as a sales-boosting strategy
For Development Engineer Neil Walker, sharing the Calomax story has never been more important. The modern consumer is savvier than ever and he feels it's Calomax's British heritage that offers that extra USP to customers.
He says: "We've always been proud of being British and punching above our weight against multinational companies many times our size. But we've noticed that mindsets in general are changing – people love to know where the products they buy are made.
"Discerning customers who might previously have gone for the cheapest option – no matter where it was produced – are now prepared to pay a little more for British quality. By displaying the Made in Britain marque, we make it easier for them to identify British goods and hopefully make the right purchasing decision."
Nurturing the future of manufacturing
For years, Calomax has been passing these values down to future generations of manufacturers with its student placement programme. In conjunction with Loughborough University's Design School, Calomax offers placements to students studying industrial design and technology.
Last year's student, Kirk Duerden, truly excelled in this role. So much so, Calomax offered him a full-time position and he's been shortlisted for the University's prestigious Placement of the Year Award.
Neil says: "We're delighted Kirk will return to Calomax after completing his degree course and the icing on the cake would be for him to win the award. We think it's incredible that a Made in Britain designer produces Made in Britain products and we would appreciate the support of fellow members by voting for Kirk to win."
What a fantastic story. We're wishing Kirk loads of luck from Made in Britain HQ. You can vote for Kirk in the Placement Student Awards here.