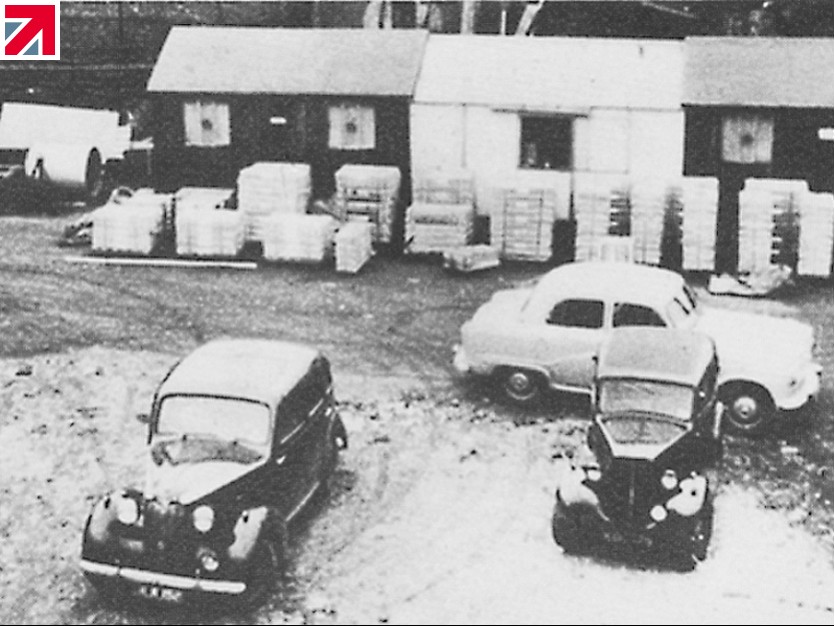 Supporting Britain with Link51 Storage Products For 70 years
Being trusted to supply UK-manufactured storage since 1951 is an iconic milestone.
In 1951, when father and son James and Peter Kinnear established The Handy Angle Company at Brierley Hill, Britain was celebrating the inventiveness and genius of British manufacturing, science and technology. It was a time of progress following years of war and austerity, and the "Festival-style" excitement caused by the 1951 Festival of Britain spread like wildfire.
From a small workshop in the heart of England's industrial 'Black Country', the original staff of six at The Handy Angle Company started manufacturing a range of practical slotted steel angles. The region was already considered innovative and influential in shaping trends and consumer tastes and the company was well placed to tap into that innovation.
Building on an innovative tensioning plate design providing a stable and highly configurable storage system based on a range of slotted steel sections, matching clamping plates and bolted shelving, the business grew to meet the increasing demand for improved, purpose-built storage equipment. By 1966, it had changed its name to Link51, combining the year of incorporation and the word Link, describing the various types of storage equipment and techniques grouped within one company. It has never looked back.
Our story - capturing 70 years of British design, manufacture and installation of pallet racking, shelving and lockers by one company - remains unique today.
Designed for strength, built to last
Throughout the decades, we have kept pace with the changing needs for storage – always innovating and setting trends. As the UK's largest manufacturer and supplier of steel storage systems, we expand capabilities with storage. Today, our comprehensive range of products and solutions continue to meet the demand for rigorous and effective storage management for all types of industries and specifications.
In the tradition established in 1951 by James and Peter Kinnear, we have been helping businesses large and small, across a vast range of sectors with a huge array of storage needs. Whatever your unique storage requirements, we make your space work harder for you by ensuring you have the most innovative, flexible and future-proof storage solution in place for your exact needs. Our priority is to expand capabilities with storage, to serve your business with premium products and services you can trust.
Local and Sustainable
All our products are manufactured locally. This is important as it means that we're never far away from installation sites and you won't need to worry about extra delays or disruptions to your timeline. It also means that we can cut down on carbon emissions.
Quality, safety, health and the environment are all very important to us. We monitor key indicators to safeguard our employees, customers and the environment. Our solutions are in line with British standard requirements, SEMA Codes of Practice and British Safety Council Certifications. We make use of anti-microbial technology in our systems. These are all visible endorsements of our commitment to quality, responsible business practices and a sustainable approach.
Ongoing Investment in Innovation, People, Systems and Technology
Dagan Hyde, Whittan Group Technical Training Manager, has been part of this story for four decades. Looking back, he said, "It's incredible when I think that I have personally seen more than half of the history of this business. I joined the company when the shelving market was changing from bolted-together systems that we saw in the late seventies, to the better, lower-cost, clip-together systems of the eighties. We were exiting Handy Angle shelving and launching Stormor® shelving (Mk1).
"Over the years, there has been a lot of change, but the fundamentals have remained in place. We are still a UK-based business providing solutions to the storage and logistics industry. When I started with Link51 in 1981, it was part of a group called Wagon Industrial. Link51 was the second-largest storage equipment manufacturer in the UK.
"Today Whittan is a wholly-focused storage business with market-leading brands and the largest manufacturer of pallet racking, shelving and lockers in the UK (by some considerable way). The ongoing growth and investment in people, manufacturing, infrastructure, and IT, have all been part of the ongoing development and success that I have had the privilege to see over the years."
Jon Templeman, Whittan CEO, also comments on the achievement, "Not many businesses have the durability to last 70 years! Whittan and its predecessor businesses, Link51 and Apex, have demonstrated the ability to survive and adapt to a changing market over the years.
"Link51 began life as a more general steel fabricator but chose to concentrate on storage solutions some decades ago. As the largest UK manufacturer, we have been at the forefront of changes in the industry, for example, pioneering the first pallet racking system using a bolted rather than welded frame. We have also been influential in the development of industry standards, both at SEMA here in the UK, and also in Europe, where we have become an increasingly important player since our acquisition of the Permar (now Polypal) business in Spain.
"We have changed our customer service approach from being product-based to focusing on storage systems as solutions for customer challenges. Our use of technology and the knowledge and experience of our experts, both in terms of design and project execution, has enabled us to respond to the growing demand for inventive, automated solutions.
More than anything, however, it has been the commitment and innovation of generations of Link51/Apex/Whittan staff that has ensured that the business has thrived, and I am
confident that this dedication and success will continue."
70 Years of Storage
This year, as Whittan celebrates 70 years of expanding storage capabilities and maximising opportunities with Link51, we bring you an outstanding range of storage products and solutions.
Our trusted products include Link51 and Apex, providing design, manufacture and installation of racking and shelving products; Hi-Store, for mezzanine floors; market-leading display and storage solutions for retail sectors from Polypal UK and an extensive range of lockers and workplace products from Probe and Link Lockers.
The backbone for many of the UK's leading and household brands and organisations, our storage solutions are present across warehouses, stores, offices and organisations across industries and sectors - from creating the space to store defence equipment onboard a Royal Navy submarine, to housing 13.5 million litres of Macallan single malt, protecting Stella McCartney's couture archives, providing secure storage lockers for offices, schools and gyms, or storing decades of film reel for the BFI.
We also have an extensive UK-wide network with our experts to help with your queries and handle simple to full turnkey environmentally-efficient installations.
With 70 years of experience in steel shelving and pallet racking, we have full confidence in the excellent quality of our UK-based manufacturing, our solutions and our experienced teams, so let us bring the power of storage to your business. Feel free to call us – our storage specialists are here to help.
Find out more about Whittan Group on their member profile page here