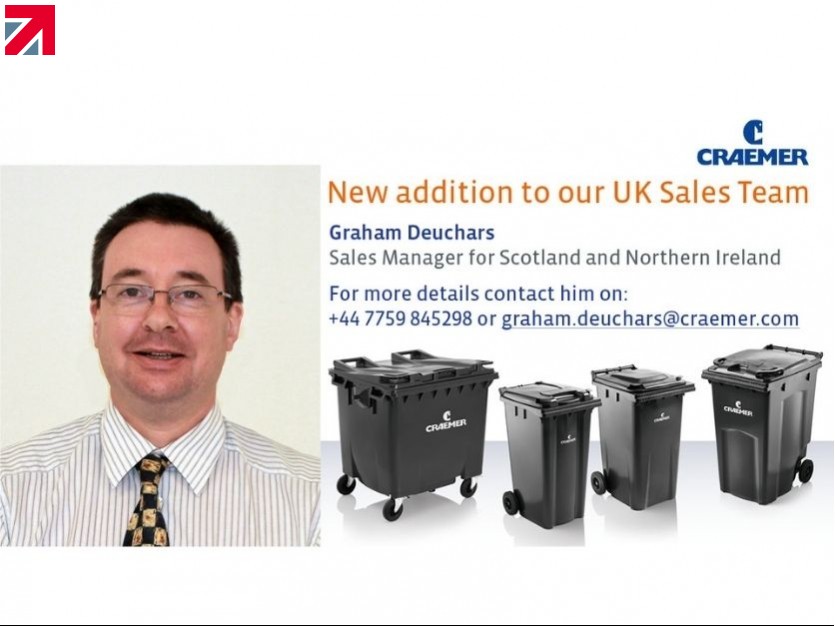 Craemer UK are pleased to announce the appointment of Graham Deuchars into their UK Environmental Products Sales Team.
Based in Perth, Graham will be responsible for driving business growth in Scotland and Northern Ireland, whilst building upon Craemer's established reputation as a leading UK based supplier of high quality, long lasting wheeled bins and recycling containers into the public and private waste sectors.
Commenting on his new role, Graham said; "I'm delighted to be joining the team at Craemer. It will be a pleasure to work for a company who are market leaders, known for quality and have ongoing investment."
Graham joins Craemer having enjoyed a successful sales career spanning over 30 years, working for industry leading companies such as HC Slingsby, Arthur Shaw Manufacturing, Jewson and HCS Group.
Steve Poppitt, UK Managing Director said; "We are delighted to welcome Graham to our fantastic UK sales team at such an exciting time for Craemer following the recent expansion of our UK production operation and the introduction of a range of brand new products".
Based in the Midlands and supplier to over 70% of UK councils and major municipal bodies, recent investment has seen Craemer UK - as part of the Germany-based Craemer Group - expand to a purpose built, second production facility running alongside their UK headquarters. This state-of-the-art facility, and the addition of a full range of 4 wheeled bins along with a 340 litre bin and household food waste caddies, completes their range of waste and recycling containers and establishes Craemer as the only UK based manufacturer with the ability to produce their entire range in-house, in the UK.
Find out more about Craemer UK Limited on their member profile page here