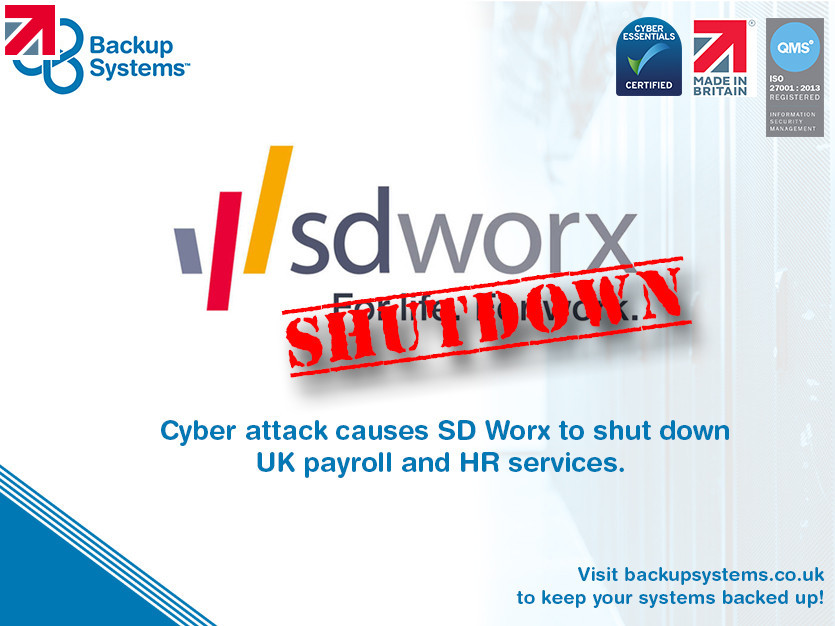 Belgian payroll giants SD Worx were the victims of a cyber attack recently, leading to them shutting down their UK and Ireland services, which includes their payroll and HR services.
The attack surfaced as malicious activity was discovered in their hosted data centre, leading to them taking immediate action and shutting down their services for the affected area, which was the UK and Ireland division.
More can be read about the attack here https://www.bleepingcomputer.com/news/security/sd-worx-shuts-down-uk-payroll-hr-services-after-cyberattack/
Having to shut down your company for a specific region would be a massive hit to your business, could you afford to do the same if you were in the same situation?
Having a secure backup stored remotely prevents it becoming affected should you become victim to a cyber attack, it keeps the data separate and acts as a fail safe in the event something happens to your main system.
Backup Systems offers a variety of ways for you to keep your systems backed up, get in contact today to book a demo.
visit https://www.backupsystems.co.uk to take a further look at what we have to offer.
Find out more about Backup Systems Ltd on their member profile page here