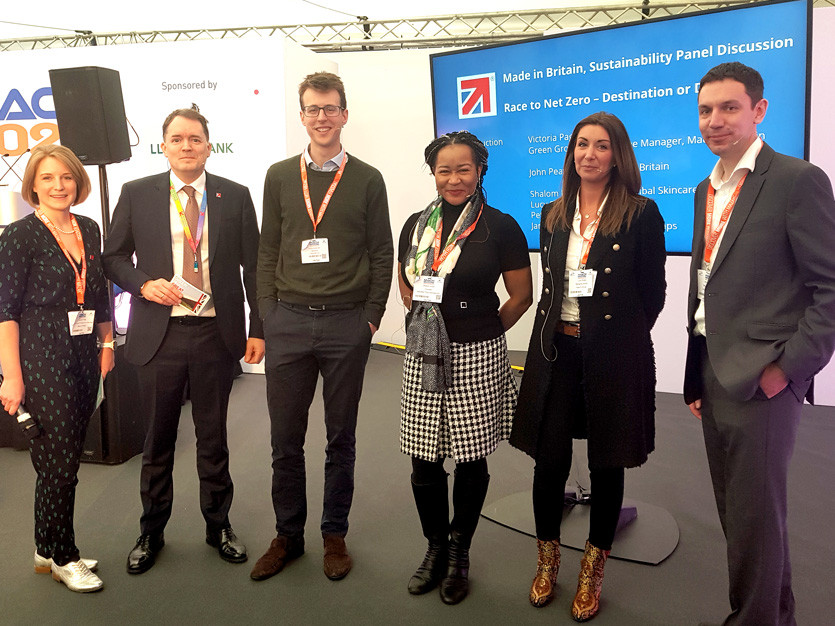 MADE in Britain hosted a panel discussion at the MACH engineering exhibition on 7 April, asking the question: race to net-zero, destination or dream? The seminar room at the NEC-based show filled quickly with manufacturers, eager to listen to four panellists discuss their thoughts on the race to net-zero and what it means for the sector.
The session was opened by Green Growth Programme manager Victoria Page and moderated by John Pearce, CEO Made in Britain. John was joined by a stellar line-up of manufacturers comprising Shalom Lloyd, founder and managing director of Naturally Tribal Skincare, Peter Dewhurst, commercial director of Dewhurst UK, Lucy Stokes, managing director of Race Furniture and James Standley, CEO of Kensa Group.
Shalom Lloyd began by outlining her motivations for doing business sustainably. "It's just the right thing to do," she said. "We've coined the phrase, 'planet hugging'. Everything we do as a company has to hug the planet."
The panel explored some of the 'quick wins' manufacturers could make, recognising that 'baby steps' are just as important as ambitious strategies. Lucy Stokes commented, "We knew that packaging our products for transportation was an issue and we wanted to reduce ours and our customers' waste and landfill contributions, so we worked to develop an alternative solution. We now screw our furniture to the flatbed of our delivery trucks, which has eliminated the need for packaging in most cases and helped our suppliers address their zero waste ambitions. As a by-product, that decision also reduced a cost from our business – we are aiming for zero waste and landfill ultimately."
For Peter Dewhurst, energy presents a key environmental impact for Dewhurst. The business renegotiated its energy contract to switch to 100 per cent renewable energy, future-proofing its energy needs in the process.
John Pearce then redirected the discussion to address the crux of the issue. Is the ambition of net-zero any more than a pipe dream? Lucy Stokes stated, "For us, we won't be pursuing a net-zero target, not least until we understand and measure our impact first. We'll do everything we can to make our business more sustainable, as we have always done. It is simply how we should all behave every day. But it's not possible for us to honestly claim that we can influence Scope 3 emissions* today throughout the entire end-to-end supply chain."
James Standley conceded that while sustainability can seem amorphous sometimes, it's "essential to look through your supply chain to procure the elements that are most sustainable". Every business has a degree of influence over its supply chains and the purchase decisions it makes.
Ultimately, those who purchase your products will be one of the key audiences to convince. Many B2C (business to consumer) businesses, like Naturally Tribal, have already found consumers are demanding transparency on the sustainability credentials of the businesses they buy from. Lloyd said, "Consumers are savvier than ever before. They want to see the impact of the businesses they are buying from."
Standley confirmed, "We serve both B2C and B2B (business to business) customers. We're seeing demand from both audiences for products and services that are more sustainable. It's also increasingly part of procurement processes."
"It's a commercial imperative to focus on sustainability," stated Peter Dewhurst. If we're to address the existential crises facing the manufacturing sector, like access to raw materials and clean energy, the entire sector must prioritise doing business sustainably.
And in her concluding remarks, Lloyd said, "The Made in Britain mark is really important in providing a mark of quality."
Made in Britain has made the Green Growth Programme available to every member, to enable businesses to measure their progress and take action. The free-to-use assessment is designed for manufacturers wherever they are on their journey and, once complete, members will be awarded a Green Growth Programme badge for their member profile and to use in communications.
You can find out more about the Green Growth Programme here.
* Scope 3 emissions are all indirect emissions that occur in the value chain of the reporting company, including both upstream and downstream emissions. For more information, click here.