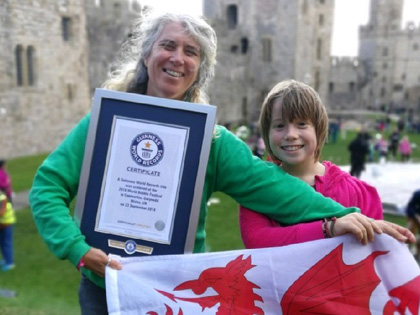 MADE in Britain member Dr Zigs Extraordinary Bubbles has joined the Green Growth Programme and is already seeing benefits from completing the survey. Dr Zigs's 'bubbler in chief' Paola Dyboski-Bryant (left) describes the experience.
How integral do you see sustainable business practices to the future of your business?
Sustainability underpins absolutely everything we do at Dr Zigs. It has to, as it's what makes us who we are. For example, we're currently expanding and looking at growth, and every part of that we're analysing in terms of carbon footprint, impact, and financial sustainability too.
To what extent does your approach to sustainable business set you apart in your sector?
Immensely. The toy market has for years been dominated by cheap, mass-produced, Chinese plastic imports - especially in terms of Bubbles. This is categorically no longer sustainable when we examine our impacts and consider the climate emergency. We are incredibly proud to be leading the way and showing that there really are alternative options in this busy marketplace.
What are the advantages to doing business sustainably?
There are huge and multiple advantages. Having sustainability and quality as our USP's helps us stand out against our competitors. Consumers are searching for alternatives that are better for the planet. The pandemic has made us as a population examine our consumer habits, and the more eco-friendly our products, the better. Brexit and changes in shipping costs have actually given us a huge competitive advantage too, being made in the UK with lower shipping miles, fewer logistical issues, also helps. Also, in practical terms - this year for example we launched our 'flat-packed bubbles' range of toys - these are the size of a large letter - it has lowered postal costs, carbon footprint, and brought the price down for customers. It's a win-win. What's more, it helps me sleep at night, knowing that we're doing our best to play our part.
How have you engaged your team members/supply chain/other stakeholders around the Green Growth Programme, if at all?
Because sustainability is so key to what we do, this is a topic that drives our discussions at every team meeting. Improving our product in terms of quality, the origin of ingredients and components is a regular point of action. Some of our suppliers seem surprised by our questions - many of them have not thought about the origin of their raw components in terms of mileage, or say if we're looking at our plant-based surfactants, where the actual original fatty acids come from, how they are manufactured etc. It's eye-opening, educational and hopefully makes our suppliers and ourselves learn more and increase our positive outputs.
What advice would you give to Made in Britain members as they progress on their sustainability journeys?
I'd say that every little thing makes a difference. To increasing recycling targets, to educating staff and customers, to thinking about individual components - every little bit makes a difference, and if we can inspire others all the better. Also, to mention the stuff that isn't perfect yet. We for example have a plastic bottle for our Bubble Mix, we would love to be a plastic-free product, but we haven't found a solution that will work for us yet. We keep hunting, but in the meantime, we study and learn and use the best option available to us. We look at 'smart' plastic - our bottles are made of HDPE post-consumer recycled plastic, AND this is the most easily recycled product, so it fits well within our drive for a circular economy, with very little waste and a lot of reuse points. We are aware it's not perfect, so we tell our customers about it along the way.
If you would like your business to join the Green Growth Programme, the journey starts here: https://green.madeinbritain.org/
For more information about Dr Zigs Extraordinary Bubbles, see the company's member profile page here.