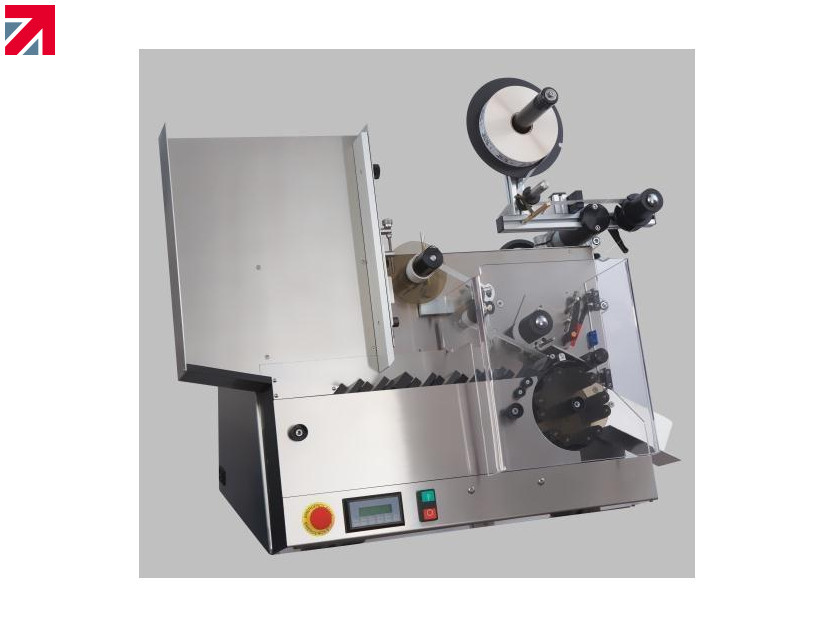 Product Info
The RC series of automatic labelling machines has been developed for use in many industries. This versatile machine is designed to apply self-adhesive labels to small diameter round products that will not stand upright on conventional conveyor systems. Typical products that have been labelled are ampoules, vials and test tubes through to disposable syringes, pencils, batteries and collapsible tubes. Having quick change product wheels for many different product types, labelling speeds up to 70 per minute and the option of thermal transfer printing for additional label information, these versatile machines have proved to be highly successful across the world.
Designed and built in Britain, this small round product labeller is designed for labelling cylindrical products from 8mm to 32mm diameter. The unique action handles each product individually and with a high degree of accuracy.
The entire range can be optionally fitted with blind coding devices, hot foil or electronically driven thermal transfer printers. Hundreds of these RC units have been installed both in the UK and globally. Industries such as Pharmaceutical, Healthcare, Cosmetic, Paint, Plastic and Engineering are regular users.
Technical Specification
Product size: 8mm - 32mm diameter (using different combinations of indexing wheel), 10mm – 88mm long (machine in standard format). Other sizes of products and labels can be accommodated with modifications to the basic machine.
Labelling Speed: 5 - 70 products per minute, dependent
on size of product and label.
Floor Area: Approx. 1M x 1.2M
Power supply: 110 / 220 / 240 V 120 W
Weight: 150kg
Degree of protection: IP41
Air supply (if applicable - where hot foil coder fitted): 8 bar maximum clean dry air.
Operating temperature: +5°C - 40°C not to exceed 30° over a 24-hour period.
Relative humidity: 30% - 95% non-condensing.
Label size: 8mm - 85mm wide, 10mm - 96mm long
Label roll size: Outside diameter 250mm (optional 300 - 350mm) Width inclusive of backing paper 100mm Core size 40mm diameter (optional 76mm).
You can view a video demonstration of our RC30 bottle labeller on our YouTube channel by clicking here.
Contact
For more information on our RC30 bottle labeller or any other services and products that we provide, you can contact us via our website here.
Sessions UK
Unit C1 Ebor Industrial Estate,
Hallfield Road,
York,
YO31 7XD
Tel: 01904 610613
Mob: 07860 198119
Email: enquiry@sessionsuk.com
Find out more about Sessions UK on their member profile page here