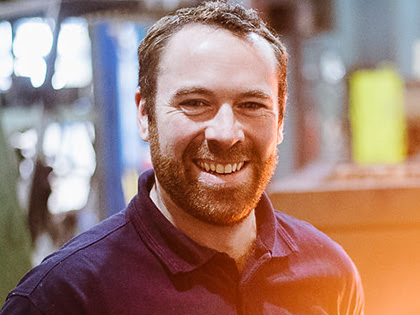 FOOTPRINT Tools is a manufacturer of high-quality hand tools for professional tradesmen, based in Sheffield. It has joined Made in Britain's Green Growth Programme. Timothy Jewitt, director of Footprint Tools (left) shares his Green Growth experience.
What did the Green Growth assessment tell you about your business?
We needed to pay more attention to green issues and that we weren't thinking about it enough. We have blind spots that we know nothing about in relation to the environmental impact of our business. We realised that we need to take control of the areas that we can have a direct impact on. We know that we can't change the world but we can make lots of small decisions that can make a small difference.
Has the Green Growth assessment changed the way you work?
The environment is now discussed at every investment decision. Simple questions such as "will this reduce energy consumption?", "will this harm the environment?", "is there a more environmentally friendly option?", "can we do the same with less?". Interestingly there are financial benefits asking ourselves these questions, we have made several investments to reduce our carbon footprint and the sums add up financially with a healthy ROI.
How easy was it to gather the data? How long did it take you to fill it in?
As a small business, it was easy to gather most of the data or make educated guesses. We took the view that the answers don't need to be 100 per cent right, just that we are answering as honestly and openly as possible. It took us less than an hour to fill in the form and we did it twice over a few months, this meant as we asked ourselves more questions, we could answer the questions better.
Did the Green Growth assessment tell you anything you didn't know?
What the UN SDG – 12 is but most importantly carbon-reducing green investment decisions did make financial sense. We were probably a bit stuck in the past decade where we thought investment in reducing our carbon footprint didn't stack up financially, this has now changed and we see reducing our carbon footprint as financially viable with positive ROI's.
What has been the biggest benefit, having completed the Green Growth assessment?
We have started the journey to reduce our carbon footprint internally. We have realised the financial benefits of reducing our carbon footprint. The Green Growth assessment provided a spark to make us ask questions and reframe investment decisions.
If you would like your business to join the Green Growth Programme, the journey starts here: https://green.madeinbritain.org/
For more information about Footprint Tools, see the company's member profile page here.