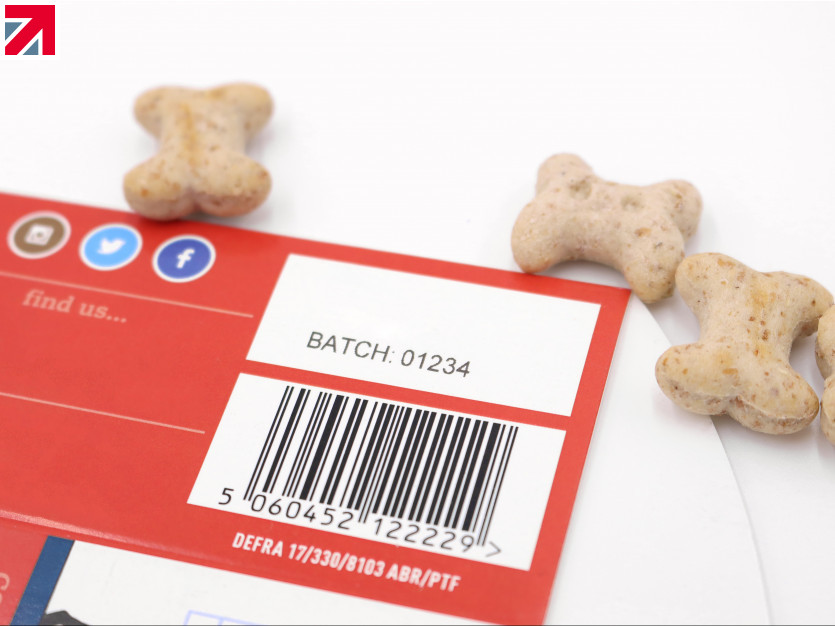 A manufacturer of nutrition-rich, hand-cooked meals for dogs has automated its date coding process with the help of a cost-effective sleeve coding system from Rotech, allowing them to keep up with demand while ensuring their date codes remain legible, even in changing temperatures.
The company produces delicious, hand-cooked meals for dogs. Nothing processed goes into their products – just lean, fresh, healthy ingredients that are vet approved.
The Shrewsbury based business has been featured in national media, and they've also appeared at Crufts, where they presented their varied range of custom-made doggie dinners. Meals are packed in sustainable cartons and pouches and then frozen, keeping them fresh from door to door.
Taking a bite out of costly labelling
Like many growing artisan companies, rising daily orders meant that the company needed to find a more efficient way to apply codes to their packaging. Hand labelling each product was becoming laborious and costly, and they also needed to improve the durability of the printed data – they were finding that the hand labeller ink did not always stay intact due to changing temperatures and moisture.
With the requirement to print around 7000 packs per day, they needed to find a faster way of printing date and batch codes onto their sleeves and cartons, and ensure that the ink stayed permanent. This led them to discover the RF Lite.
The smallest, fastest sleeve and carton feeder on the market

Designed specifically for young, growing businesses, the RF Lite is an entry-level sleeve and carton feeder for those looking to automatically print codes onto their packaging for the first time.
The compact sleeve and carton feeder fits easily into small work areas – it can be wheeled to any point of packaging on a trolley, or placed on a work bench. The RF Lite allows users to simply stack their packaging in the hopper, set the required date or code and press go – up to 400 sleeves can be printed in a minute.
Fitted with a thermal inkjet printer (TIJ), the RF Lite can produce high-quality prints onto a wide variety of non-porous and porous packaging types, staying clear and durable even in extreme conditions, eliminating any issue surrounding the permanence of ink.
The printer also comes with its own iDesign formatting software. The company can create and edit batch and date codes, control output speeds, view job status and check ink levels. The software allows them to set the printer to print their 3mm date and batch code onto the exact area on their packaging, and then simply adjust the area for a different packaging type.
Low cost, maintenance-free printing
We know from working with many different types of artisan food brands that cost efficiency is essential, particularly in those early years. This is why Rotech designed and developed the RF Lite.
As well as being affordable (more than half of the cost of other entry level feeders), the RF Lite was designed to offer clean, maintenance-free, low-cost printing. The TIJ printer cartridge can produce hundreds of thousands of quality prints time after time before it needs replacing, making consumable costs very low.
The company is definitely barking up the right tree now when it comes to packaging and processing efficiency. No more wasted labour costs, better quality durable printing and much faster output – all of which gives them more time to do what they do best – cooking yummy meals for lots of very lucky dogs!
If you're a pet food producer looking to automate your date coding process, get in touch. With unrivalled UK customer support and a range of solutions that can grow with your business, we're perfectly equipped to provide you with the ideal solution to meet your exact requirements.
Find out more about Rotech Machines Ltd on their member profile page here