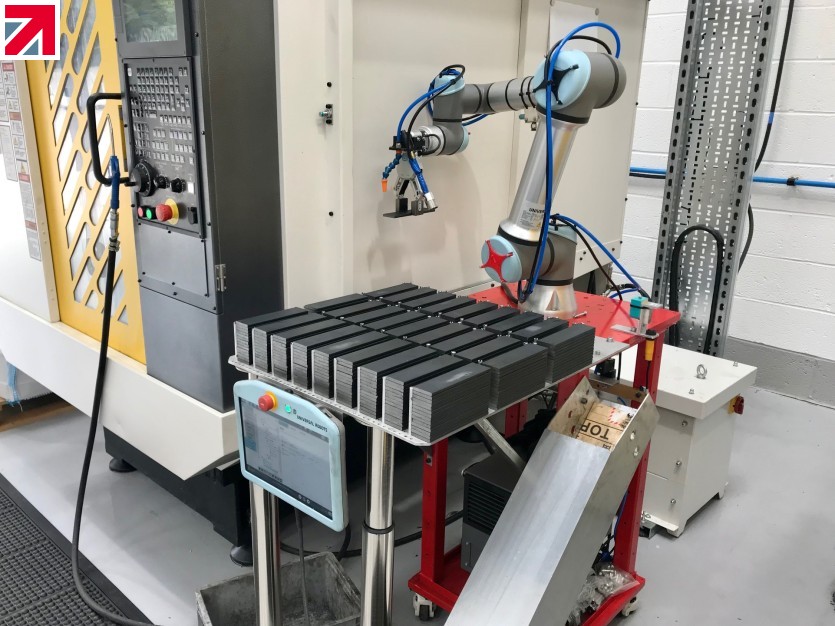 As an SME, the ability to work 24hr round the clock shifts without having to take on additional manpower is of huge benefit and allows us to be price competitive and produce parts quickly for clients.
Cobots are traditionally designed to repeat a process over and over. For huge manufacturing factories, the use of robots and automation saves humans doing incredibly repetitive jobs that never vary.
Automation is the way forward
At Plunkett Associates, we feel strongly that automation is the way forward.
However, with varying requirements, processes and much smaller batch sizes, we need flexibility to be able to use cobots in different places on different machines for different tasks. Occasionally we have to think outside the box a little to adapt them to suit the purpose…!
Enabling cobots to run the night shift
Our latest invention was to allow the cobot to have access one of our Fanuc cnc machines to be able to remove machined parts, replace with new and run through the night.
We manufactured a support table with options to position the cobot in different places and the ability to raise or lower the height to enable easier access to the machine. It needed to have complete stability as any movement would throw off the pick-up and drop-off of parts, and yet the challenge was that it needed to be transportable so could not be fixed to the floor! We also required a platform to hold the blanks for the cobot to pick up and a shute to send the finished parts down once finished. What do you think of our finished product?!
We find solutions to get things made
Often, we need to be innovative to make things work, both day to day in the workplace and for our clients when they come to us with a more unusual request. As per our straplines, 'We Get Things Made' and 'We Find Solutions', we believe there's usually a way to achieve what sometimes might seem impossible! At the least we will always do our very best…
Contact us if you need help with your latest challenge!
Find out more about Plunkett Associates on their member profile page here