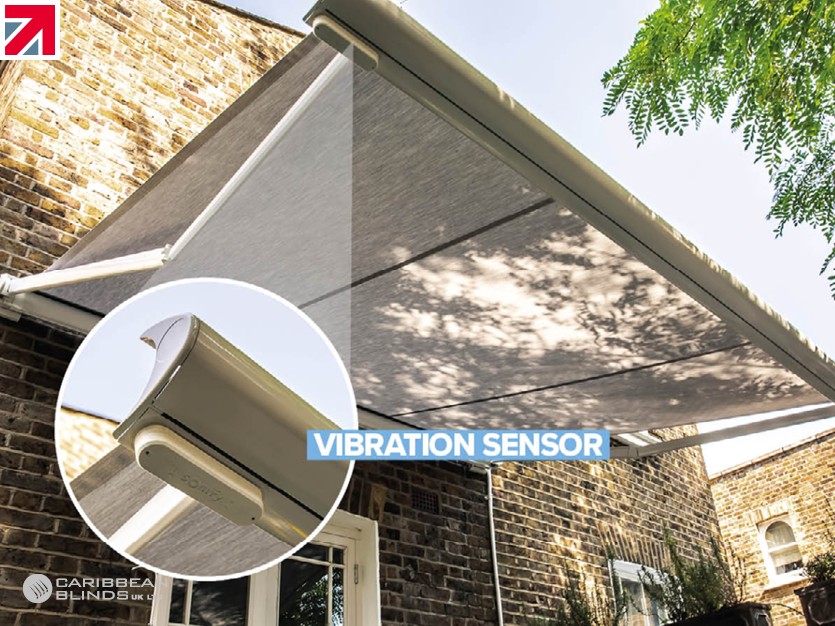 Our patio awnings and external blinds have been designed to combat the harsh elements of the British climate, engineered with the finest and most robust materials, giving these innovative external shading systems a great tolerance against the outside weather whilst increasing their longevity.
While these resilient features are what makes our products so desirable, we do advise all our clients to take precautions when it comes to storm winds. Our awnings and window blinds have a wind rating assigned to give guidance on what the shading system can withstand, from beaufort 5 (fresh breeze, 24mph) and beaufort 6 (strong breeze, 30mph). This does not mean you should leave it out until the wind reaches these speeds, it is always better to be safe than sorry so do not take the risk as it can be difficult to predict changes in the weather which could result in unwanted or even irreparable damage. Our awnings and blinds are constructed with corrosion resistant aluminium cassettes which will protect the fabric and mechanism, retract the system into the protective casing until the strong storm winds have passed.
Sensory Technology
For extra peace of mind, we have sensory technology options available to integrate to the external shading systems to provide extra protection, please note that these are not fail-safe devices.
Vibration sensors
Our garden awnings are equipped with advanced vibration sensory technology as standard, positioned discreetly as the end of the lead-rail, allowing it to detect a certain level of movement. If the movement surpasses the models windspeed capability it will then automatically retract the awning back into the cassette for shielding.
Wind Sensor
The wind sensor can be integrated to both awnings and blinds, positioned next to the shading system on an open surface where the propeller can detect the wind and retract the awning or blind safely back into the protective casing. The sensory level can be adjusted to make it more sensitive or less sensitive.
Tahoma Smart Home Hub
This sophisticated technology pack can be linked to all shading solutions by simply connecting the hub to the home broadband (router) which then opens a range of additional control features on the Tahoma smartphone app where the user will be able to take full control and see what position the shading system is in so you can stay ahead of the weather.
If you would like to find out more about our awnings & blinds and the sensory technology options available, then talk to one of our knowledgeable advisers today on 0344 800 1947. Alternatively, you can request a guide price using our quick and easy pricing form.
Find out more about Caribbean Blinds UK Ltd on their member profile page here