HUNTER & Hyland, bespoke curtain poles, finials, tracks and blinds manufacturer, has joined Made in Britain's Green Growth Programme. Sarah Moon, Hunter & Hyland's sales and marketing director shares her Green Growth experience.
How integral do you see sustainable business practices to the future of your business?
We see them as imperative to the long-term success of our business.
To what extent does your approach to sustainable business set you apart (in your sector)?
We focus on using FSC and PEFC woods for our production and work to minimize waste and excess energy consumption in our manufacturing processes.
What are the advantages to doing business sustainably?
We have some clients who would not work with us if we did not work to ensure our processes gradually become more sustainable. In the longer term, our efforts should result in lower energy costs and the business will benefit from more streamlined production practices.
How have you engaged your team members/supply chain/other stakeholders around the Green Growth Programme, if at all?
We have not done this specifically. Our team, supply chain and clients are aware of our efforts to become less wasteful of packaging, wood and other materials. However, we have not specifically discussed the Green Growth programme.
What advice would you give to Made in Britain members as they progress on their sustainability journeys?
Just that every step takes us all closer towards our sustainability goals. If we all become a little less wasteful of resources it will go a long way to making British manufacturing more sustainable in a greener world.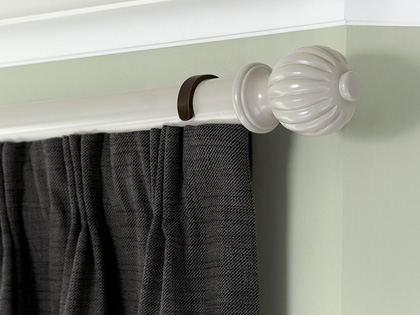 Made in Britain asked Sarah for a photograph of herself but she said she would prefer us to use an image of one of her company's products. On the right, you can see a detail of a reeded ball curtain pole. If you would like your business to join the Green Growth Programme, the journey starts here: https://green.madeinbritain.org/
For more information about Hunter & Hyland, see the company's member profile page here.