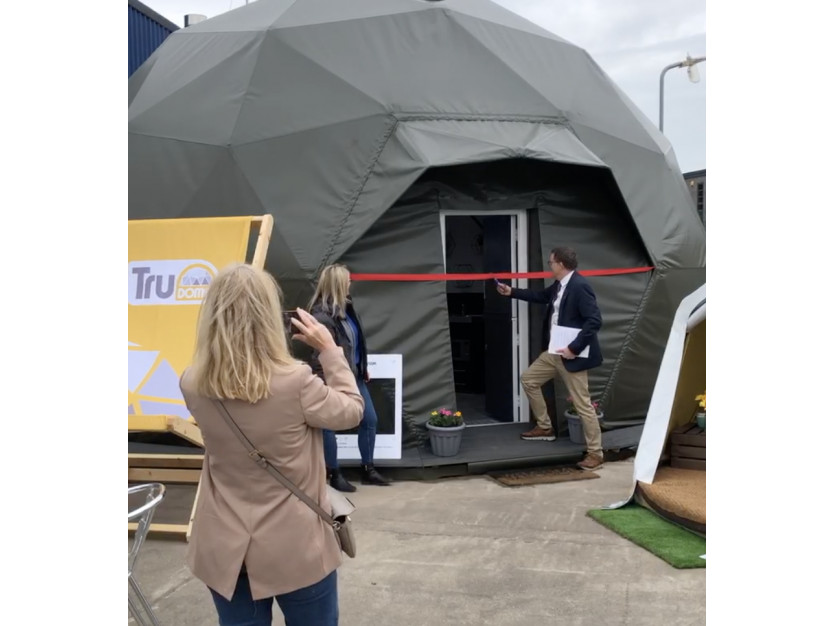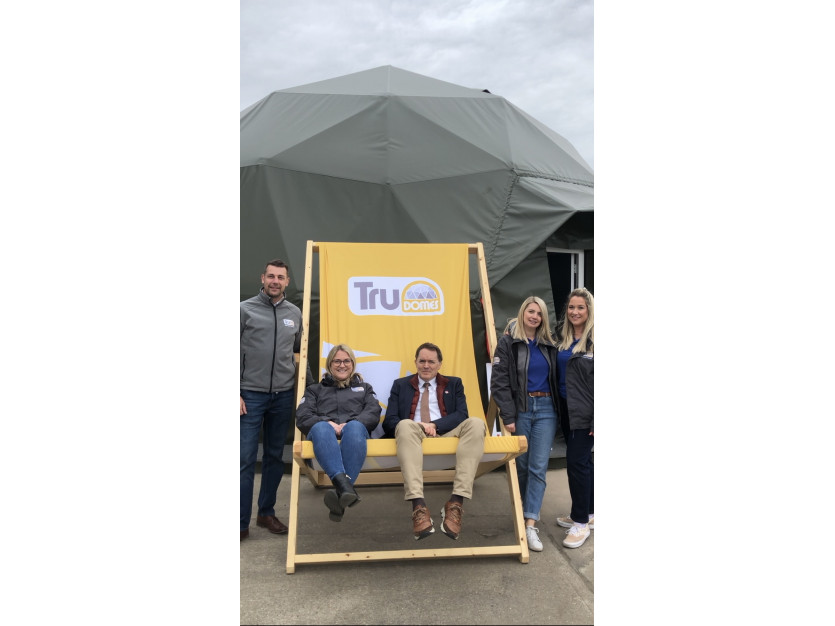 Manufacturer of geodesic glamping pods, TruDomes launch new 'Showdomes experience' alongside the factory and HQ site in Nuneaton on Thursday, 27th April 2023, inviting Made in Britain CEO to perform the ribbon cutting ceremony.
The glamping dome maker invited staff, some new and current customers, the media and Made in Britain to share in this exciting development at a crucial time for the outdoor and staycation sector. Also in attendance were Steph Curtis-Raleigh, editor at International Glamping Business Magazine, along with two of TruDome's faithful clients, Cae Nant Glamping, and Tractors & Cream.
TruDomes CEO, Kelda Bassett explains why 'in person' makes all the difference;
"Our aim is to offer the very best British-made geodesic glamping pod to help the growth of the staycation market, help boost regional tourism within the UK and support the manufacturing economy all at the same time. Creating the Showdome experience right here at the factory site and inviting customers to really see our Compact, Classic 6 and Classic 8 domes in person is a strategic move for us, as we forge ahead with plans to increase local (UK) sales and with more export sales to the US. It's important that people understand the entire product is made right here. We take full responsibility for every TruDome no matter what size or where it is headed."
The marketing and sales teams at TruDomes are really optimistic about the sector this year and determined to grow market share at an exciting time for the UK tourism. Customers visiting the new Showdome confirmed that the domes have transformed their business – starting with the purchase of one TruDome then expanded to, in one case, replace all their accommodations on site with TruDomes.
Made in Britain CEO, John Pearce made a short speech (below) and performed the ribbon cutting ceremony, inviting members of the public to enter into and experience the light, spacious space of the Classic 8 showdome, that sleeps 5 and has enough interior height to accommodate an elevated double bed and can include a panoramic window feature.
"This was the first time I've ever been invited to cut the ribbon on a new Made in Britain member showroom. I do hope it's the first of many in the coming years as the British manufacturing sector grows. It's clear we need more businesses like TruDomes, making great products to serve the local economy if we are to build a more resilient supply chain that serves the public and is as profitable as it is sustainable."
John Pearce, CEO Made in Britain. You can book your own viewing of the new Showdomes here
Mr Pearce's speech highlights;
GOOD NEWS about great British manufacturing doesn't always make the headlines,
but it should.
TruDomes have, since 2017, been part of a strong and growing organisation that genuinely believes in the future of the manufacturing in this country and wants to be as close as possible to other businesses that feel the same way.
They use the official Mark – and they tell us all about their achievements on the (MiB) News and Product pages on the Made in Britain website, but, as importantly than all this media and PR, they strive to be a successful, responsible and profitable British manufacturing business, every day that they open up the factory doors to make more of these amazing glamping pods.
Made in Britain is proud to boast some 2000 members like TruDomes all using the official Mark in 1000's of different ways, so that the British public and those overseas receiving export products – know what is made here and exactly who is doing the making. We have members making Construction products, high tech engineering, vans, bikes, shoes, robots, tables and chairs and cushions and even lampshades. We have everything you could dream of and it's all made right here in the UK.
There has never been a more important time to buy a product made in Britain by a brilliant British manufacturing business. So look out for the Mark and make a decision based on trust, value and great British manufacturing excellence.
Find out more about TruDomes on their member profile page here