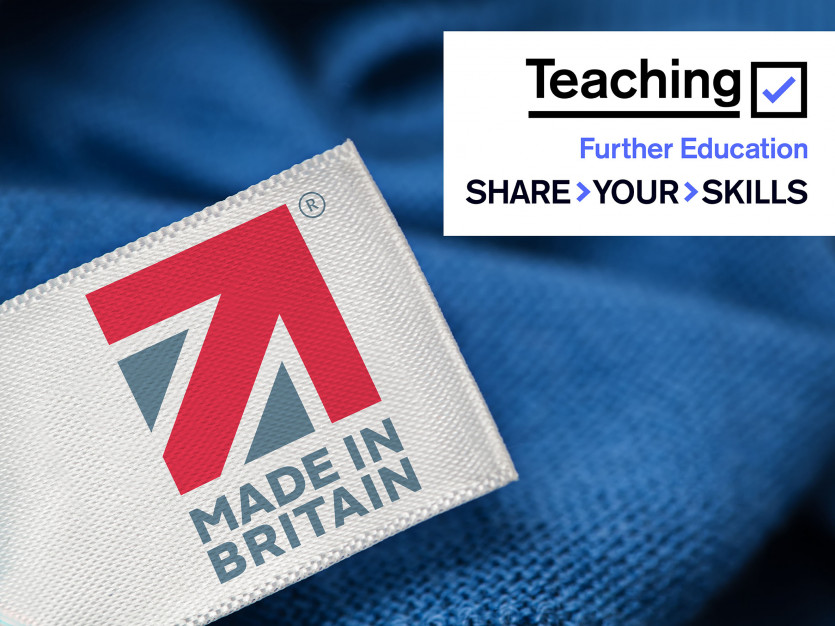 "The ability to share my experience with students, and to inspire them about the positive role of business and that they themselves can play, is one that I am constantly championing."
Chris Harrop OBE, chairman Made in Britain.
Leaders and influencers of Made in Britain membership can play their part in growing the sector by becoming lecturers and teachers in further education (FE)* - inspiring a new cohort of learners to get into manufacturing. The Department for Education (DfE) want to make it easy for professionals in all sectors to share their real-world knowledge of manufacturing and at the same time, help improve the perception of the sector overall as 'champions' of British-made.
Launched last year, the Share Your Skills campaign calls on skilled professionals to share their valuable expertise and help train the next generation of workers in their industry. There is a real need to fill gaps in the workforce - teaching from the point of view of real manufacturing experience with a thriving business is the best way to connect real people with the realities of sector.
Growth of all the manufacturing sectors is dependent on there being enough people of all ages to move into the sector and build a career.
The uniqueness and beauty of the manufacturing sector is that there is literally something for everyone with every interest or skill. No matter what you are passionate about; designing, product development, manufacturing process, supply chain, sustainability, sales, marketing, communications or customer service, there is something for you within the stimulating workplace of a British manufacturing business You'll be able to find a FE course to match your skills. Successful manufacturing businesses are made up of people across multiple disciplines, working and thinking together. By teaching in FE you can help make the sector more attractive and convert students into manufacturing champions at the same time. Who better to promote the joy of manufacturing in the classrooms and workshops of Britain than the people working to make all the goods Britain needs?
And you'll learn from your students too, as MiB chairman and visiting professor at University of Huddersfield Business School, Chris Harrop OBE explains;
"Let's not forget Sustainability consists of fulfilling the needs of current generations without compromising the needs of future generations, balancing People, Planet and Profit. Today's students will be the drivers and the beneficiaries of how well we address the very real challenges we are all facing. But it's not a one-way street … I learn from the questions the student ask, I get inspired by the challenges they make and I'm able to use this to improve both my understanding and the performance of the businesses and teams I work with. Knowledge is moving fast these days – teaching at this level helps me stay ahead of the curve."
Andrew Everett CEng FIMechE MIET is Executive Secretary/CEO at non-profit ERA Foundation** and a true advocate for encouraging people from manufacturing organisations to get involved at local further education providers such as technical colleges.
"It's a noble thing to do. Many people already do so on an ad-hoc basis, mainly through direct personal contacts and requests. To address the real challenges around 'supply vs demand', the education community at FE levels, must make it clear what exactly they want from the people that come forward. There needs to be a clear value linked to the students' needs."
"This could be just an introduction to manufacturing or manufacturing jobs or it may be more detailed such as specific production techniques and technologies such as lean manufacturing, six-sigma or time balancing.
With most of Made in Britain membership sitting proudly in the official SME business size category
(turnover up to £25m, and up to 250 employees), there will no doubt be challenges of a person being away from work whilst they could/should be at working to make British products. Part-time or flexible contracts are available, so you can continue to work in the industry you love whilst sharing your skills in FE. You don't always need a prior teaching qualification or an academic degree to get started. Plus you can complete teacher training on the job, so you can start earning right away.
Increasing awareness, understanding and consideration of FE teaching by promoting the unique, compelling but often unrealised benefits of this career choice. The campaign targets subjects that have the highest vacancy rates including engineering & manufacturing, digital & IT, accounting, legal & finance, construction, health & social care.
How do Made in Britain members apply?
If you're interested in finding out more about how to apply your valuable industry skills and teach in Further Education (FE) then visit the Teach in Further Education website for information on entry requirements, training options, where to find jobs and to access a dedicated support service.
*Further Education (FE) is any formal learning for those aged 16 and over that is not an undergraduate or postgraduate degree. This includes a huge range of courses and qualifications, from work-based training in welding, vehicle maintenance or toolmaking to academic qualifications in subjects like engineering and advanced manufacturing. Teaching in FE is varied and can take place in workshops, on-site or anywhere that allows learners to get hands-on experience.
What are the criteria for applying?
For more information on entry requirements, visit the 'How do I find a job in FE?' page which details what a typical further education provider are looking for in a candidate and offers links to job boards so that you can explore what opportunities are live now. The main qualities are: skills, knowledge and experience in your industry and the willingness to work towards a teaching qualification on the job (or have one already). And naturally, an eagerness to train up the next generation of workers in the field.
What support is available?
If you have any questions, get in touch with the Teach in Further Education dedicated support team. They're on hand with any information you need on teaching in FE, as well as one-to-one advice on how to get there. Lines are open Monday to Friday, 9:00am to 5:30pm- call 08003892502 or email teach.fe@education.gov.uk.
**About the ERA Foundation - ERA Foundation is a non profit organisation. We support 'electech' manufacturing across the UK by supporting engineering, innovation and skills development programmes.
What we do:
· Ensure the important role of the 'electech' manufacturing sector is recognised
· Influence and inform policy to support the 'electech' manufacturing sector
· Bridge the gap between research and commercialisation
· Support and engage with the next generation of engineers
· Invest in enterprising organisations and individuals
We are a lean organisation and to deliver all these we work with organisations which share our principles and ensure all of our partners have a significant stake in what we do and how we do it. Our work with partners can involve generating new policy ideas; developing, funding or delivering skills programmes; supporting engineering engagement activity; or coordinating the sharing of skills and knowledge between partners.
Partnerships are at the heart of the Foundation works to achieve its' aims. Our partners range from prestigious national institutions, STEM skills delivery organisations and large corporate institutions to local community groups. We also work with government departments, policy think-tanks, and the financial sector.
DfE social channels: