CHANNEL 5 contacted Made in Britain on 10 February. The TV channel's news team asked if we could recommend a manufacturer's factory in the north of England where they could go and film the next day and that's when the Made in Britain PR machine kicked-in.
The selection criteria for 5 News included an articulate spokesperson to give an on-camera interview about issues faced during the fourth quarter of 2021, particularly issues caused by COVID. The item was timed to coincide with the release of the Q4 GDP figures by the government. The 5 News crew were also looking for a visually interesting production plant and, if possible, the Made in Britain mark visible on their products.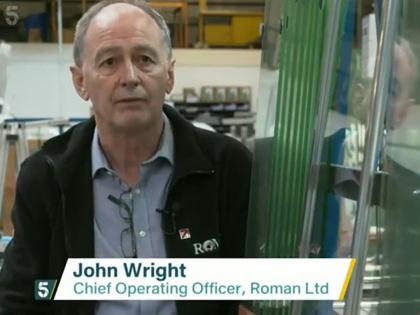 We sent them a long list of members who were within a specified distance from Manchester and York, from where the crew would be travelling. We were pleasantly surprised by how many members fitted the bill. Channel 5 chose Roman, the shower manufacturer in Newton Aycliffe, where they filmed chief operating officer John Wright (right) in the Roman factory at lunchtime on Friday.
The item aired in the 5pm bulletin on Friday evening, 11 February.