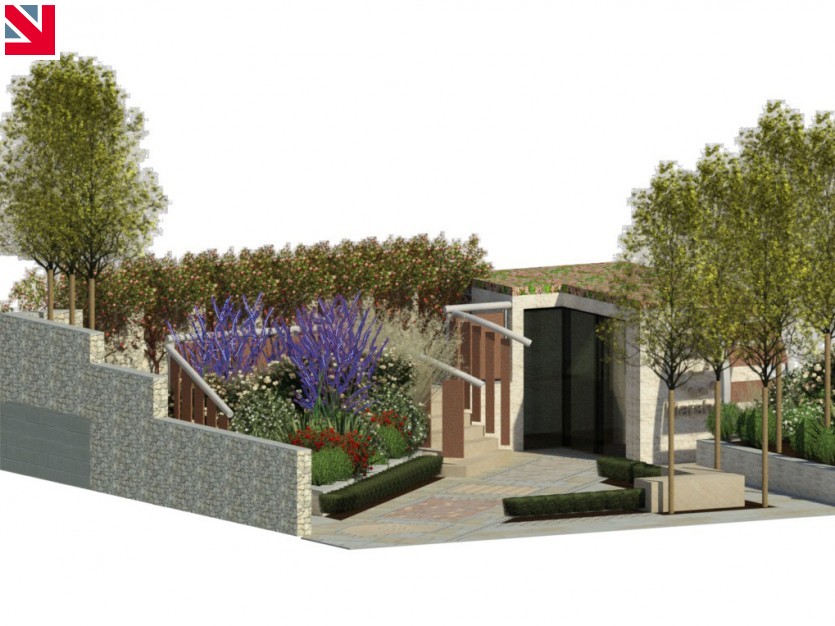 MADE in Britain founder member Marshalls will be celebrating being a 'Great British Brand' at this year's Chelsea Flower Show, with a stand that features a very special version of the Made in Britain logo.
The Marshalls trade stand is currently being built at the show, ahead of the opening day on 21st May. The trade stand features a garden which celebrates the business' British heritage – including a natural stone paving flag with a copper inlay of the Made in Britain logo. The stone, quarried in Britain, will be placed beside a bench that is made in the same Scoutmoor paving.
Chris Harrop, Marketing and Sustainability Director at Marshalls and Chair of Made in Britain said:
"Marshalls has been involved in Chelsea Flower Show for over 25 years and this year we've chosen to celebrate our British heritage with our stand design. The copper inlay of the Made in Britain logo will look fantastic in our Scoutmoor paving, our natural stone which was made in Britain over 365 million years ago (although it wasn't officially Britain then!). Chelsea is always a fantastic opportunity to promote Marshalls, but this year we'll also be flying the flag for Made in Britain too."
The Marshalls Stand will be on Main Avenue at number 332. Chelsea Flower Show runs from Tuesday 21st May until Saturday 25th May.
See photos of previous Chelsea gardens created by Marshalls on our website.
Find out more about Marshalls plc on their member profile page here