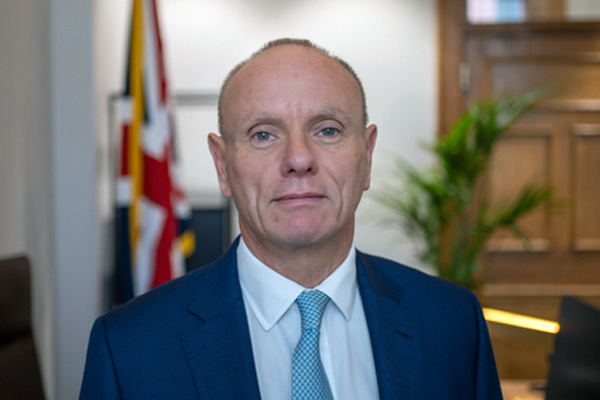 THE UK's minister for exports, Mike Freer MP (left), spoke with a representative group of Made in Britain members on 4 May. The conversation was open and frank and the minister seemed pleased to engage directly with Made in Britain members.
The minister's accountabilities include export promotion across all sectors; UK Export Finance (UKEF); the trade envoy programme; plus supporting the secretary of state with delivering an export strategy to boost exports across the UK; supporting small and medium-sized businesses to export; trade missions and trade shows.
The main practical points coming out of the session for Made in Britain members were:
Export challenges - Minister Freer asked members to put their challenges directly to him and his team, particularly where they related to the EU and/or bureaucracy.
Europe session - the minister encouraged a session similar to this but with Her Majesty's trade commissioner for Europe. Made in Britain's next session is focused on China, however, we will liaise with the minister's office to programme a Europe session soon after.
Grant funding - DIT offers match-funded grants of between £1,000 and £9,000 for English SMEs via its Internationalisation Fund. More details are available here: https://www.madeinbritain.org/news/have-you-heard-about-the-dits-internationalisation-fund
UK Export Finance - UKEF's mission is to ensure no viable UK export fails for lack of finance or insurance. More details on their products can be found here: https://www.gov.uk/government/collections/our-products. To connect with an export finance manager, go here: https://www.gov.uk/government/publications/find-an-export-finance-manager
Shipping costs - the minister acknowledged the high current costs of shipping. The expectation is that these costs will come down however it is likely to take some time for them to do so, given global events and pressures. There is no UK government funding available to substantially reduce these costs for companies.
DIT support in the UK - DIT offers support and guidance for UK exporters via its network of international trade advisors (ITA). For Made in Britain members without an ITA, you can connect with your local DIT office here: https://www.great.gov.uk/contact/office-finder/
Make contact with overseas DIT teams - DIT has around 2,000 people in more than 100 countries around the world. The Minister advised members to channel their interest in engaging these teams via their local ITA (see link above).
Funding to attend overseas trade events - The UK Tradeshow Programme has replaced the previous Trade Access Programme. See details here: https://www.gov.uk/guidance/uk-tradeshow-programme#full-publication-update-history
Trade missions and events - DIT's experience is that focused, sector-specific trade missions have the biggest and best impact. Missions are open to all Made in Britain members. Members should consider opportunities to participate in DIT led missions and events via their local international trade advisor. Members should also feel free to raise their interest in assembling a Made in Britain mission via emailing: trade@madeinbritain.org.
Export destinations - UK companies are encouraged to use DIT's online 'find an export market' tool, aside from speaking to their local International trade advisor. Members can access this tool here: https://www.great.gov.uk/advice/find-an-export-market/