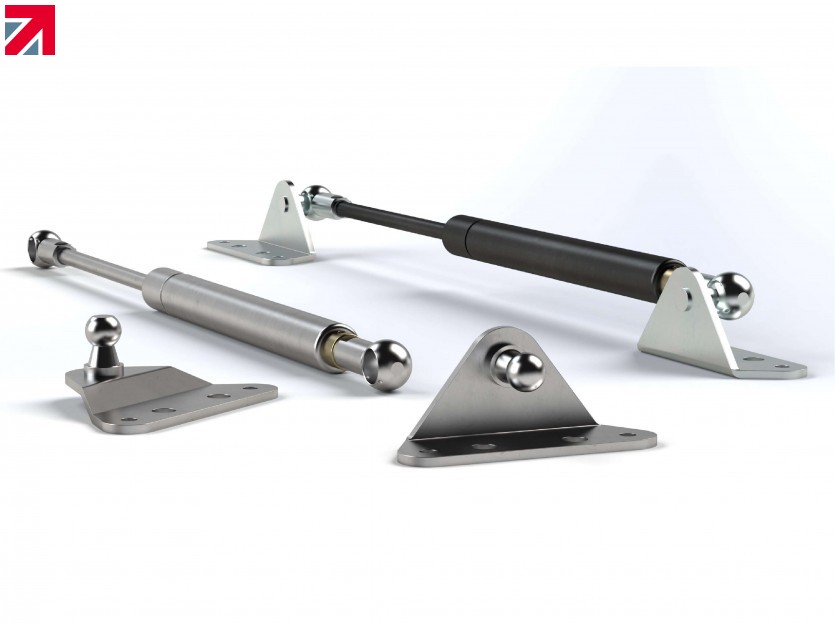 Gas struts are now available in kits including brackets, rod ends and fittings; making it faster and easier for customers to request their required installation type. Provided by WDS Components Ltd, the gas strut kits include a wide variety of fitting options that are easily specified from the website's selection tool.
Ideally suited to OEMs, but also available in single units, the gas strut kits are designed for applications including agricultural use, beds, camper vans, caravans, car boots, commercial vehicles, cupboards, hatches, machinery and marine purposes.
WDS gas strut kits include the strut and all the components required for mounting, removing the need for the customer to make a calculation regarding the fitting types required. The kit's components are easily specified according to application requirement by using the simple gas strut calculation tool. Depending on the application layout, the website tool includes diagrams and instructions that clarify the component selection to achieve the application's goal.
The gas struts come in a range from a total length of 182mm to 1132mm, with up to 22 sizes available in each model. The struts are also fully adjustable, meaning that unlike other models available, the customer doesn't have to calculate their force requirement before purchase. Using an Allen key-adjusted valve, pressure can be reduced from a maximum force of 2,500 N down to as low as 20 N and the struts can be retracted to 97% of their extension dimension, making them highly flexible to requirements.
The brackets can be selected for fitting inside or outside of the gas strut, depending on the application's needs. End fittings include a flexible choice, including angle joints, clevis fork and eye, or swivel eye rose joints, and fittings for the kit are easily specified through the WDS website's selection tool. Individual struts, brackets and fittings are also available as single components, for example if replacement parts or spares are required.
The kits are constructed from steel with a black powder-coated strut to increase durability, as well as stainless steel versions that are suitable for use in food & beverage, pharmaceutical or marine environments, with optimum resistance to corrosion. The struts are specified to WDS' design to ensure optimum performance and longevity.
While the kits are easy to select, WDS' Customer Support team is available to provide specification advice and a tailored service. WDS also carries a wide stock of all gas strut sizes and fitting types with same-day despatch offered to the UK and international destinations.
Find out more about WDS Components Ltd on their member profile page here