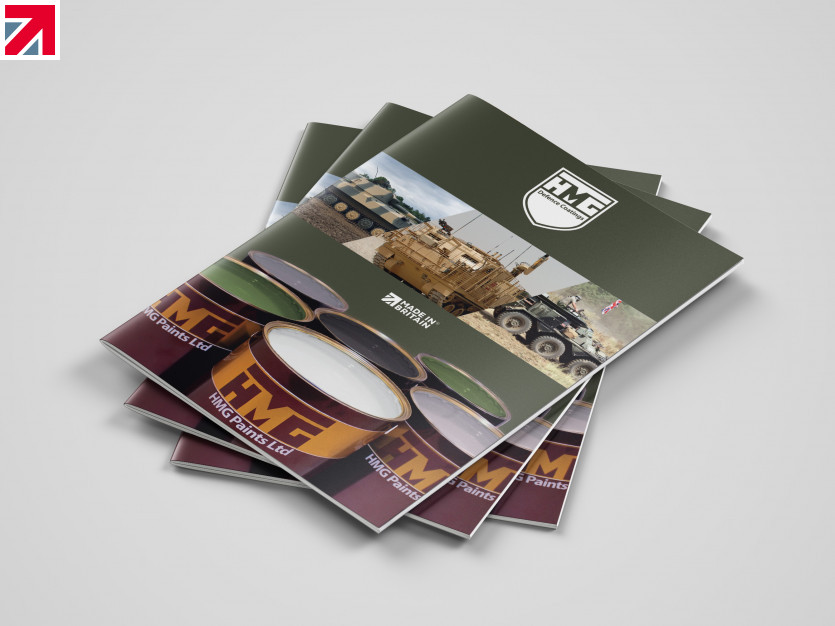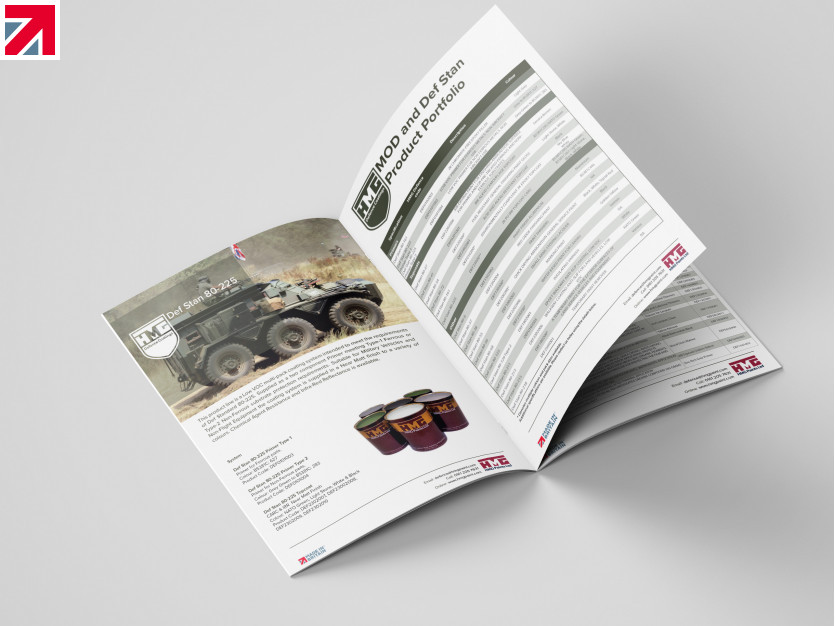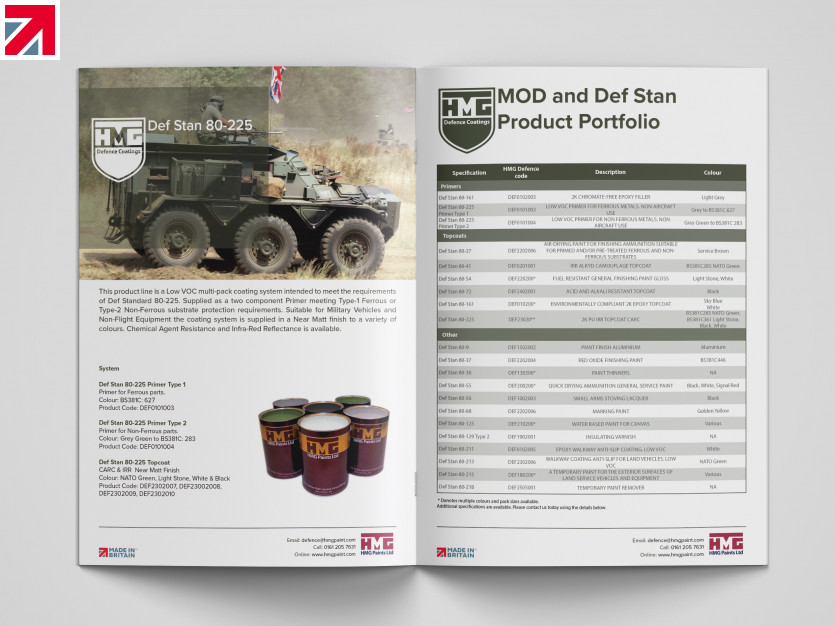 HMG Paints, the UK's leading independent paint manufacturer, has launched its new Defence Coating brochure. The brochure which launched at DVD 2022 held at UTAC Millbrook, offers a complete guide to HMG's range of over 100 paints and coatings for use on military vehicles and equipment, including Def Stan 80-225.
However, the major feature of the guide is that it features a full list of paint related NSN's and breaks them down so they are easy to understand. The new brochure and the HMG Technical Support service is all aimed to take the hassle out of identifying and sourcing the correct products for Defence projects.
Easy to identify paint requirements with NSN Numbers
"We've designed the guide to help take the hassle out of identifying which paint OEM's, refinishers and other users need, be that via Def Stan references or NSN numbers." Commented Josh Taylor, HMG Paints Defence Technical Support. "During DVD 2022 exhibition we had numerous people visit the stand who were struggling to find the right product and order codes and we were able to provide them a guide and help them quickly identify the correct product."
For those who missed out on a copy of the guide at DVD 2022 you can email defence@hmgpaint.com to request a copy. Alternatively you can contact the HMG team directly to ask a question about HMG's paint range and technical support services.
"The DVD2022 show gave personnel within the defence industry the chance to discuss paint and coatings technical requirements directly with us and after the COVID pandemic it was fantastic to be back at in person events" added Josh. "At HMG We want to be a true partner within the industry and that includes offering product advice, technical support and fast delivery of products. Over the last few years we've built some very strong relationships across the industry and we're very proud to be supporting companies on some exciting projects."
Defence Coatings Delivered Fast
With global supply chains being heavily impacted as a result of the pandemic, Brexit and the ongoing conflict in Ukraine, paint users have faced challenges in receiving products which are often shipped from abroad. As a British based manufacturer HMG can provide fast delivery across its entire range, something which has become increasingly important to its customer base over the last few years. The company has a number of key products readily available at its Manchester HQ and with its agile manufacturing setup those products that aren't stocked can be manufactured and shipped within 10 days.
HMG Paints, is a proud independent SME paint manufacture and a Make UK Defence member. All of HMG's Defence coatings, including its Def Stan 80-225 system, are Made in Britain accredited. The HMG Defence range offers products which are free from Chrome VI, meet low VOC requirements, and are IRR and CARC resistant and includes military standards. HMG's Defence Technical Support team will be in attendance at the Make UK Defence Summit in Birmingham and also have a stand at the DSEI Exhibition in 2023.
Alongside Defence Standard products, HMG produce a wide range of approved high-quality coatings for practically every purpose for the defence industry. HMG's product range is suitable for equipment such as containers, trailers, vehicles, helmets, bridges and armour. HMG are renowned for their innovative approach to coatings including corrosion resistant primers, functional topcoats plus CARC and IRR materials approved to UK defence standards.
You can find out more about HMG's range of Def Stan products and bespoke coatings development service at www.hmgpaint.com/products/landing/Defence. If you'd like to book a meeting slot or require information on the HMG Paints products you can email defence@hmgpaint.com and a member of the team will assist you.
If you require further information on the press release, please contact:
Stephen Dyson
HMG Paints Communications
sdyson@hmgpaint.com
0161 205 7631
HMG Paints Ltd is the UK's leading independent Paint Manufacturer and a proud, family-owned business situated in Manchester. Working alongside new and long-term customers, HMG strive to create the best tailored coatings solutions to meet their customer's needs. With over 90 years' experience in developing innovative coatings, HMG's portfolio of wet paint and aerosols cover virtually every type of surface imaginable across a whole host of industries including industrial, commercial vehicle, decorative, automotive, protective coatings, defence, toll manufacturing, wood finish and arts & craft. HMG have a drive to set the standards for the industry not just meet them.
For more information, please visit www.hmgpaint.com or visit www.shop.hmgpaint.com to discover decorative paint and inspiration.
Connect with HMG Paints on Facebook, Instagram, Twitter and LinkedIn
Find out more about HMG Paints on their member profile page here