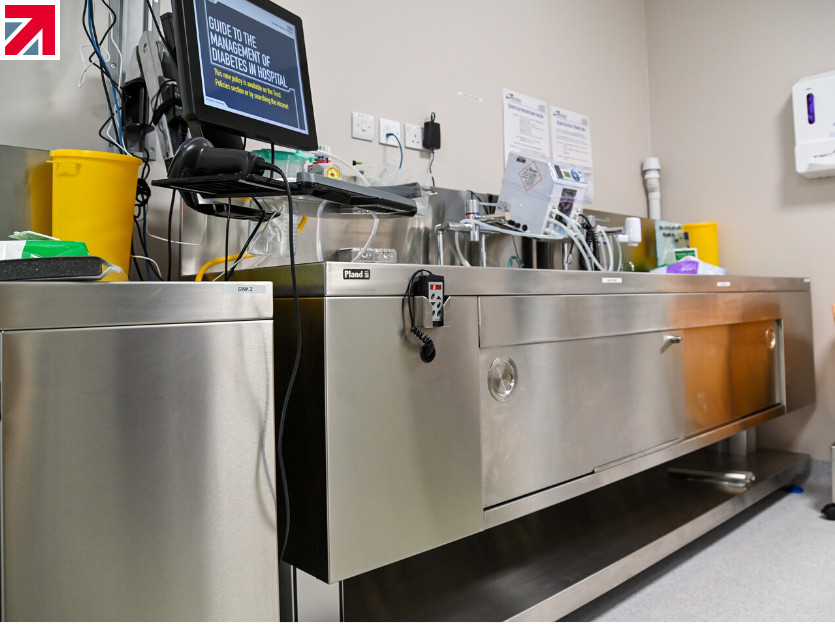 LEEDS-based stainless steel manufacturer Pland has supplied bespoke endoscopy equipment for the new sterile services unit at Pinderfields Hospital in Wakefield.
The newly built independent unit, a £1.2m investment, provides sterile services for many NHS hospitals and private clinics across the north of England, employing 130 staff, seven days a week on 24-hour shifts to fulfil demand.
Pland initially provided the hospital last year with its first two bespoke rise and fall endoscopy stainless steel sink units 2000 x 650mm in size with double bowls and drainer. The unit actually rises and falls electronically between 790 and 1200mm in height to provide a comfortable working solution for each user, who vary in height and can be standing for long periods of time working at the sink unit. After months of live testing, the product was deemed to be an essential purchase for the new unit and a further three rise and fall endoscopy sinks 2500 x 650mm with double bowl and drainers were ordered to cater for the rising demand. The latest three additions have also been designed with sliding door cabinets underneath the sink to neatly house all required consumables.
The new sterile services unit also uses 13 bespoke designed, stainless steel, rise and fall packing tables, measuring either 1400 x 800mm or 1100 x 800mm in size, as comfortable working spaces for their sterile services team plus bin holders and a host of other stainless steel accessories.
"We are delighted with this flexible rise and fall system offered by Pland," said Colin Pickup from Pinderfields NHS. "The product had thorough testing last year which convinced us to install it into our new unit. The fact that it's British-made and a local supplier has ensured great service levels too. It ticks all the boxes."