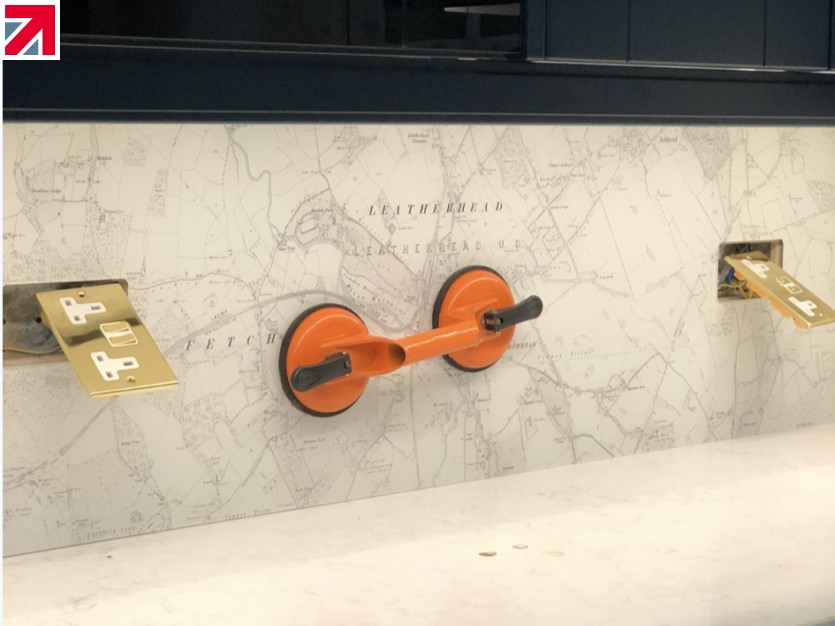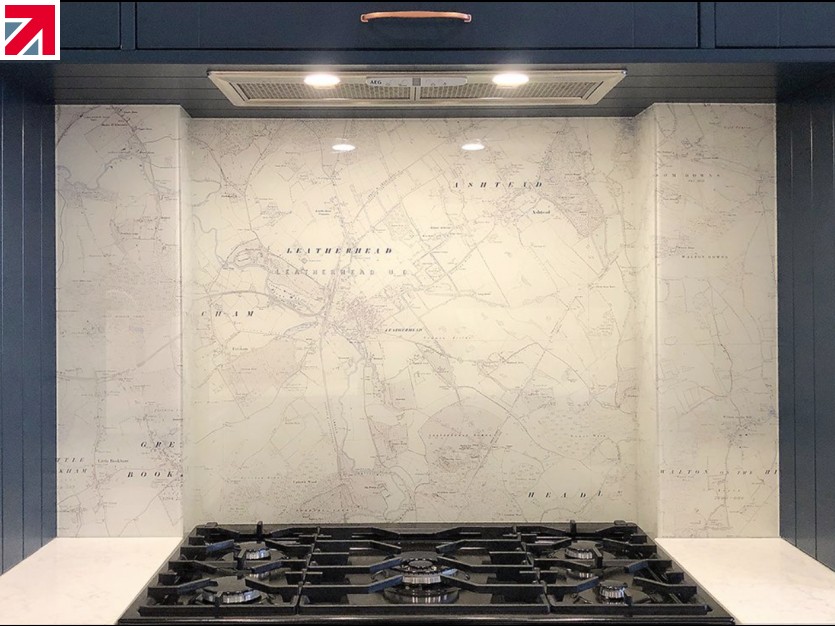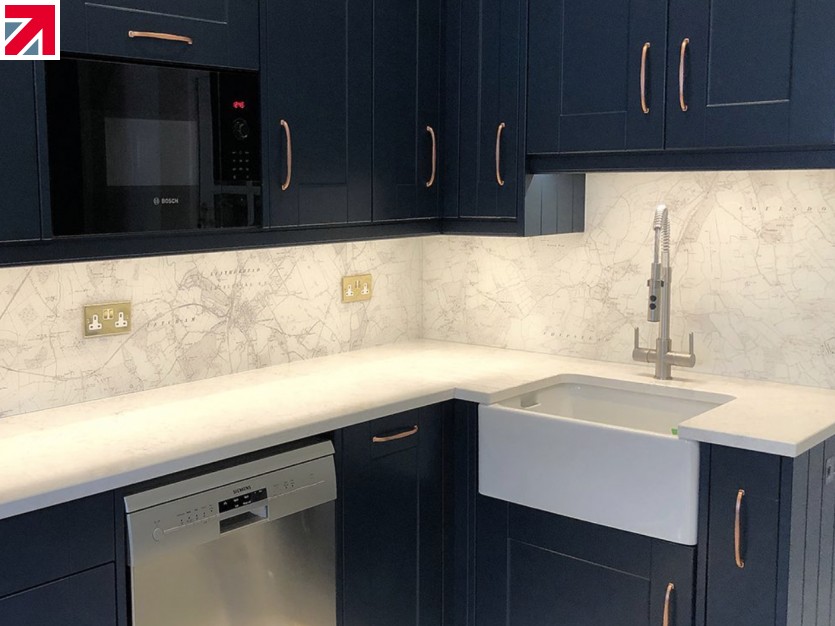 Maps are endlessly fascinating, especially if they are of an area that you know or recognise. Add a level of antique into the picture and the map becomes a heady mix of intrigue. As proud members of Made in Britain, we at Atlas & I take a lot of care to deliver products that have a wholly British stamp. So here's a little insight into the process of one of our bestselling products, our personalised map glass splashbacks, from our small office in Sunningdale, to our factory, to your kitchen.
We all spend a lot of time at the stove, so having a compelling, attractive and classy splashback - durable, wipeable and heatproof - can really brighten these everyday moments.
The Order Process:
1. Call us up to discuss all your options.
2. Send us images and some measurements of your kitchen or bathroom so that we can recommend the best maps and zoom level for your space. We use antique maps from the archives of the National Library of Scotland that have been scanned and digitised at 400 dpi in full-colour using a sheet-feed scanner. This means that we are able to zoom into the maps to find your desired location, whilst maintaining excellent resolution.
3. Once you've settled on your map, we'll send over the proofs to ensure you are 110% happy.
4. The image goes to our factory in Surrey where the glass is cut to size, toughened and printed with your personalised map choice. It then goes through quality control so that we can assure a 10 year quality guarantee (more information on the factory process below).
5. Your splashback is packed into a made-to-size crate and delivered by courier to your door.
6. Installation, either done by yourself with the tube of silicon sealant provided, or you can choose our measure and fit service.
Creation of a Glass Splashback:
Our splashbacks are made in Surrey, with glass that is shipped by road from where it is manufactured in Europe, in order to maintain a low carbon footprint and reduce air miles. We use low iron glass, which is the clearest glass possible to produce, ensuring that your map quality will not be compromised or look green.
The glass is cut using computer based machines that process the jobs that are in for the day and cuts the big sheets in the most economical way to avoid wastage. The glass panels then go through a grinding machine to polish and put a 1mm bevel on the edges, before being put through a toughening machine that makes the glass stronger and more resistant to breakage. This means that if the glass were to break for some reason, it would safely crumble rather than break into sharp, jagged pieces.
The glass is printed on a large format UV printer. The printer does two sweeps over the glass, firstly laying down the colours by firing down droplets of ink then drying them with a flash of UV light. This process is repeated with a backing coat of white, then a silver foil backing as extra protection against scratches. The UV ink has been GreenGuard certified for low chemical emissions and any wastage is put into big drums for waste recycling to take away and dispose of responsibly.
A Big Project:
A few weeks ago, we worked on a special project in Leatherhead, where we made 7 separate panels for installation above the oven, the sink and the units in a beautiful dark blue kitchen. This required a lot of planning and ensuring each individual glass panel was perfect in order to make it work as a whole.
Our client decided on the fabulous 1907 Ordnance Survey reproduction map, 6inch to the mile, which worked brilliantly with the dark colour scheme. As you can see from the images, it looks absolutely incredible!
We make splashbacks big or small, complicated or simple and take pride in each and every one in the knowledge that they represent the best of British crafting and are of the highest quality. Seeing our splashbacks in situ is the biggest joy and happily our clients always seem to agree.
Click here for more information about our splashbacks
Find out more about Atlas & I on their member profile page here
Find out more about Atlas & I on their member profile page here