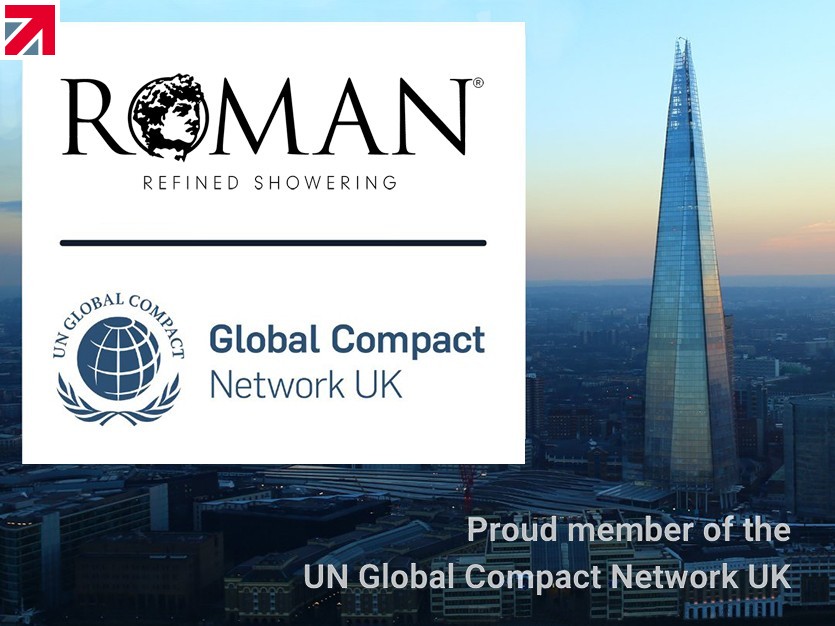 As the leading UK and European shower manufacturer, Roman takes sustainability and CSR extremely seriously. Roman is immersed in all aspects of the Circular Economy and is committed to using recycled materials in the production process – and to ensure that all parts of all products can be recycled and reused back at their original value at their end of life. Roman is currently in a Carbon Neutral process and there are many other initiatives active within the business relating to sustainability.
Roman is proud to have recently joined the United Nations Global Compact network. This is a prestigious and far reaching programme with the key aim of generating positive social impact as a business. There are four core pillars within the main activity of the UNGC – the Environment; Human Rights; Labour; and Anti-Corruption – and also broader sociable aims such as the UN Sustainable Development Goals. The UNGC has well established lines of communication with key UK government departments to help evolve the responsible business environment.
Within the four pillars of the UNGC sit ten fundamental principles for ethical business. These are enshrined within the conduct of the members. These principles firmly reinforce the policies and direction of Roman and the international links of the UNGC are driving these principles across the business world.
David Osborne, CEO of Roman, commented: "We are delighted to join the UN Global Compact and to help drive the business case of their Sustainable Development Goals across our sector and to help partners embed them within their business processes and culture. This is a truly global initiative and one which we are honoured to be a part of."
- ENDS –
Find out more about Roman Ltd on their member profile page here