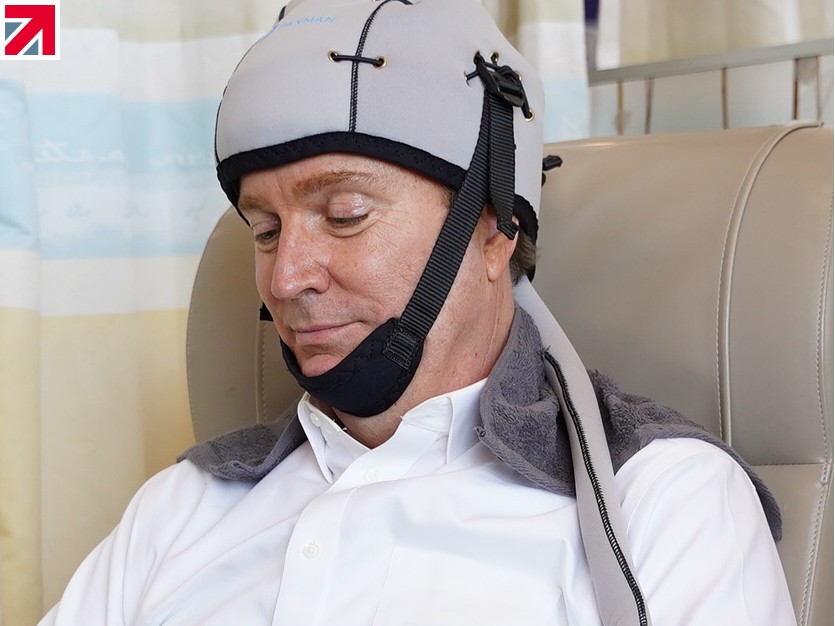 Healthcare teams at The Rutherford Cancer Centre in South Wales understand only too well how much newly diagnosed cancer patients have to process, and that the inevitable loss of hair that comes with chemotherapy treatment is often one of the hardest side effects to bear.
To support patients, Rutherford have selected Paxman Scalp Cooling as their partner in offering cold cap treatment, to prevent this traumatic side effect. The pioneering technology- which prevents chemotherapy induced hair loss - is available across all their state-of-the-art sites - North East, North West, Thames Valley, and South Wales Cancer Centres.
Twenty-five years of research, development, clinical trials and dialogue with clinicians and global key opinion leaders, have contributed to Paxman becoming the world's leading manufacturer and supplier of scalp cooling equipment. But there is a very personal reason behind the creation of the cold cap and its role in empowering cancer patients across the globe. The journey began when mother-of-four Sue Paxman experienced first-hand the effect that chemotherapy-induced hair loss had on her quality of life. It was soon acknowledged that this trauma and sense of helplessness was commonplace in many patients, with alopecia consistently ranked in the top five most distressing side effects of breast cancer treatment.
Speaking about what scalp cooling treatment meant to him Paul said: "I finished my treatment at the Rutherford Cancer Centre, South Wales for prostate cancer in January of this year, having had 6 sessions of chemotherapy. When I was initially told about the cold cap, it took me literally 5 seconds to decide I would try it. I had a very strong, good head of hair and I did not want to lose it. I didn't really fancy having the family looking at me like I was sick. In fact my wife commented that my hair was even better after treatment!"
Stu Rowling, Head of UK Sales and Training for Paxman commented, "The Rutherford network only utilise the most up-to-date and cutting-edge technology and Paxman are proud to be have been chosen as their scalp cooling provider. We wholeheartedly share their ethos of excellence and our commitment to patient-centred personalised cancer care is at the heart of all we do. Scalp cooling intervention can really help to minimise the emotional toll and long term impact on patients that is associated with chemotherapy-induced hair loss."
Samantha Miles, Deputy-Lead Chemotherapy Nurse at Rutherford Cancer Centre South Wales said "For patients who are at risk of chemotherapy induced alopecia – it is reassuring that they can use the Paxman cold cap machine. The thought of losing your hair during treatment can be very daunting for some patients and we believe by offering them the cold cap this improves patients' self-confidence thus creating positive attitudes towards treatment. Before they start treatment we show the cold cap machine to all patients and explain how it works – if they wish to try it on beforehand this always alleviates any anxiety."
Scalp cooling explored
Because chemotherapy works by targeting all rapidly dividing cells in the body – and hair is the second-fastest dividing cell – hair loss is common approximately two weeks after the commencement of cancer treatment. Chemotherapy drugs attack the hair follicles, but this damage can be alleviated using scalp cooling. If the patient wears a cold cap and the temperature of the scalp is reduced by a few degrees immediately before, during and after the administration of treatment, cell division is decelerated, blood flow and chemotherapeutic drug diffusion to the hair follicles is lowered, and the side effect of alopecia can be prevented or minimised.
Success of the process is determined by how well the scalp temperature is lowered and maintained during chemotherapy. The Paxman cap has therefore been meticulously designed from lightweight silicone through which a liquid coolant can easily pass for optimum effectiveness. In fact, since its introduction in 1997, Paxman's Scalp Cooling System has been responsible for an uplift in the average treatment success rate, from 56% to 73%.
Find out more about Paxman Coolers Limited on their member profile page here