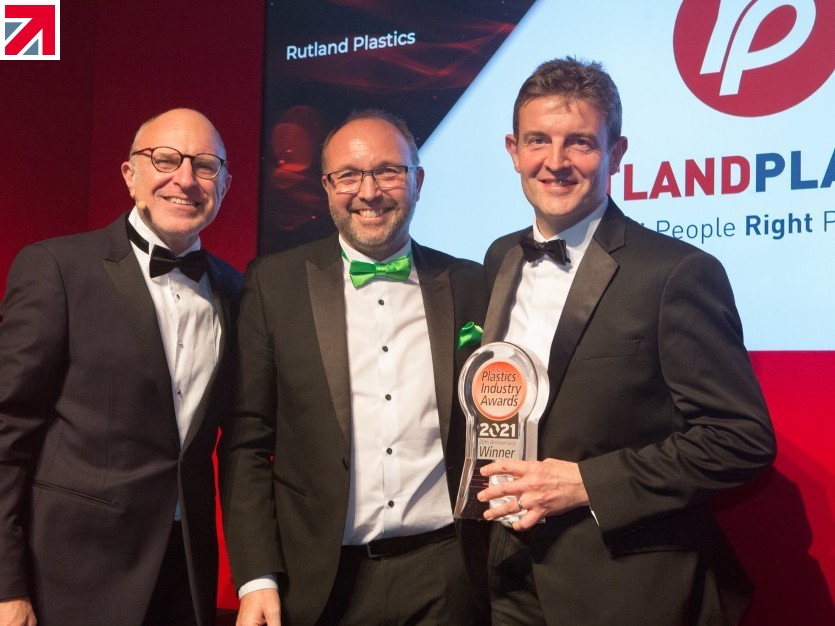 Rutland Plastics is celebrating having won the prestigious Processor of the Year award at the Plastic Industry Awards' Gala dinner in London. This award is for UK processors (manufacturers of finished components and products using plastics materials) who are able to demonstrate to the judges their overall excellence. The judges were looking for leading sustainable performances across a number of areas; business enterprise and growth, technical innovation, people development, manufacturing efficiency, customer relations and environmental concerns. In other words, the company needed to be an all-round world-class processor.
''We are incredibly proud to have won this prestigious award, especially as the company celebrated its 65th Birthday this year'' said Steve Ayre, Managing Director of Rutland Plastics. ''We are incredibly grateful to have been recognised as Processor of the Year but without the hard work and commitment of everyone here at Rutland Plastics it would not have been possible'' added Steve.
Rutland Plastics' customers are from all sectors of industry from agriculture, construction, medical, utilities and more. Rutland Plastics' customer base is so broad that the company can adapt each manufacturing solution whilst consistently applying its knowledge and expertise in injection moulding. Some customers have been with Rutland Plastics for decades and some are just starting projects with them.
Rutland Plastics has enjoyed steady and sustained growth over the years and has always considered reinvestment into the business as a main priority. 2021 has seen the purchase of 3 new moulding machines taking the number of machines on their site in Rutland to 31. This level of growth is reflected in the introduction of a dedicated weekend shift making the business a 24/7 production operation.
In all business activities, Rutland Plastics gives consideration to their immediate community and the wider environment. The company installed 900 (solar photovoltaics) PV panels on their new warehouse in 2016 and since installation has generated over 800,000kWh. In addition to generating their own renewable energy, the company has switched supplier to one ensuring that 100% of electricity supplied is backed by the Renewable Energy Guarantees of Origin scheme. Their commitment to sustainability is reflected in the accreditation of Environmental Management ISO14001:2015.
Rutland Plastics is 65 years old this year. The company looks different today from when it started out injection moulding back in 1956. It has grown significantly over the years with new facilities, more employees and more customers. However, it is still a family business, now with the third generation in charge, and is still based in Oakham in Rutland.
Find out more about Rutland Plastics on their member profile page here