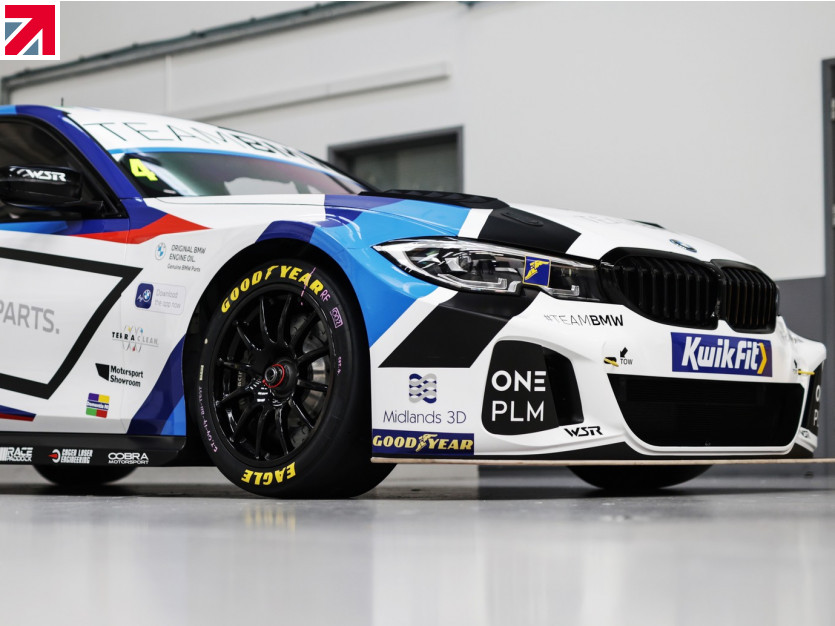 Ahead of the 2023 British Touring Car Championship season, Midlands 3D are thrilled to announce the extension of their partnership with BTCC front runners West Surrey Racing.
Midlands 3D will continue the success of the 2022 support providing a range of 3D printed parts for the Team BMW using both FDM and HP Multi Jet Fusion Technology. Functional components co-developed with Midlands 3D to optimise the capability of the MJF technology include those used for enhanced aerodynamics externally and for greater cooling and venting internally in WSR's four BMW 330e M Sports. Midlands 3D will also provide low cost templates and jigs using their large format FDM printing capability to aid the construction and development of the cars.
In line with the BTCC's adoption of electric-hybrid powertrain technology plus a switch to 20 per cent sustainable fuel last year, Midlands 3D's use of sustainable materials – such as recycled filaments and HP's High Reusability PA12 nylon – in their production processes helps WSR to move towards a less environmentally-impactful way of working.
With reduced lead times and increased design flexibility on components compared to more traditional manufacturing processes, and a reduced reliance on an increasingly fragile supply-chain 3D printing is increasingly popular for motorsport and the wider automotive industry.
The three WSR Team BMW race cars of Colin Turkington, Stephen Jelley and Adam Morgan plus the Laser Tools Racing with MB Motorsport 3 Series of Jake Hill will use a range of components created by Midlands 3D throughout the 2023 BTCC season.
The company's branding will also appear on the three Team BMW cars.
The BTCC kicks off at Donington Park on April 22-23 and features a 10-round season at the UK's best racetracks. Every race is shown live and uninterrupted on ITV channels in high definition.
Find out more about Midlands 3D on their member profile page here