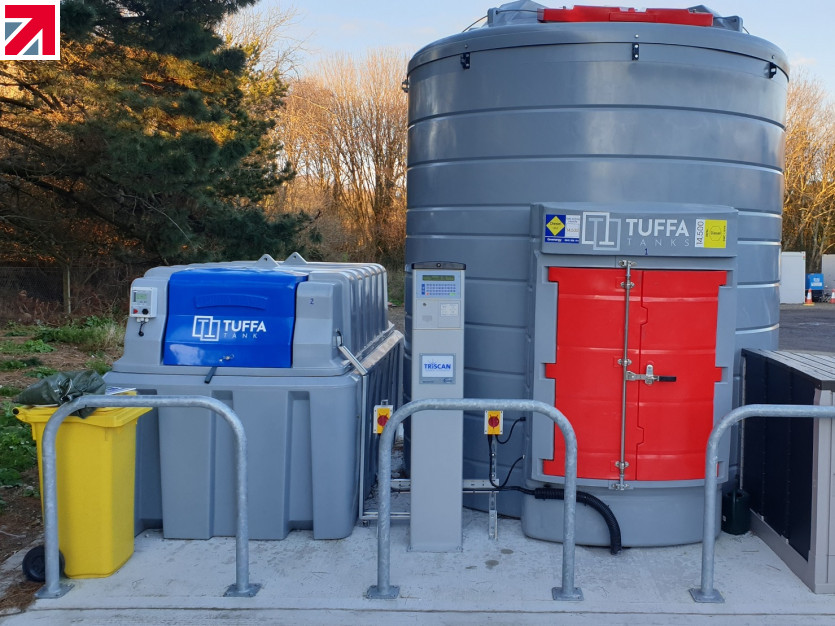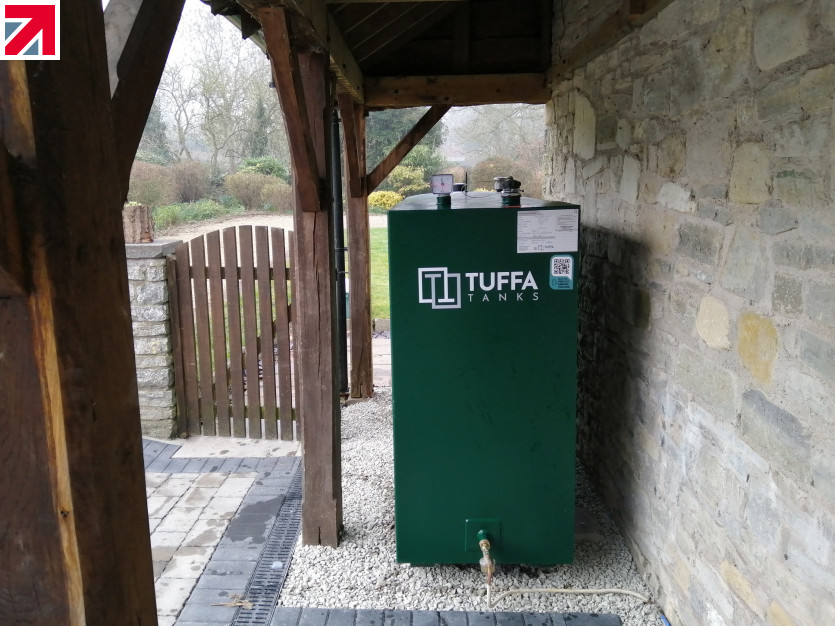 Bulk liquid storage tanks are available in plastic and steel. Each material has its advantages and disadvantages.
As one of very few UK tank manufacturers with the capacity to build both plastic and steel tanks, few manufacturers are better placed to offer guidance on the steel tanks vs plastic debate.
With an average CapEx tank investment costing anything from £1,000 to £70,000, it's worth spending a few minutes to understand the key differences.
Steel tank advantages:

Tuffa's steel tanks are all manufactured from mild steel, the same material most vehicle manufacturers use because it has strong physical properties but is cost-effective, easy to work with, robust and suited for different cutting and coating methods.
While we have manufactured tanks in stainless steel, the material is expensive and challenging to manufacture and, other than for food-grade purposes, offers little or no benefits.
Capacity
Steel tanks are more readily adaptable, offering the flexibility of different capacities, whereas plastic rotomoulded tanks are volume-fixed based on the moulding tools and provide no such flexibility.
Steel tanks are hand fabricated from sheets of metal cut to specific sizes or shapes. Comparatively, plastic rotomoulded tanks are limited to the mould size, shape and capacity.
Strength and longevity
Steel is solid and hard-wearing. While untreated steel is susceptible to rust, our tanks are powder or spray-coated and require only the same maintenance as their plastic counterparts.
Steel typically can be repaired in the case of significant impact damage, for example, whereas plastic tanks often need replacing, although plastic tanks remain a seamless, robust and secure option.
All our tanks include a fully independent bund (including the base), steel-reinforced bracing, channel runners and a superior finish – a powder coating for small tanks (up to 2300L) and a multi-layered high gauge spray coating on large tanks (over 5,000L).
Protection
Steel offers greater strength than plastic tanks, whether from impact or fuel theft. Unlike plastic, steel is difficult and time-consuming to penetrate and is therefore preferred where security is a concern.
Moreover, our customers tend to favour steel tanks in areas with heavy machinery, plant equipment, etc. Armco barriers are available with plastic (and steel) tanks to add extra levels of security.
Design versatility
Steel tanks are hand fabricated and typically made to order. Often customers need a tank that deviates from the standard 'Ex-Stock' systems, such as a custom layout of outlets and inlets, safety features such as gantry, steps and handrails, or specific dispensing equipment, including dual compartment systems.
While this versatility can mean slightly longer lead times, it allows for more scope for changes in the tank's design.
Where bespoke tank dimensions are required, for example, to ensure a maximum capacity within a specific area, then steel tanks are the ideal solution.
Plastic tanks are rotomoulded, meaning that the tanks have a fixed design and dimensions based on the mould. As steel tanks are hand-fabricated, they can fit bespoke sizes. However, there is a cost implication as the tank must undergo a custom design process.
Steel tank disadvantages
Price!
Fabricating steel is labour-intensive and, when done well, requires highly skilled and trained welders. The cost of steel is also considerably higher than plastic. Raw material costs, like fuel, have spiralled to dizzying levels over the past few years.
Lead times
While small steel tanks (up to 2300L) might be in stock, large steel tanks (over 5,000L) are typically made to order and can carry extended lead times compared to the plastic alternative, depending upon the capacity.
Plastic tanks advantages

Our plastic tanks are rotomoulded, a method of heating polymer within a mould and rotating it to evenly distribute throughout the mould before cooling and adding our tier-one components – a similar process to making chocolate eggs.
Rotomoulding creates a single unit without any seams or joins. Seams and joints make weak areas, whereas our manufacturing approach eliminates these points of force, friction or failure, other manufacturing processes can suffer.
Alternatively, plastic tanks can be plastic-welded. While Tuffa has a plastic-welding workshop, we only manufacture the tanks for customers such as fuel and AdBlue suppliers who have a national presence and consistently demand high-tech branded tanks where form, function and performance meet aesthetics.
We use some of the largest moulds in the UK, meaning our bunded plastic tanks deliver the UK's highest capacities in seamless rotomoulded plastic tanks.
Value
The raw material costs of manufacturing plastic tanks are considerably less than steel. Additionally, rotomoulding a tank is machine-operated, meaning reduced labour costs.
The functionality of steel and plastic tanks is fundamentally the same, making plastic tanks great value for money.
Durability
All our plastic tanks use a hard-wearing, UV-stabilised and corrosion-resistant polymer. The tanks, manufactured in the UK, use a premium compound polymer with additional weather protection that prevents deformation and does not fade in colour.
Compatibility
Chemical compatibility can play a big part in material selection. Plastics used in the construction of tanks are resistant to most chemicals.
Many Liquids and chemicals, such as AdBlue, and De-icers, such as potassium acetate, cannot be stored in mild steel tanks due to chemical reactions and corrosion.
Whilst stainless steel would be an option for such materials; manufacturing stainless steel is considerably more expensive and challenging to work with than plastic.
It's important to note that irrespective of the tank material, all ancillary equipment must also meet our strict chemical compatibility tests.
Tuffa has technical specialists who only fit equipment and materials that do not degrade due to the stored liquid.
Transport
Depending on the usage, some tanks may require frequent transportation. For example, effluent tanks can move from site to site for different events or leisure sites. The weight of steel means that specialist machinery is often required. Comparatively, our effluent poly tanks have handholds for manoeuvring by hand.
Plastic tank disadvantages
Capacity
As a single unit, rotomoulded plastic tanks do not reach the capacity of steel tanks. However, some tanks can be interlinked to achieve a much higher working capacity.
A great example of interlinking would be rainwater harvesting.
Considering the record-breaking temperatures becoming ever more typical in the UK, agriculture, in particular, benefits from interlinking large-capacity tanks.
Tuffa also offers the highest capacity plastic bunded fuel tanks on the UK market with our interlinked 30,000-litre diesel tank model.
Weather exposure
Cheap, low-quality polyethene and lower shot-weights of the polymer under extreme weather, such as prolonged sun exposure or low temperatures, can cause tanks to warp, bulge and crack and are particularly susceptible.
Tuffa's plastic tanks use a high-shot weight and compound polymer giving thicker skins for additional weather resistance.
Steel vs plastic fuel tanks
The differences between steel and plastic fuel tanks are worth reviewing, as are the demands placed on all ancillary equipment.
Steel vs plastic oil tanks
Experience tells us that the decision process of steel v plastic falls into three distinct parameters.
In the domestic market, price is the first consideration, followed by available space on site and the tank's purpose.
Secondary to these, bizarrely, is the additional cost of having a fire-protected tank. Insurance companies often insist on such protection, and heating oil tanks require building control sign-off.
Commercially, the parameters change significantly. Often, the first consideration is capacity. Big is beautiful for fuel power users such as haulage, shipping and transportation.
They want all the buying power of bulk buying fuel running into the tens of thousands of litres at a time.
Secondly, users such as hospitals, data centres and high footfall areas such as airports need fuel storage for generators in case of power outages.
Drive past any airport, haulage yard, farm or forecourt, and you will see how versatile our tanks are and, more importantly, how critical they are
Steel or plastic? The choice is yours. There are many pros and cons for each, which is why we always suggest talking to one of our friendly Sales team. Call 0800 086 2551 For more information, advice or quotes, including discounts on trade prices.
Find out more about Tuffa Tanks on their member profile page here