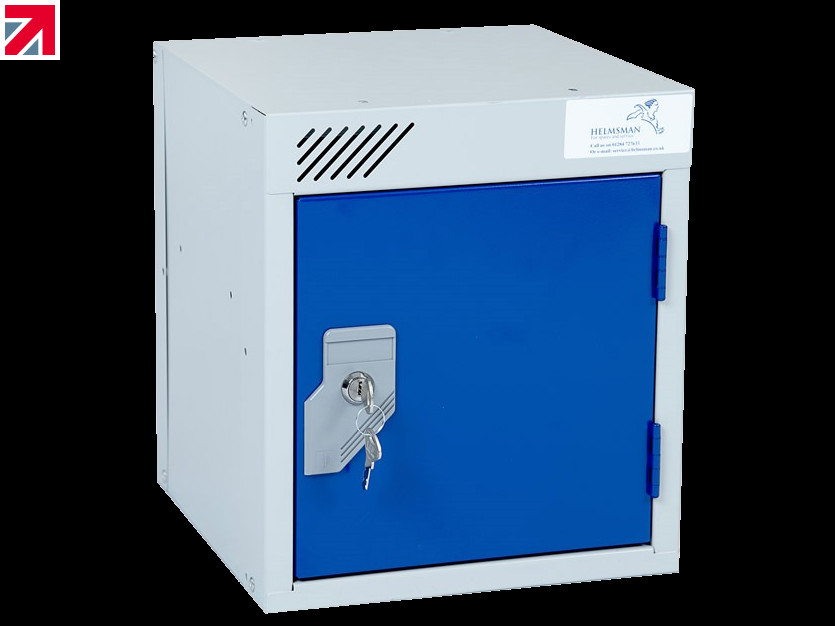 At Helmsman we can offer a range of lockers, from the smallest modular lockers, up to a range of laminate lockers in various sizes. Sometimes the space you have for your project is on the smaller side, so you'll need to be clever with the storage you choose in order to maximise the area's value. With a variety of options to choose from, we're sure we can provide a storage solution for your small space.
Modular Lockers
This is our smallest range of lockers at Helmsman. These are perfect for smaller spaces as they are just 340x300x300mm in size. Plus, if you need more than one, they can be stacked in a range of shapes to fit into a range of odd spaces. Our modular lockers are often a great choice for schools, with the ability to hold a standard-sized school bag. Our modular lockers are manufactured from mild steel and powder coated, meaning that you can choose from a large range of colours, and could even mix and match the colours to create a funky pattern for your lockers.
Mini Minder
Should you need a bank of small lockers for personal items such as phones or tablets, our mini minder lockers are the perfect choice. These lockers come in a range of compartment quantities, with options from 12 compartments all the way up to 40. Not only this, but our mini minder lockers are perfect to use as charging lockers. Each locker can come complete with a plug socket, and there's also an additional USB option too, so you can charge your phone whilst keeping it safe. The mini minders are also manufactured from mild steel and powder coated, so you can choose from a range of colour options.
School Lockers
Helmsman supplies a range of school lockers. These vary in height depending on the Key Stage of the set of students to use them. Our Key Stage One lockers are 1250mm in height, whilst the Key Stage 2 lockers are 1600mm in height. These smaller lockers are designed around the height of the students, depending on their age; however, they are also great to fit into smaller alcoves and tighter spaces. Helmsman's school lockers are available in both laminate and mild steel, with a range of colour options and finishes.
Z Lockers
A fairly modern design, Z lockers are a perfect space-saving storage solution. Named after the line created between the doors, Z lockers allow two people to store their belongings in the footprint of just 1 locker. Due to this, these lockers take up less room whilst maximizing the internal space on offer. With a tall section for items such as hanging clothes and a wider section for bags or shoes, Z lockers are a fantastic way to optimize your space. With options in both metal and laminate, plus the additon of adding a heated option too, Z lockers can be manufactured to suit your requirements, in a variety of finishes and colours.
Bespoke Lockers
Of course, should there be any specific request you have, we at Helmsman specialize in bespoke lockers. Let us know your requirements for your project, and we can design, manufacture and install your brand-new unique and individual lockers. Whether you need a 3 compartment Z locker, or a set of lockers to fit in a unique sized or shaped space, we can help create a storage solution. Take a look at an example of the bespoke lockers we manufactured for Leicestershire Police in our case study here.
Contact us today on 01284 767626 or Get a Quote here.
Find out more about Helmsman Lockers and Cubicles on their member profile page here