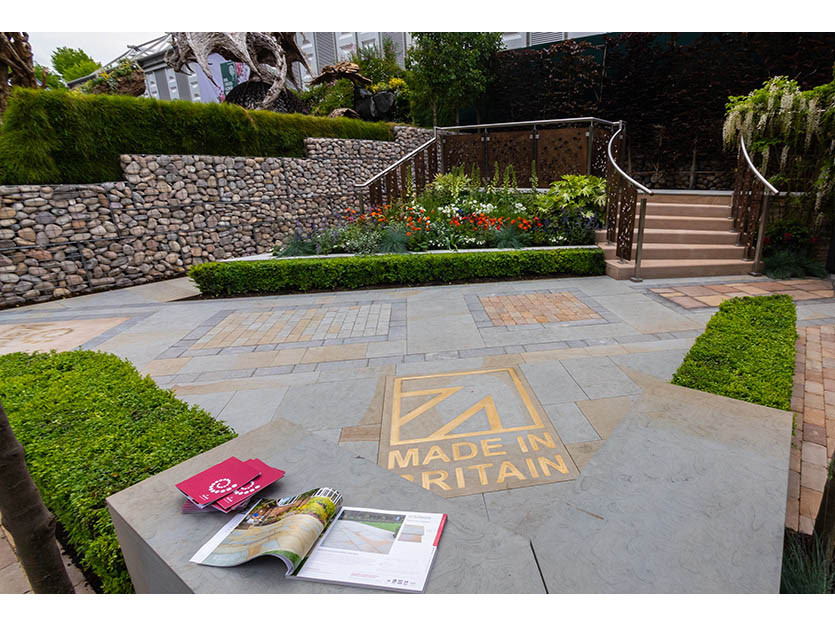 THE Made in Britain stone, created by Marshalls for its winning garden at the 2019 Chelsea Flower Show, is on its way to a new home. We're announcing this one day late. Blame website editor Martyn, who couldn't find an email containing an essential piece of information.
Back in September we ran a competition for members to try to win the 1250 x 900 x 30mm slab of Scoutmoor stone and copper inlay. We asked you to guess the weight of the stone and tell us why you wanted to display it at your premises. The statement would have been used as a tie-breaker in case two or more members guessed the correct weight.
As it turned out, nobody guessed the correct weight. Everybody guessed too heavy. The weight of the Made in Britain stone is (and this is the information Martyn couldn't find yesterday):
72kg
So the member who guessed the closest at 78kg is Trevor Heyworth from Somerset-based steel cable manufacturer TECHNI Ltd! Well done Trevor. His tie-breaker wasn't bad, either: "We would like to win the paving stone because we would install it in our main entrance and all our international visitors will have to walk over it and be in awe of British manufacturing before they even get into our newly refurbished factory."
Nice try Richard Binks at display solutions manufacturer Ripple, who imagined his guess of "83kgs give or take a few kgs" would do the trick. Sorry, Richard.
So the stone will be making its way to Somerset very soon.