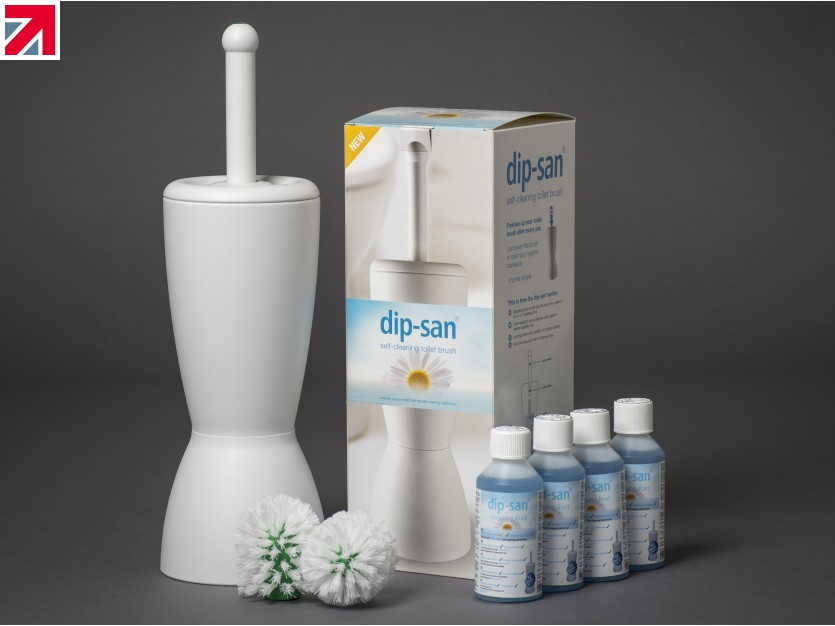 There are few worse signals to send out to washroom users than a dirty toilet brush, reflecting badly on both facility and service provider.
Worse still, most toilet brushes are only replaced when they start to look unhygienic, even though they are laden with bacteria after the very first use. The lack of guidance available on how to keep toilet brushes in a hygienic state has led to their ban in many facilities.
Biomaster partner Dip-San® developed the patented Self Cleaning Brush System with an internal disinfection reservoir, providing a hygienic alternative to the traditional toilet brush.
From August 2020, the Dip-San® system also incorporates antimicrobial product protection, silver ion technology that inhibits the growth of harmful microbes on surfaces 24/7 and remains completely effective for the useful lifetime of the product.
The Dip-San® product platform is designed for 'at home' and a diverse range of 'away from home' toilet environments such as hospitals, care homes, hotels, offices and schools.
With floor standing, wall mounted and portable variations, Dip-San® provides a flexible, cost effective system to suit all cleaning regimes.
UK manufactured to the highest standards and designed to provide many years of hygienic service, Dip-San® is backed by a lifetime guarantee.
Dip-San® Managing Director Neil McAllan explains, "with the current devastating events, a huge price is being paid for poor infection control practices. By partnering with Biomaster, we are reinforcing our commitment to manufacture the most hygienic toilet brush on the market today."
For more information visit the Dip-San® website.
Find out more about Dip-San® - The Hygienic Toilet Brush on their member profile page here